Project Report

| Nov 9, 2021
BEGINNING OF THE 2021-2022 SCHOOL YEAR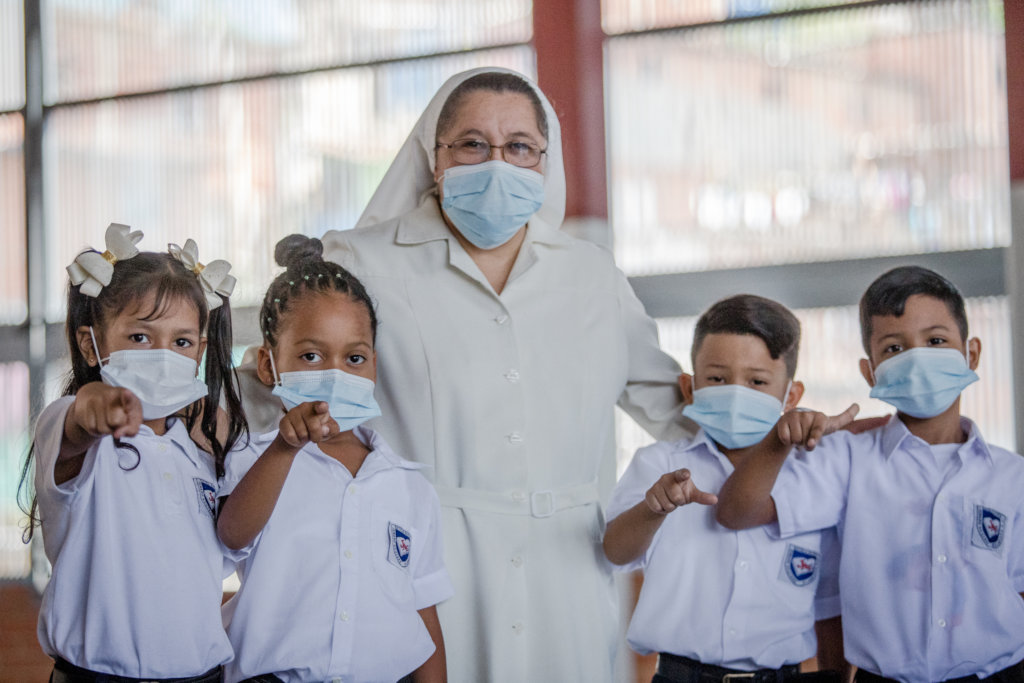 Versión en Español / Spanish version
El pasado mes de septiembre, la U.E. Jenaro Aguirre Elorriaga le dio la bienvenida una vez más a todos los alumnos que cursan el año escolar 2021-2022.
Después de 18 meses de recibir clases a distancia, comienza un modelo combinado de clases a distancia y presencial. Nuestros 400 alumnos con edades comprendidas entre 3 hasta los 12 años, han vuelto en grupos pequeños a las aulas de clase y se han reencontrado con sus compañeros y sus maestras. Este reencuentro ha sido una experiencia muy emotiva y especial.
Durante el cierre radical de la escuela por la pandemia, se aprovechó de ofrecer a las maestras de la escuela, asesorías educativas en el uso de nuevas herramientas tecnológicas, que permitieran desempeñarse con éxito en brindar una educación a distancia de calidad y alineada con el principio de excelencia académica que caracteriza nuestro proyecto educativo.
Nuestro comedor escolar ha vuelto a abrir sus puertas entregando diariamente meriendas nutritivas y almuerzos balanceados al grupo de niños que asiste a clases presenciales y al personal de la escuela. Continuaremos apoyando a través de la entrega de bolsas de alimentos a las familias jenarianas y de suplementos nutricionales a aquellos niños que presenten algún cuadro de malnutrición.
Nuestro ambulatorio médico continúa operando ofreciendo a todos nuestros alumnos y a la comunidad del Barrio 24 de marzo, servicios de pediatría, ginecología, medicina general y odontología. Adicionalmente tenemos planificadas para este nuevo año escolar 3 jornadas de salud para los alumnos y 2 para el personal de la escuela.
Todas estas actividades las llevaremos a cabo asegurándonos que las medidas de bioseguridad, dictadas por los organismos de salud correspondientes, sean cumplidas a cabalidad, y con ello evitar la propagación del Covid-19 en la escuela.
English version / Versión en Inglés
Last September, the U.E. Jenaro Aguirre Elorriaga once again welcomed all of its students for the 2021-2022 school year.
After 18 months of distance learning, a hybrid model of distance and in-person classes begins. Our 400 students, ranging from 3 to 12 years old, have returned in small groups to the classroom and have been reunited with their classmates and teachers. This reunion was a very emotional and special experience.
During the radical closure of the school due to the pandemic, we took the opportunity to offer to the teachers educational advice on the use of new technological tools, which would allow them to perform successfully in providing quality distance education, aligning with the principles of academic excellence that define our educational project.
Our school cafeteria has reopened its doors, delivering daily nutritious snacks and balanced lunches to the group of children attending classes and school staff. We will continue to provide support through the delivery of food bags to the Jenarian families as well as nutritional supplements to those children who are suffering from malnutrition.
Our medical clinic continues to operate, offering pediatrics, gynecology, general medicine and dentistry services to all our students and the community of Barrio 24 de Marzo. Additionally we have planned 3 health fairs for the students and 2 for the school staff for this new school year.
We will carry out all these activities while fully ensuring the compliance of biosafety measures, set forth by the corresponding health agencies, in order to avoid the spread of Covid-19 in the school.