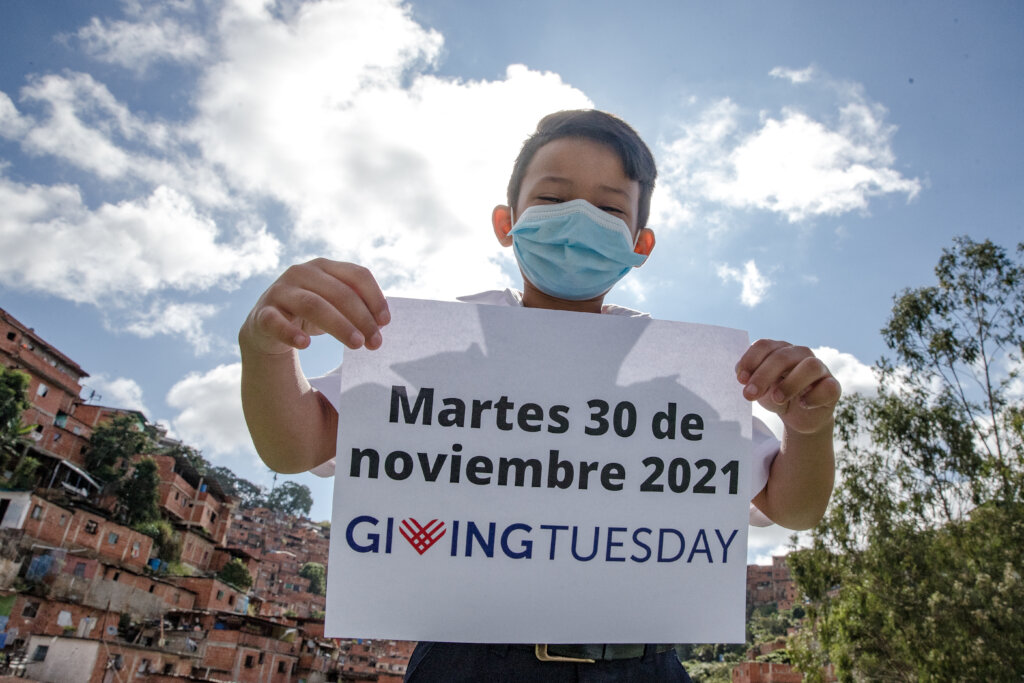 El periodo escolar 2020- 2021 representó un gran reto para la Fundación Madre María Luisa Casar y para la U.E. Jenaro Aguirre. Los alumnos de la Escuela lograron culminar con éxito sus estudios académicos recibiendo clases de manera virtual.
En el área de educación se utilizaron herramientas tecnológicas y se adquirieron los equipos necesarios para que las maestras pudieran cumplir con los objetivos requeridos en los programas de educación básica. Es importante resaltar la buena disposición que tuvo el personal docente y los representantes para apoyar a los alumnos en esta difícil circunstancia, razón por la cual nunca se detuvo el proceso de aprendizaje en la escuela.
El comedor escolar no pudo abrir sus puertas, sin embargo, se le entregó periódicamente a cada familia bolsas de alimentos que permitieran preparar en casa una comida balanceada en sustitución a la comida de la escuela. Al mismo tiempo se les suministró kits de higiene para contribuir a guardar las medidas de bioseguridad recomendadas.
El dispensario médico abrió sus puertas para atender a la comunidad del Barrio 24 de Marzo. Se logró hacer el seguimiento de medidas antropométricas a los niños y así poner énfasis en solucionar los casos que requerían especial atención nutricional.
Estamos muy orgullosos del esfuerzo y el trabajo del personal de la Fundación Madre María Luisa Casar y de la U.E. Jenaro Aguirre, en lograr que nuestros 400 alumnos y la comunidad del Barrio 24 de Marzo, pudieran continuar recibiendo los beneficios que brinda la escuela. La mística y generosidad con que se trabajó este año, generan mayor compromiso para asegurar el éxito y la continuidad de los proyectos que lleva adelante la Fundación Madre María Luisa Casar.
Todo esto es posible gracias a la generosidad de las personas e instituciones que apoyan a la Fundación Madre María Luisa Casar, quienes al final, son los que hacen posible que sigamos trabajando en favor de los niños y sus familias.
Queremos continuar con el trabajo que ininterrumpidamente hemos llevado a cabo en el Barrio 24 de Marzo, desde hace 24 años. Por ello, los queremos invitar a seguir apoyando a la Fundación Madre María Luisa Casar.
Click aqui para donar en el proyecto del año 2021-2022.
Mañana, martes 30 de noviembre comenzamos la campaña de recaudación anual con Giving Tuesday!
¡Contamos contigo!
English version / Versión en Inglés
The 2020-2021 school year represented a great challenge for the Madre Maria Luisa Casar Foundation and for the U.E. Jenaro Aguirre School. The students were able to successfully complete their courses by receiving remote classes.
In the area of education, technological tools were implemented and the necessary equipment was acquired, making it possible for teachers to comply with the requirements for the basic education programs. It is important to highlight the willingness of the teaching staff and parents/guardians in supporting the students through these difficult circumstances, which is the reason the learning process at the school was never interrupted.
The school cafeteria was not able to open its doors; however, each family was periodically provided bags of food that would allow them to prepare balanced meals at home as a substitute for the meals received at the school. Also, they were provided hygiene kits to help them maintain the recommended biosafety measures.
The medical clinic opened its doors to serve the community of Barrio 24 de Marzo. We were able to continue the follow-ups on the children's anthropometric measurements and thus we were able to stay on top of the cases that required special nutritional attention.
We are very proud of the effort and work of the staff of the Fundación Madre María Luisa Casar and the U.E. Jenaro Casar, who made it possible for our 400 students and the community of Barrio 24 de Marzo, to continue receiving the benefits provided by the school.
The passion and generosity displayed in their work this past year, creates a greater commitment to ensure the success and continuity of the projects carried out by the Madre Maria Luisa Casar Foundation.
All this is possible thanks to the generosity of the people and institutions that support the Foundation, who in the end, are the ones who make it possible for us to continue working for the benefit of the children and their families.
We want to continue with the work that we have uninterruptedly carried out in the Barrio 24 de Marzo for 24 years. For this reason, we would like to invite you to continue supporting Fundación Madre María Luisa Casar Foundation.
Click here to donate to the 2021-2022 project.
Tomorrow, Tuesday, November 30, we begin our annual fundraising campaign with Giving Tuesday!
We are counting on you!