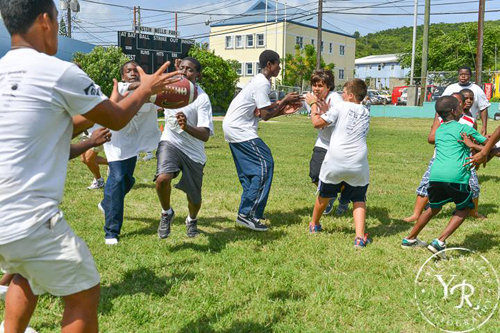 (Written by Jaime Elliott, Tradewinds Newspaper)
Back for the fifth time this year, Using Sport for Social Change's signature Just Play Day event drew a record number of students who spent Monday, October 14, tossing footballs, kicking soccer balls and bouncing tennis balls in Winston Wells ball field.
USFSC founder Dean Doeling has been hosting the Just Play Day event on Columbus Day each year since the sight of a few students kicking a lone deflated soccer ball inspired him to improve local accessibility to sports and sports equipment.
As resident of Oregon and a graphic designer for Nike who visits Love City regularly, Doeling was in the perfect position to do just that; help St. John youth enjoy quality sports equipment.
He returned to Oregon and launched USFSC, a non-profit organization dedicated to health and fitness for St. John students and supplying those students with the equipment necessary for success.
While never missing an opportunity to secure donations from Nike, Doeling works closely with a group of volunteers on St. John and has been gaining support from local businesses as well.
Since founding USFSC, in addition to hosting the annual Just Play Day, Doeling has donated hundreds of soccer balls, footballs and basketballs to St. John schools and V.I. Department of Sports, Parks and Recreation.
For the past three years, Doeling has also partnered with the Global Backpack Project and distributed backpacks filled with school supplies to St. John students in Coral Bay and Cruz Bay.
But each year on Columbus Day, Doeling gets to host the event closest to his heart, Just Play Day. This year's attendance of a reported 225 students between the ages of five and 17, set a record for the number of participations in the day dedicated fun and positive competition.
Brenda Reckor-Wallace was back this year as the emcee for Just Play Day, which also featured singing by Shikima Jones and DJ music by Adonis Morten. This year's guest of honor was Charlie Palminteri, a Gifft Hill School student whose vision and plan transformed the Winston Wells ball field from a rocky dirt expanse to a grassy field.
"Charlie Palminteri and his mother Laura Palminteri will be the guests of honor because of their incredible vision and follow through in cleaning up Winston Wells Ball Field and planting new grass in time for this event," Doeling said.
Palminteri's plan was hatched as a science fair project, which eventually drew the attention of school and government officials. With volunteer help and professional assistance, Palminteri's sustainable project saw the field cleared, seeded and maintained as grass was allowed to grow over the summer months.
Palminteri was honored during last week's Just Play Day, which also drew about 75 volunteers who helped oversee sports stations throughout the field. Inside the Julius E. Sprauve School kitchen, Mathayom Private Chefs/St. John Catering officials were busy making sure all children as well as volunteers enjoyed a hot pasta lunch.
The afternoon wrapped up with another hilarious tug-of-war, something the students have started looking forward to each year at Just Play Day.
And no one went home empty handed; in addition to medals for the top finishers in each sport, all Just Play Day participants took home a goodie bag, T-shirt and water bottle.
Each Just Play Day event costs about $60,000 to host, with about $54,000 coming from donations of product from sponsors, according to information on the USFSC website, www.usingsportforsocialchange.com.
Which leaves the group needing donations of more than $6,000 to cover expenses each year for Just Play Day. The group always accepts donations and this year Doeling also hosted a fundraiser at the Beach Bar on Saturday night, October 12. The event featured live music by St. John reggae superstars Inner Visions and live raffles and raised about $1,800 for USFSC.
For more information on USFSC and how to donate to the group, check out www.usingsportforsocialchange.com.