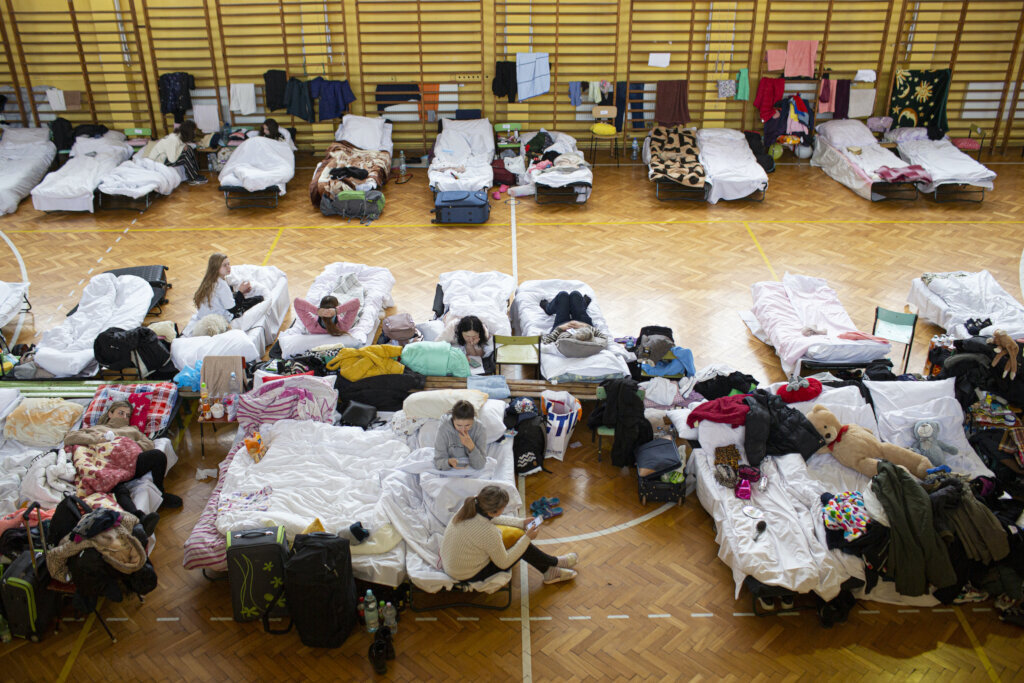 I'm writing this update to you on the 16th day since Russia invaded Ukraine and violently upended the lives of millions of Ukrainian individuals and families. You are part of a vibrant community of more than 50,000 individuals and corporate teams who have generously donated to the GlobalGiving Ukraine Crisis Relief Fund. And as humanitarian needs grow exponentially, we are grateful for your support and the awe-inspiring work of our nonprofit partners.
This war is causing widespread suffering, and persons with disabilities, children, older adults, African Ukrainians, Africans, and members of the LGBTQ+ community are being disproportionately impacted by this war.
In our second round of emergency grants, GlobalGiving is sending nearly US$1.6 million to 28 vetted nonprofit partners this week. This will provide much-needed humanitarian aid in Ukraine, along border areas, and in support of refugees in Poland, Romania, Hungary, Moldova, Slovakia, Lithuania, and Austria. It will allow the nonprofit teams receiving the grants to deliver food, water, medical support, baby food kits, and hygiene supplies and meet the many unfolding needs of civilians caught up in the war. Our long-term response will continue with additional grants that respond to changing needs.
Here is a brief description of some of the life-saving operations you are supporting:
Dzherelo Children's Rehabilitation Centre has been operating in Lviv for more than 28 years, taking care of children and young people with severe physical and intellectual disabilities. All children with severe diagnoses need constant care, and the war has made it difficult for children and their families to sustain themselves. With GlobalGiving's support, Dzherelo Children's Rehabilitation Centre is providing key necessities and medications children need to take daily.
Equal Chance has formed a coalition to support Black people affected by this war. Its team is working directly with impacted African Ukrainians and Africans that have faced discrimination while attempting to flee the country. The coalition is providing buses at the borders to transport refugees, appropriate shelter, blankets, warm clothes, phone credits, diapers, culturally relevant food, and baby food. It is also organizing mental health specialists providing trauma-informed psychosocial support.
The HALO Trust is a longtime GlobalGiving partner and has been operating in Ukraine since 2016. It has more than 400 staff on the ground working to protect civilians from deadly explosives. As thousands of cluster bombs, artillery shells, and rockets litter Ukraine's streets and can detonate at any moment, families are left sheltering in basements and cellars. The HALO Trust is working to keep them safe and providing medical supplies, paramedic support, sleeping bags, and other assistance.
You can find a full list of nonprofit organizations receiving a grant this week from the Ukraine Crisis Relief Fund at the end of this report.
The plight of the Ukrainian people and others affected by the war feels overwhelming, and the need to help is ever-present. Thanks to your donation, we will continue to provide long-term support through the Ukraine Crisis Relief Fund to our nonprofit partners that are delivering humanitarian relief to communities in Ukraine and refugees who have fled the country. We will keep you informed along the way, so please look out for future updates.
Thank you for your unwavering support for all those affected by the war in Ukraine.
In solidarity,
Sandrina + the GlobalGiving Team
Nonprofit Partners Receiving Emergency Relief Grants
Airlink
Direct Relief
Dzherelo Children's Rehabilitation Centre
Ecovisio Public Association
Equal Chance
European Food Banks Federation
Favela 61
Federacja Polskich Banków Zywnosci (Federation of Polish Food Banks)
Fondazione La Stampa Specchio dei tempi onlus
Fundacja Wielka Orkiestra Swiatecznej Pomocy
Give Life Association / Daruieste Viata
Global Fund for Children
International Cultural Diversity Organization (ICDO)
International Medical Corps
International Rescue Committee
Karitaszt Tamogato Alapitvany (Caritas Hungarica)
Maisto Bankas
Non-governmental organization Women's Federation for World Peace
Polskie Stowarzyszenie na rzecz Osób z Niepenosprawnoscia
QUA LGBTQ Ukrainians in America
Save the Children
Soleterre - Strategie di pace Onlus
Te Aud Romania
The Halo Trust
Ukrainian Red Cross Society
US Association for International Migration (USAIM)
USA for UNHCR
WONDER Foundation