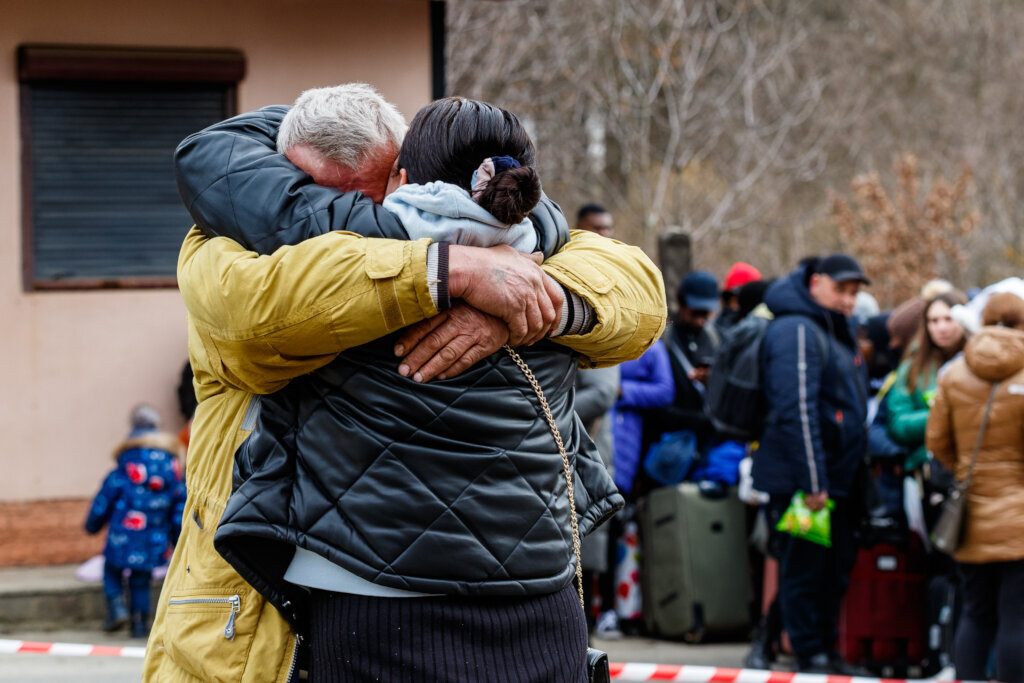 Thank you for your generous donation to the Ukraine Crisis Relief Fund. Since Russia amassed troops on Ukraine's borders and then invaded Ukraine last week and disrupted the lives of millions, you've demonstrated solidarity and a deep desire to help the Ukrainian people. The GlobalGiving team and our community-led nonprofit partners on the front lines of this humanitarian response are grateful for your trust and support of our work through this fund.
Even before the war began, GlobalGiving's local community-led nonprofit partners were preparing and supporting their communities as tensions grew. Now, as Russia's missile and artillery strikes continue to target civilians and the infrastructure they need to survive, humanitarian needs are soaring.
Today, eight days after the Russian invasion, GlobalGiving is sending approximately US$1 million to 20 vetted nonprofit partners working around the clock to provide humanitarian assistance in Ukraine, along border areas, and to aid refugees in Poland, Hungary, Moldova, Slovakia, and Romania. These teams are delivering medical aid, clean water, shelter, psychosocial services, and hygiene kits as well as helping to safely evacuate children and seniors. This is our first round of emergency grants in our long-term response, with more to come, as needs change and emerge.
Here is a short description of some of the critical work you've already supported:
And across all regions in Ukraine, the Ukrainian Red Cross Society has staff and volunteers providing medical care, first aid, psychosocial support, and other life-saving services. Their teams are also providing search and rescue support to firefighters and delivering first-aid training for volunteers in underground metro stations and bomb shelters.
You can find a full list of nonprofit organizations that received a grant from the Ukraine Crisis Relief Fund at the end of this report.
As we hear about the latest devastation and see the heartbreaking images, we're inspired by the care, compassion, and generosity that you've shown the Ukrainian people. As we are all witnessing, Ukrainians are incredibly determined, strong, and resilient.
We are proud to stand alongside you in solidarity with the Ukrainian people. And we are committed to continuing humanitarian relief and longer-term support for Ukrainian communities through the Ukraine Crisis Relief Fund. Please stay tuned for more updates about how your donations will continue to make a difference.
With deep gratitude,
Sandrina + the GlobalGiving Team

Nonprofit Partners Receiving Emergency Relief Grants
Caritas Austria
Charitable Foundation Zaporuka
Charitable Organization Bright Kids Charity
ChildAid to Eastern Europe
Federacja Polskich Bankow Zywnosci
Fundacja im. Doktora Piotra Janaszka PODAJ DALEJ
Grupa Stonewall
International Medical Corps
IsraAID
Let's Help Charitable Foundation
Magyar Élelmiszerbank Egyesület
Odessa Charity Foundation - Way Home
Pallottine Missionary Foundation Salvatti.pl
Public Movement Faith & Hope
Slovak Red Cross
Tabletochki Charity Foundation
Ukrainian Red Cross Society
US Association for International Migration
*Name of last organization withheld for security reasons