Project Report

| Apr 5, 2023
What did us figure out in Turkiye?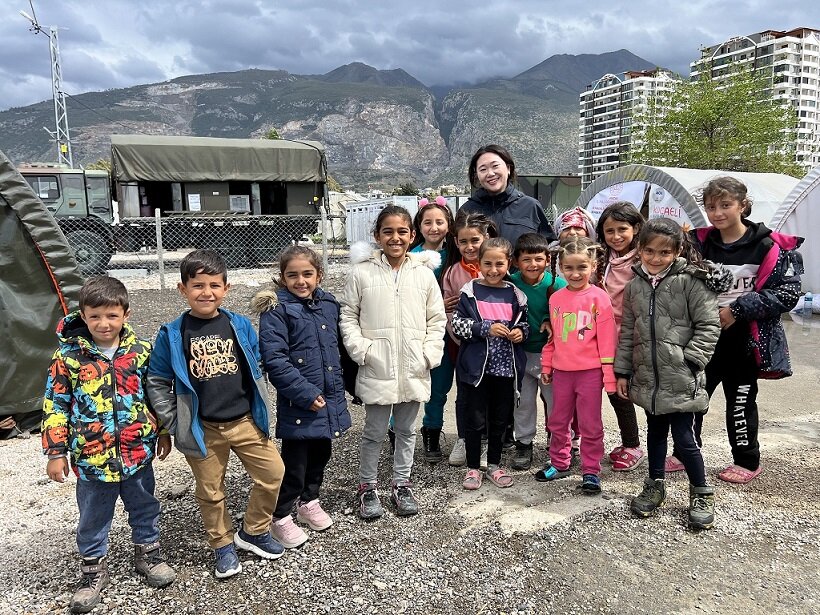 Hello, this is Nuri Park from Peace Winds Korea.
Peace Winds Korea visited two shelters and Tanisma village this week, and I will provide you with a comprehensive update on the news reported by the on-site team from March 28th to 30th.
During this period, Peace Winds Korea first visited Sakarya Cumartesi Semtpazari Cadir Kenti in Iskenderun, which accommodates about 1,200 people including 235 infants, children, and students. Middle and high school students attend school, while kindergarten and elementary school students take classes in educational tents in the tent village. The Peace Winds Korea team has heard that there is a significant shortage of infant/children underwear in this shelter. The residents continuously check for infant underwear, but there are none available, so children have to wear only pants without underwear.
The second place they visited was the Modern Evler Girisi Kurbam Pazari Cadir Kenti, where about 2,250 people stay and their information is managed as data. Although this shelter has various facilities including shower rooms, kindergarten/elementary school classrooms, a dining hall (food distribution room), and a hobby room, these are not enough for the people in order to enjoy their lives. The manager conveyed that they want to replace tents with containers for better hygiene and safety and need support for it.
Next, they visited Tanisma village, where they met the headman and medical staff working in a clinic under PWJ. The headman said that "80% of the village is destroyed" and is classified as a high-level earthquake damage area, and he expressed the most concern about hygiene due to the lack of shower and toilet facilities. Especially with the upcoming summer, he said that hygiene issues would worsen, so they need clean drinking water, containers, and shower/hygiene facilities.
Therefore, Peace Winds Korea started a laundry business, hoping that the people of Tanisma village can use even a little bit of clean clothes and bedding. They employed two villagers for better operation, and one of them, a widow, expressed her gratitude.
At the clinic, they learned that a disease called "Seabies" is currently prevalent, which is caused by mites and causes itching all over the body. The main cause is dirty pillows/blankets, and it is expected to worsen as the temperature rises in summer. In addition, there are asbestos caused by dust from collapsed old buildings or construction, and diabetes caused by accessibility issues.
One thing to be grateful for is that Peace Winds Korea raised awareness of the need for children's underwear and urgently promoted fundraising. Although the goal amount was not reached, a certain amount of donation money was collected and we were able to purchase children's underwear. It was both joyful to be able to distribute items that were really needed and regretful that the number was not sufficient. Peace Winds Korea will continue to strive to provide more support and we ask for your continued interest and support.
Best regards,
Nuri Park