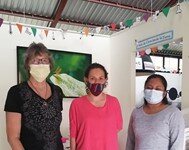 The following is a report based on a site visit recently conducted at Amún Shéa by one of PEOF's Board Directors, Daphne Hofschulte.
Education is alive and well in the Eastern region of El Salvador through the amazing programs at the Amún Shéa Educational Center in Perquín, Morazán. It was my privilege to meet on site with Executive Director Mélida Bonilla and her dedicated staff for an enjoyable and informative afternoon, December 15, 2021.
Problem-based learning in action for all
Each teacher explained how problem-based learning is central to the curriculum in their classroom. Each classroom exhibits colorful displays that underscore living and learning in the real world as experienced by the students. Amún Shéa is accredited by the Salvadoran Ministry of Education (MINED). Xochilt Pocasangre, Coordinadora del Centro Interactivo para el Aprendizaje de las Ciencias of the MINED is pictured with Director Daphne Hofschulte on the left and PEOF Executive Director Mélida Bonilla on the right. Xochilt works in the CIAC science center, a regional facility housed at Amún Shéa, available to all teachers and students in the Eastern Region of El Salvador.
Forging partnerships with local government
Mélida and the mayor of Perquín signed an agreement of community support for senior student research projects. A current example is a project testing the pH level of local soils to facilitate crops that will best thrive in the community.
Land of seedlings, quite literally
Each student spends one hour per week in the school garden. Research is underway to grow and select seed varieties that are best suited to the local climate and soil conditions. Excess vegetables will be sold from the newly constructed sales building.
For more on-the-ground updates, please be sure to subscribe to our newsletter. Please know that every dollar you contribute goes directly to supporting Amún Shéa and its students for a more peaceful and brighter El Salvador. Now more than ever we need your support.
Wishing you prosperity and good health in this new year of 2022,
The PEOF+ Amún Shéa team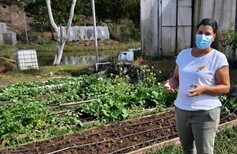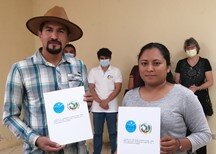 Links: