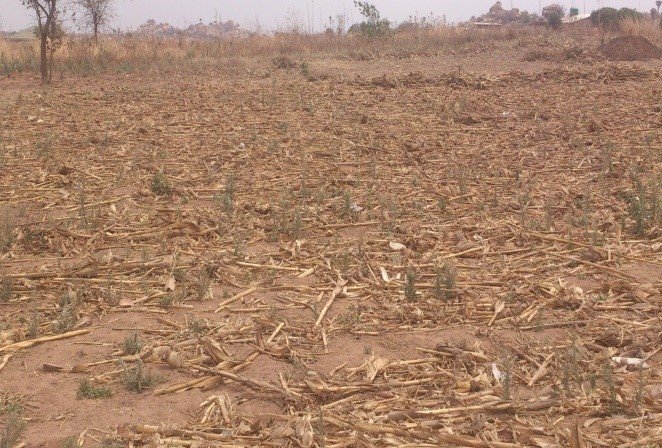 Foundations for Farming had a busy quarter concluding a ZET-funded project with two primary schools near Harare. This quarter, project staff visited the schools to continue encouraging and supporting teachers and imparting resources and skills to ensure project sustainability beyond their visits, and to encourage the schools to share their tools and knowledge for the project approach to expand into the wider community.
Foundations for Farming had good expectations for both schools. Upon visiting Nest Literacy Centre last quarter, the team were pleased with the progress made although the school was struggling to have enough water to water the crops, and was asking students to bring water from home to support these efforts. This time, the team were disappointed to see that the plot had regrettably dried up and mostly died due to inadequate water supply to the school, and the broken well in the village had meant the plot was unsustainable.
The school were devastated, as they had been relying on the crops to produce enough income for the school to build new classrooms. Foundations for Farming empathised, and provided them with enough tools and inputs that they would be able to salvage the plot and produce maize for next year, giving them resources to cover the building costs. The team also taught the school to use more mulch in the plot, as this leaves it less vulnerable to water loss and evaporation. The FfF team was happy to bring some encouragement to the teachers and to have been of assistance in preparing their plots.
After this visit, the team drove to the teacher from Yadah College. The school had actually shut down months previously, but the teacher working with Foundations for Farming had supported the project still by teaching children voluntarily and cultivating a plot on her own land. The team saw the plot was doing very successfully, and delivered tools and inputs for its continuation. It was heart-warming to see how well the student's had done despite the adversity the project faced and filled the team with hope that the student's will be able to carry this knowledge beyond the scope of the project into their local community.
Foundations for Farming were pleased with the outcome of the project overall. Despite the challenges faced by Nest Literacy Centre, the teachers were willing to work harder and adapt their practices to improve to implement sustainable farming approaches. Yadah College were an inspiring case study, despite the difficulties faced by the school and community. Foundations for Farming are confident that the staff trained from both schools will continue to impact students and that the plots developed will continue to strengthen.