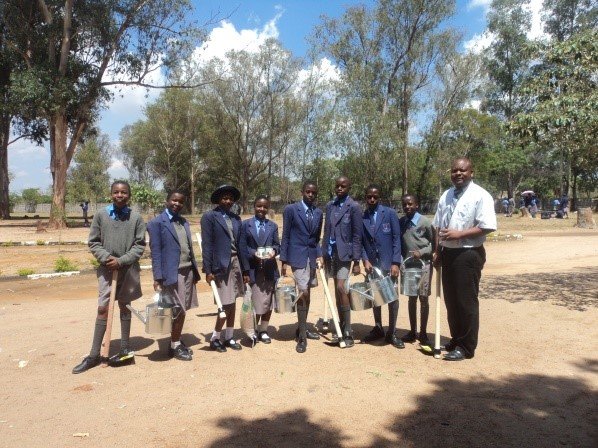 In October and November, Foundations for Farming conducted two technical support visits to five schools.
The purpose of the visit was:
to distribute inputs for them to use for planting and watering their plots, including hoes, watering cans, maize seed, fertilizer and vegetable seed. The schools could then use these for food and income production
to assess the schools progress and sustainability, identifying how many students and communities had been taught sustainable farming methods and evaluating the success of the project, as this would be Foundations for Farming's final visit to each of these schools
This was vital as many of the schools had the knowledge of conservation and climate-smart agriculture techniques, thanks to training by Foundations for Farming, but lacked the necessary tools. It was clear this knowledge had been successfully passed down from the teachers to the students, and giving hope that these students can go out to transfer these skills to the rest of the community.
Across the schools ZET and Foundations for Farming have been working in, a total of 17 staff, 338 pupils and 87 community members have been trained in conservation agriculture, learning the most effective, sustainable and resilient farming methods for their land.
The schools had successfully taken on the methods and message advocated by Foundations for Farming, but some struggled with certain activities, including mulching, weeding or composting due to a shortage of time or resources.
These visits gave the Foundations for Farming a clearer picture of how the schools would perform long after the program ended. All the schools showed a lot of promise but there is still need for continuous encouragement required to motivate the teachers.
Of all the schools, St Johns was the best performing school with more enthusiastic pupils than the rest of the schools. St John's benefitted from a strong relationship with Foundations for Farming, and was visited often for training, tools and support. This shows the importance of building long-lasting intensive relationships, and having enough staff and funds to implement the project successfully.
In 2017, Foundations for Farming intends to renew this work by partnering with new schools and continuing its training in efficient farming methods to provide communities with more opportunities for food and income production. Two new schools have already been identified thanks to ZET's funding, but we will need help to reach more communities across Zimbabwe, as they struggle to cope with the continued effects of poverty and climate change.