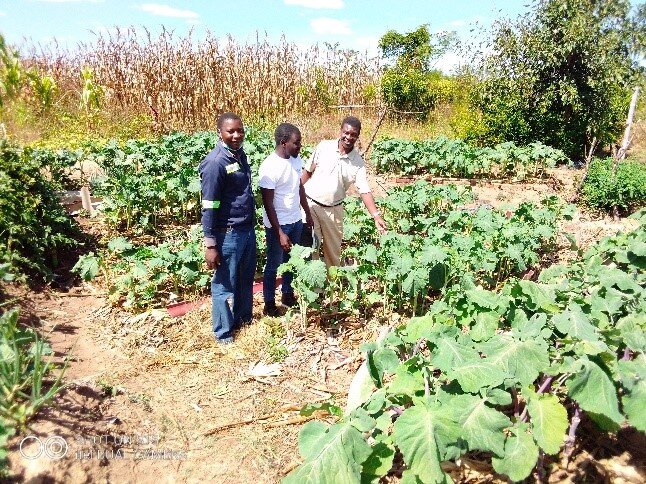 This has been a particularly exciting quarter and we're happy to present some of the evaluation findings from our work with Inyagwe Primary School. For a long time now (Covid presented some delays) we've been working together to teach conservation agriculture, helping to tackle food insecurity and build resilience against the growing effects of climate change.
"This project allows everyone in the community to earn money and have enough food."
Mr N. Majogo, School Development Committee, Chairperson
Crop production over the course of the project has gone through the roof, here's some highlights comparing 2020-2021.
Onions – up from 600 to 1,300, that's 217% growth
Tomatoes up from 120kg to 400kg a growth of 333%
Sugar Beans – up from 10kgs to 60kgs a whopping 600%.
Maize – up from 150kgs to 1,750kg, a staggering 1,167%
To date, approximately 40 meals have been provided for each of the 398 students attending the school. Totalling 15,920 meals this is a great and substantial achievement but still falls a long way short of what is truly required. With the school aiming to give one meal per student, per day this requires 1,990 meals per week and we can see that approximately eight full weeks of food have been provided thus far. The great leap forward in capacity and relative to what they were able to produce/provide before is a true measure of the success of the project. This is further supported by feedback received from the Headmaster stating, "Yes, benefits were observed. It increased the school enrolment and minimized absenteeism." A teacher goes on to note "Pupil's participation in classwork has highly increased".
There have been other benefits too but we'll save some of that for next time…
Thanks to all our donors and supporters. Please help us spread the word, and raise more funds so we can keep up this life changing work.
Links: