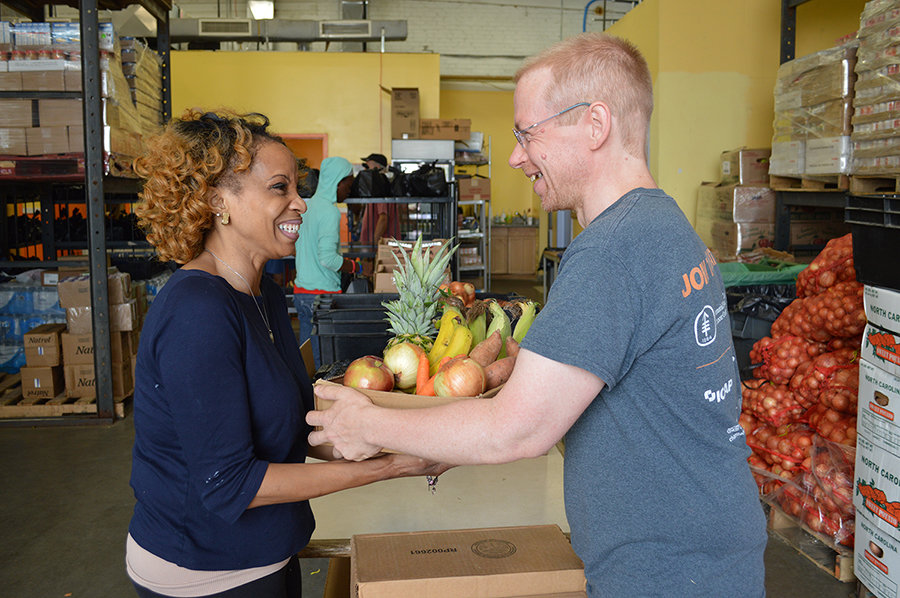 After a routine surgery two years ago, Marla, 49, from Dorchester, found herself unable to physically keep up with her job as a mental health worker. Suddenly an unemployed single mother, Marla struggled to provide for her four children.
After she lost her job, a friend introduced her to the American Red Cross Food Pantry in Dorchester. Marla said at first, she was apprehensive about going to a food pantry, something she had never done before.
"In my head I thought, 'oh my, what if someone who knows me sees me.' I was almost embarrassed," Marla said. But with her friend's help, Marla decided to go to the Red Cross Food Pantry and said it was one of the best decisions she ever made.

"The people who run the pantry make you feel loved and welcomed when you're there," she said. "It's been very beneficial for me, so I can focus on other things and not worry about 'do I have enough food to put on the plate for my children'." Marla goes to the pantry once a month and takes home four shopping bags full of healthy food like carrots, apples, pineapples and center-of-the-plate protein items like chicken and fresh fish.
"I usually can't get fresh fish unless I buy it, and that's expensive," she said. "The food generally lasts a long time and it really cuts down my supermarket bill."
Marla recently began working as a certified nurse assistant in Milton. Because of that, she no longer qualifies for Supplemental Nutritional Assistance Program (SNAP, formerly food stamps) money. So while she has money coming in, she still has trouble making ends meet.
"Getting the extra help when I've needed it from the pantry has been amazing," Marla said. "I've had to worry about paying the bills and keeping the lights on, but I didn't have to worry about food."