Project Report

| Jun 28, 2019
Sustainably Facing Coffee Rust, June 2019 Report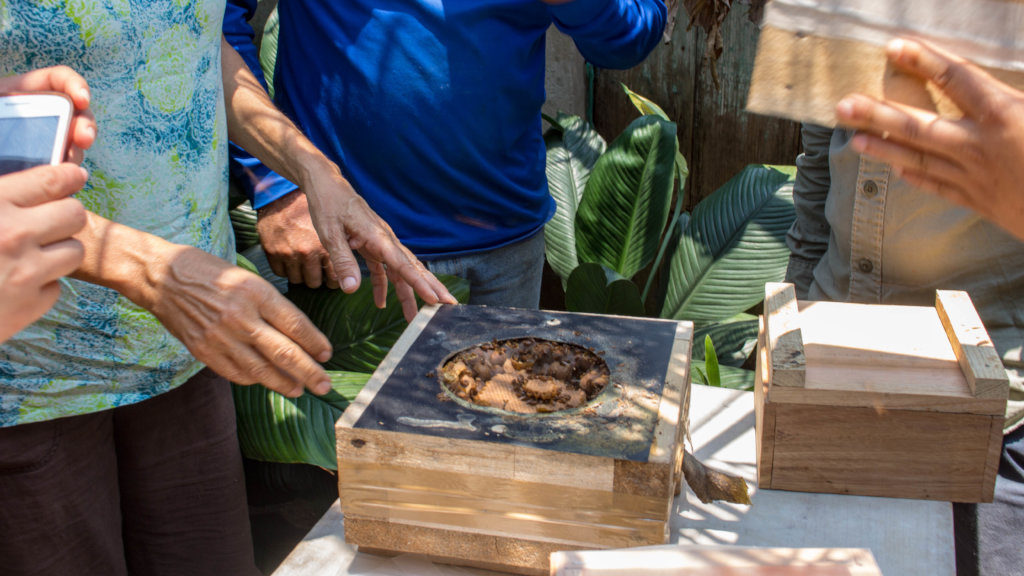 During last quarter, in Sustainably Facing Coffee Rust in Mexico Project, we have focused our efforts mainly in a) the processing of coffee beans to make them available on the market, b) the division of native bees nests, c) experiencing the drying of fruits from the region and d) introducing a new cosmetic alternative product to be produced by women groups.
Coffee beans processsing. Quality coffee process was completed. It was a very short harvesting season due to the high temperatures. Processed coffee samples are being analyzed to assess their quality and to identify areas that may influence to improve the quality of the coffee in the next cycle 2019/2020.
Solar dehydrators. Tests are underway to dry regional fruits currently left in the field, to take advantage of the installed capacity during the season where there is no coffee. We have tested dried banana, mango, mamey, turmeric, ginger and tomato. Dehydrated products which have had greater acceptance are mango, banana, turmeric and ginger. However experimental drying and shelf tests are continuing to improve the process.
Native bees. The most important management stage in hives (the division of nests) was initiated. An experienced meliponas keeper trained 28 partners to identify which nests are susceptible of division and harvest of honey, and which others should expect the nest for a higher growth. Transfering was also made to make all the hives at INPA/Atzalan box because it is the one which facilitates handling of the beehives, without affecting the nest or bees and allow a stable inside temperature throughout the year.
In this process, a team of promoters who participated in all Works was formed to develop capacities and ensure that producers with skills to solve nest problems are present in every community.
Women groups. We continue with the production and sale of handmade soaps as a way to generate income for women. Increasingly, the members of the group are assuming more responsibilities in the sale of their products. In this quarter the group grew and joined a new product, the repellent for mosquitoes, which has had great acceptance in the Limones community.
Thank you for your trust and support to this project and look forward comments and suggestions from you all.