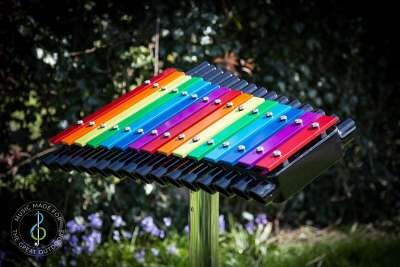 Music is a language that everyone can understand, all people can feel it. People with disabilities are no exception.
In the daily work with our special guests it becomes clear again and again, how positively the kids with their various disabilities react to music. Children with disabilities need spaces for experiences. We often offer our special kids access to musical instruments indoors to stimulate them. The positive effect that music has on our special guests and on all of us could be intensified outdoors, under the open sky.
Therefore we´re planning to install a barrier-free sound garden in our backyard. The musical instruments should find a place in our garden so that everyone has the opportunity to play the instruments.
In nature our special children will then have the opportunity to explore the special sound instruments in a self-determined manner and gain new experiences. Music can be experienced and tried out independently. The kids can hit different notes and experimentation starts.
These are the instruments we plan to set up:
Outdoor Glockenblume Harmony:
Each 'blossom' consists of four bells of decreasing size and increasing pitch. Each 'bell' radiates when struck in a harmonic 3-note major chord.
Outdoor Mandalaphone:
Stainless steel cushion body with 8 sound tongues, which are coordinated. Every intuitively chosen combination fits together.
Outdoor Congas Trio:
The conga drums (or tumbadoras) are large, narrow, single-headed African drums. These drums really do sound as good as they look, combining great playability with high energy, beautiful tone and distinctive looks.
Outdoor Cavatina:
The tones on the cavatina are arranged as a traditional glockenspiel in the C major scale. In its versatility, it offers a wide range of expressive possibilities, which is suitable for both beginners and experienced musicians.
Outdoor Farbklangröhren-Spielstation:
The five rainbow-colored sound tubes attached to a single stainless-steel post promote creativity, have a great sound and always sound harmonious (pentatonic).
We are confident that this sound garden will bring music in the air and into the hearts of our special guest children.
We´re looking forward to our first open air concert.