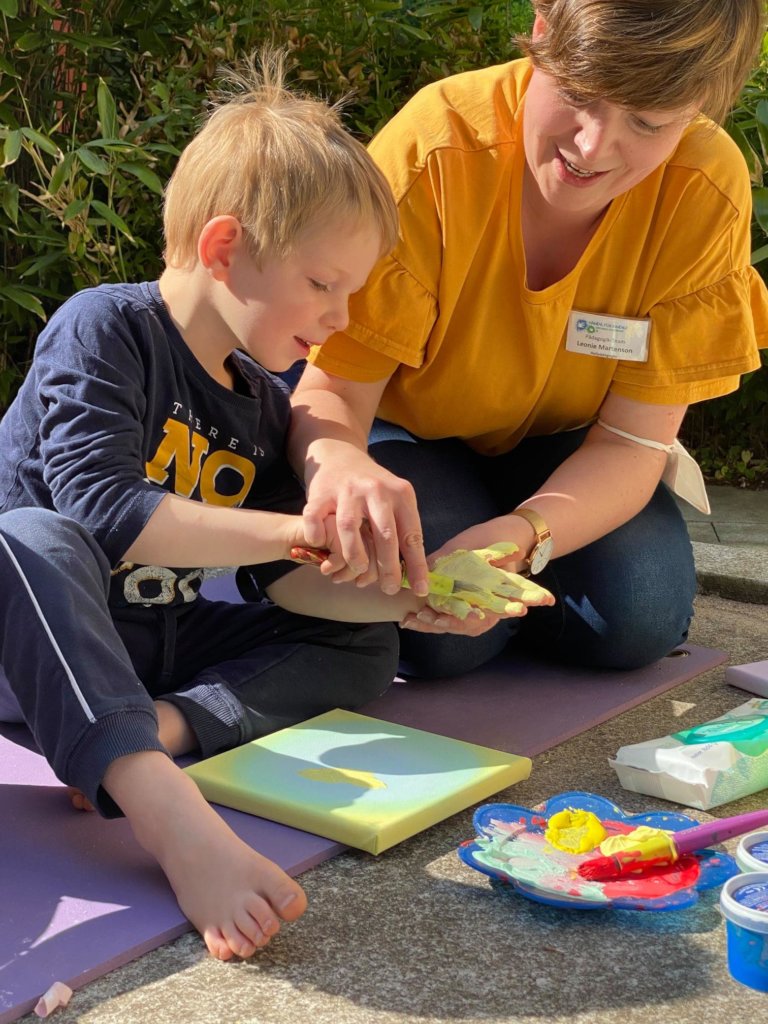 After lockdown and severe restrictions normal everyday life is slowly returning to the New Kupferhof: All guestrooms for our special guests are booked out. In strict compliance with the hygene rules almost all routines or activities are possible again: walks to the nearby farm, where our special kids -and not only them- love to pet the calves, can made without appointments again, the clowns come to visit regularly again, as well as the "Wolkenmobil" (animal assisted therapy) and riding therapy is possible again also, just to name some.
Watching at the scenery for example in the garden of the New Kupferhof you see the usual hustle and bustle as usual and as intended: our special kids and the caregivers enjoy the good weather by swinging, bathing or fooling around, the parents relax while reading a book and the siblings romp around or just enjoy the leisure time with their parents.
And another thing has changed the last weeks: the volunteering staff, which was literally locked out because of lockdown restrictions, is back due to double vaccination and low Covid-19 incidences.
I -and I´m sure I´m not the only one-, as one of the volunteers, can hardly express in words how I missed the cooperation with colleagues, the children`s hustle and laughter or the chats with the parents. Working at the New Kupferhof means being part of a big happy family.
Unfortunately, our annual summer party couldn´t take place for the second time in a row because of Covid -19. But it wouldn´t be the New Kupferhof if it hadn´t come up with something instead of a party with hundreds of people on the grounds of the property: the New Kupferhof Summer Party 2021 as a digital escape room game. With a link you can log in and take a walk through the garden of the New Kupferhof and solve puzzles at any time. Alone and together with others. The link is activated for one year. Interesting information about the New Kupferhof and fun are inevitable.
Every donor during this period will receive this link. For our foreign donors there is a German lesson free of charge, because the game is only in German ;)
Have a nice summer and a lot of fun with the game.