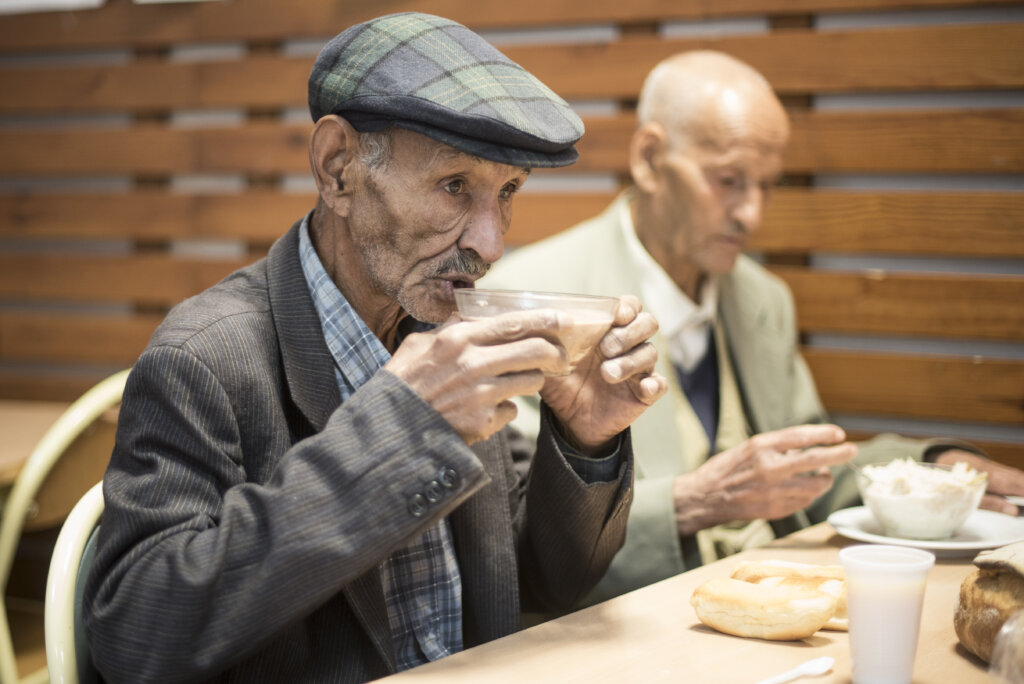 Support for people on the street : our mode of action
The diversity of our actions carried out with people on the street responds both to the diversity of situations encountered and to what is possible to do locally. These actions are in addition to the responses provided by our associative partners or by the public authorities. To best respond to the distress of the very excluded people we meet, our teams in the field have deployed several modes of action :
Work in the street : to be present with people on the street who do not or no longer attend the usual reception and accommodation facilities,
Day care centers : offer listening, guidance and, as far as possible, long-term support,
Accommodation : Since 1990, the management of our large establishments has been entrusted to our daughter association, Cités Caritas. Since then, Secours Catholique has continued to manage many accommodation facilities with lower capacity (on average 10 beds).
Three benchmarks guide our actions:
Go towards: identify and be present alongside people who do not or no longer attend the usual systems,
Adapt our interventions by always seeking a reciprocal relationship over time, if necessary; Indeed, the exchanges and the sharing of experience between volunteers and welcomed are a richness which should allow each person met to become an actor of his change,
Cope with: facilitate the expression of people's potential by taking into account their real needs (expressed or not), no longer looking at people in the dark, through their lacks.
The solidarity expressed by our teams of volunteers is civic, it corresponds to a desire for openness to others, in particular to the most disadvantaged, with the aim of building together a fraternal and just society. Our volunteer teams are professionals of the link and decline a range of relational modes:
- The personalized welcome in a friendly and collective setting, or in the street, through discussions and listening, gives full place to the person (informal relationship);
- Participatory activities allow personal and collective expression and reinvigorate each person;
- Individual support, over time if necessary, is a formal relationship with objectives shared between the support and the supported: access to rights, but also individual projects, with the involvement of partners if necessary. The accompanying volunteer works in a team.
Focus on day care centers
In small rural communities as well as in medium-sized towns and large urban areas, Secours Catholique has created places to offer a first reception and support the various requests of people on the street in order to facilitate their daily lives.
More than 70 day centers are open to them throughout France. In Paris, Avignon, or even Marseilles, these people find landmarks and a friendly welcome. It begins with listening, guidance, and sometimes extends to long-term support to help them access their rights: domiciliation, search for accommodation, procedures to benefit from social services ... At the same time, these receptions offer services (showers and dry cleaning), meals and various cultural, educational and sports workshops.
These receptions are often a landmark for people in a wandering situation. Even in the event of a temporary break in the relationship, the loyalty of the relationship is a principle. They facilitate meetings, personal relationships of trust. Day care centers are fertile ground for considering the always delicate transition from an informal relationship to a formal relationship, from a one-off relationship to a scheduled relationship, thought through over time. It then becomes possible to set out together.
Jean Rodhain day care center in Metz (57)
Located on the heights of Metz, in the city center, the Jean Rodhain day center is one of the 70 day centers of Secours Catholique in France. Created in 1984, it offers three poles :
A catering center, 5 days a week, with in addition to the traditional breakfast offered in the other day centers, a "homemade" meal.
A support and access to rights center (without forgetting access to hygiene with 3 showers).
A collective actions center for social remobilization with expression workshops (games, football, cinema, exhibitions) and cultural and leisure workshops (speaking, painting, writing).
It is a real living and sharing place and where you can meet many nationalities. The people we welcome all have in common: a difficult, precarious, even marginal, living situation. For breakfasts, many people show up after a night in a squat or in the street, in a car park, a cellar, a stairwell or a garage.
Day care activities have been heavily impacted by the confinements that punctuated 2020 and 2021. However, despite this context of exceptional health crisis, day care has not, at any time, ceased its actions with the most destitute. And this by reinventing the methods of reception and care.
In addition, still linked to the health crisis, we noted:
A huge decrease in the number of arrivals of people seeking asylum in Moselle (55).
The closure of our social restaurant since March 16, 2020,
The establishment of a binding health protocol limiting the number of people in the structure,
The decrease in the number of volunteers: due to age, health problems and / or people who wanted to withdraw; the number of volunteers decreased from 75 to 25.
The collective workshops were largely impacted by a forced shutdown and then by an interruption of several months. To date, some collective workshops have resumed with the observation of a drop in attendance, but all the same with the desire to continue to move forward together, to meet and recreate links. The isolation that has impacted us all proves the essential nature of these living spaces and places of speech.
In 2020, 886 people were welcomed at the Jean Rodhain reception.
The emergence of a new day reception, where people from the street are actors
Since 1984, Secours Catholique has rented the premises in which it carries out its work at 9 rue de la Glacière in Metz. These premises are now dilapidated, unsuitable and too small. In addition, the owner of the property has decided to sell it. The day care center must therefore leave the premises before June 30, 2022 at the latest.
The Secours Catholique delegation wishes to take advantage of this imposed change of location, to offer a new welcome where all local partners (associations, public, private) can make their skills available.
The new project ?
Our future place of reception, the Maison des Solidarités, will be used to welcome people on the street, isolated people, men or women, often in great precariousness, migrants, newcomers, people seeking asylum or awaiting regularization, people with breach of rights following personal accidents ...
The place is intended to be an unconditional, benevolent, warm, family and human place of welcome above all intended for people who have suffered breaks in their lives, who are in pain, who have fallen into various addictions and who will find there, a place to settle down and to rebuild. A place of listening, rest, support, networking, guidance ...
Of course, it will be possible to find basic services such as showers, a laundry, a catering service (breakfast and lunch) but the people welcomed can also benefit from personalized support and participate in remobilization workshops. This involves welcoming 80 people per day on average.
The ambition is to be able to offer actions on atypical schedules also at the end of the afternoon and in the evening, on weekends as soon as the teams of volunteers can be formed. It will then be considered to respond to a long-identified need to offer meals on Saturday noon or Sunday noon. It may be possible to bring in groups made up of actors (different associations, different neighborhoods, different horizons) ready to enter into a partnership with Secours Catholique to organize meals. It will be possible to allow the solidarity engagement of new actors, working people willing to volunteer on time slots compatible with their job.
Finally, the welcome will be used by all the partners with which Secours Catholique has been working for several years in Metz : UDAF 57, CCAS, Médecins du Monde, AIEM, CMSEA, RESAM associations, etc. The objective is to allow associative partners to find such or such person accompanied either for consultation meetings, assemblies, conferences-debates. It is also planned to explore with the CCAS of the City of Metz the possibility of imagining a strengthened partnership.
An innovative project:
Empowering the people welcomed: The new daytime reception of Secours Catholique will be based on the mobilization of the people themselves, to bring this space to life that meets the basic needs of people on the street.
Shared governance: The social life council of the Accueil de Jour, the steering body of the reception area, will be made up of equal numbers of people welcomed and volunteers.
15 social remobilization workshops (catering, cinema, French lessons, writing workshop, speaking workshop - popular university, painting, games, bicycle repair, computers, cooking, walking, culture and museum visits, football, work and DIY) will offer to those welcomed to regain self-confidence, to discover their talents, to accept a team life and the constraints of the collective, to take responsibilities and to project themselves into the future. These workshops may evolve over time according to the wishes and possibilities of the people who will make up the groups.
A welcome open to dialogue and mediation to discuss and think together about future actions: with the inhabitants and citizens of the city of Metz but also with traders; to better collaborate with the police services on issues of security and the presence of marginalized groups on public roads; to be responsible interlocutors in dialogue with elected officials of the City or Metz Métropole on all questions relating to people on the street.
Social catering that favors short circuits: Work in conjunction with local producers to imagine how to develop healthy and local food while controlling costs in our desire to offer decent access to food to the poorest people.
A place for training, reflection and action: This place will offer training, information and awareness sessions (on addictions, violence, risky behavior, health, etc.) conferences-debates, consultation meetings in the heart of the city. This place aims to bring together actors who do not know each other to make them want to cooperate with people in precariousness: the business world, the world of research and university, the world of solidarity, elected officials, major social protection institutions, the world of health, municipal and national police, with people who experience poverty and who can become the primary actors in this area.
We are now looking for the premises that will allow us to set up this House of Solidarity in Metz. The location in the city center and the necessary surface area are important criteria which limit the possibilities. Moreover, the beliefs linked to the action of a day care center as well as the associated nuisances for the neighborhood make this research all the more difficult.
The very nature of this project prompted our Metz team to think about experimenting with a mediator position to carry out the missions of our day reception. This mediator is responsible for reaching out to people in the street in the neighborhood, reassuring residents, traders and residents about the presence of the public in the street and identifying people in precariousness to provide all assistance and all guidance needed. He will ensure the logistics to bring meals or packed lunches and food packages to any person reported in connection with the network of partners (isolated people, people sick with COVID 19 or others without support capacity).
For this unprecedented experiment and given the challenges linked to the successful implementation of this new day care center, the delegation wished to favor applications from people with experience of life in the street, to initiate a peer relationship. on a peer-to-peer basis with the people encountered.
The public authorities, very interested in this experiment, have agreed to finance this post of mediator for 12 months from 2022.
The operating expenses of the Jean Rodhain day care center in 2020 were 113,540 €:
Links:
Attachments: