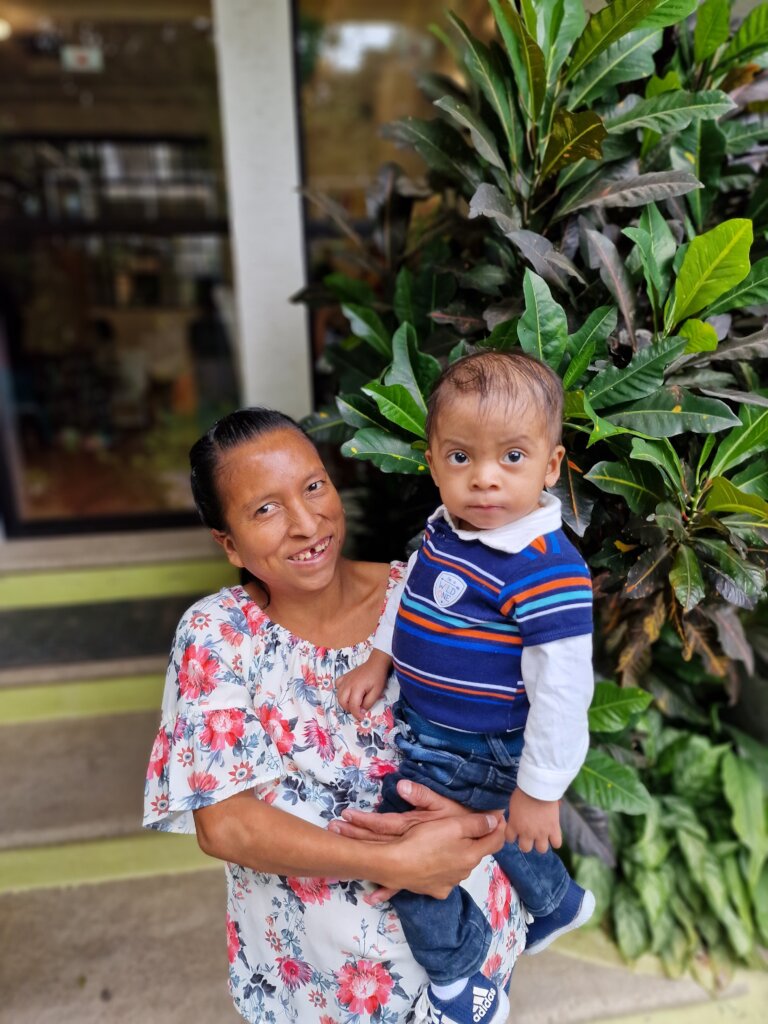 In our last report we mentioned that we had been visiting communities in Escuintla to persuade families to bring their children to recover in Casa Jackson. One such child was Eddy*, who took a lot of time and effort to allow us to help him and his family.
On May 4th we had our first community visits working with Centro De Salud in Masagua, Escuintla. We visited Obero and Guardiania, two small villages around 40 minutes further south towards the Pacific coast. The final family we visited on that day was that of Eddy. Eddy was 15 months old and weighed 6.2 kg and measured 66 cm. He was severely malnourished.
Centro De Salud told us that they had been trying for a few months to persuade Eddy's mother, Matilda*, to bring him to Casa Jackson to no avail. Robbie and Vecany talked to the family, showed photos and videos and explained Casa Jackson's processes to try and persuade the family to come. They made progress but there was no definitive answer.
Due to the family's living situation, a house made of sheet metal and wood with a dirt floor, we gave the family some solar lamps as they did not have constant electricity. Eddy's mother is a single mother who does not currently work. Eddy's father is not a part of his life and does not currently support him. There are 16 people living in the house, including Eddy's older brother Juan*, 5, and his grandparents. The family has almost no income and the men work as day-labourers in the fields.
We unfortunately didn't hear back from Centro De Salud and so Eddy did not join us in Casa Jackson at that time. That wasn't the end of the story, however. On the 20th of June, when we returned to Obero to carry out one of our medical days in conjunction with Centro De Salud, Robbie recognised one of the children waiting for a check-up – Eddy! He reminded Matilda that it was very important for Eddy to come to Casa Jackson. Matilda said she had agreed to come and had even packed up her suitcase ready but Centro De Salud had never arrived at the house to bring her. We talked to Centro De Salud to see if they could organise transport. They said they would but once again we didn't hear back from them.
In August we started to do home visits once again in Masagua with Centro De Salud and, once again, we visited Obero and Guardiania. This time we and Centro De Salud were more forceful with the family, telling them that Centro De Salud would be coming on the 5th of September to bring Eddy to Casa Jackson. Matilda and her family were reluctant at first but ultimately agreed. We also took down details for a potential future house build.
On the 5th of September, 4 months after our initial visit, Eddy arrived at Casa Jackson. Within 2 weeks he walked for the first time.
When Eddy arrived at Casa Jackson he weighed 6.49 kg and measured 71.5 cm. Due to growing taller he was actually more severely malnourished that when we first visited him in May.
In late September we revisited Eddy's house to follow up with a potential house build. They are currently on our waiting list to see if they can receive a house in the future. When we arrived the family told us that they had heard from Eddy's mother and that they were very happy with Eddy's progress and how he was already walking. They were also hopeful that they would see Eddy and his mother again soon.
Eddy was able to go home on the 19th of October. He spent 45 days in Casa Jackson and, in that time, gained 1.47kg or 23% of his initial weight. He also grew 0.5cm taller. Eddy made rapid progress in Casa Jackson, gaining around 33g a day. Eddy's progress developmentally was equally as impressive as his weight gain. He began to take his first steps within 2 weeks of arriving, becoming very confident on his feet. He was also a lot happier and became much more active. Eddy loved to play with the toys in the playroom, dance to music and eat his food.
On top of that, we worked with Matilda to build her self-esteem. She took part in a number of classes, learning to cook new dishes and gain new skills. She also talked to our psychologist and had a number of medical appointments that we were able to facilitate. Matilda was noticeably healthier and happier when she left too.
The GOD'S CHILD Project has been working for 30 years to break the chains of poverty through education, housing, nutrition and healthcare. Please click the link below to donate to support us in our ongoing mission.