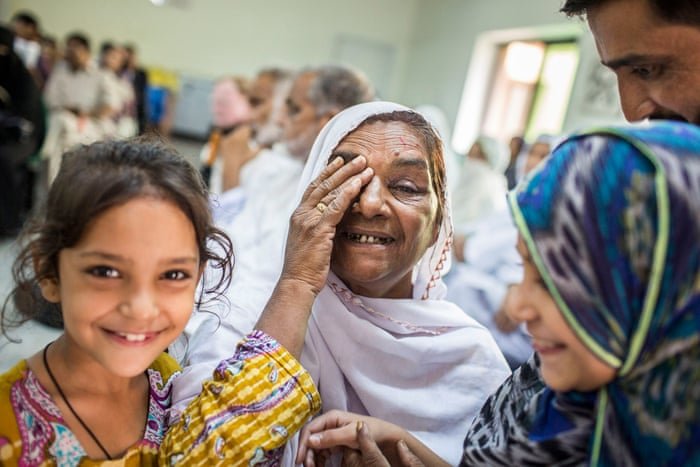 During the last 20 years, incredible progress has been made to strengthen eye health systems in Pakistan through public/private partnerships. Working with international organizations, the national program for prevention and control of blindness has improved infrastructure, human resources and outreach of eye care services to a great extent. A comprehensive eye care approach that identifies districts as a unit of implementation, while establishing the link between primary and secondary health care, played a key role in this change.
Despite this, it is alarming that public sector share in this extraordinary progress is only one-sixth, which is lower than the contribution made by a single charity organization. As a whole, four-fifths (82.3 per cent) of the burden is shared by non-governmental organizations and the private sector.
A fifth of the districts couldn't develop cataract surgical services and do not contribute to the national cataract surgical rate. Half of the districts have a cataract surgical rate lower than 2,000 – this is far below global standards. Additionally, cataract surgical services are restricted to urbanized districts with inequitable resource distribution for eye health. Cataract surgical rate is critically low in the districts where charity hospitals are not operating. This makes cataract surgical services inequitable and inaccessible for poor communities in peripheral districts.
With cataract being the largest cause of blindness worldwide, Pakistan is among few countries, where patients of the medical condition that causes blurred vision have the best access to surgery in the world.
Fatima Memorial Hospital has been setting up camps in order to encourage patients to visit and get themselves checked. Looking at the above numbers, the number of patients is on the rise and we are doing everything to treat as many patients as we can especially the non-affording. Fatima Memorial Hospital is a Trust and is highly dependent on donations through which it provides healthcare facilities to the needy.
Another concern is to cater patients during these testing times where COVID19 has been on the rise and most of the patients are not getting treatment since they are avoiding visiting the hospitals. As a result of which the number of patients are increasing who now require surgeries. This excess load of patients who are waiting for their surgeries need your support.
Fatima Memorial Hospital have also taken the initiative of not only creating awareness about the treatment of cataract but it also provides free treatment to those suffering from this painful disease.

As a charitable trust hospital, we are heavily dependent on the assistance of our generous donors who could support it in the pursuit of saving the eyesight of many of the cataract patients.
Your donation will play a major role in the treatment of these deserving patients so please continue your support towards the cause and make a difference.

Thank you.