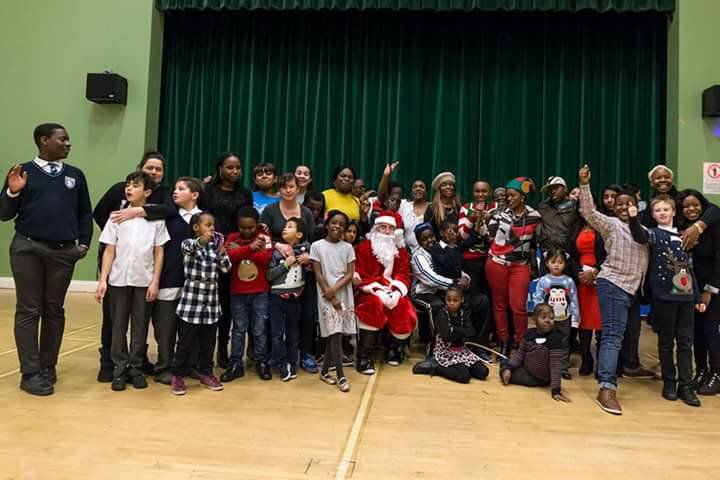 Dear supporters and friends,
We would like to share with you what we did with your financial support Helping Children with Special Need to learn and connect.
Over the last few months, Destiny Children and Family Support Group celebrated Christmas together with all the children, young people and their Families, sharing food, giving opportunity to families and children celebrating Christmas together and connect with other people from the community. We were able to invite Santa to speak to the children and gave Christmas Gift to 30 children and young people. It was lovely to see our children and families spending good quality time, celebrating with other families in a secure environment, playing, laughing and connecting with others. We had about 70 people including children, young people, parents and carers where each child received a small gift from Santa including educational book, sharing foods, giving prizes and played together with special entertainment which was a special day for everyone.
Part of the money raised on this fundraising were use to pay for a Family DAY OUTING Trip to visit Horniman Museum during Half term on 15th February 2018. We took 25 children and their carers for an education day trip to Horniman Museum and Gardens in Forrest Hill, London, giving opportunity to Children with Special Needs and their families to explore the Aquarium, Natural History Gallery, Family Arts fun with colourful carnival, seeing animal, and having outdoors walk in beautiful gardens. We are attaching few pictures and see testimonies quotes below for your viewing to tell you more about the project and we hope to do more family outing and education activities in the years ahead.
See Testimonies quotes from participants
"The communication and ideas shared brought to understand how is important for our children to be connected, reassured and developed social skills which are core in developing self esteem and confidence"- Parent member .
" Exchange of parent experience with other family as to what we encounter in everyday challenges as parents and how we utilize our instinct to resolve those issues. Inclusion and acceptance is what my child gain from the group" - Participant carer
"It's very educational, and feel connected and take part in activities, it will help improve social skills and learning development "- on behalf of the young participant
The project is not yet fully funded but we hope you will continue to support us again and please remember to share the project page with your network by Click here to Support Children with Autism to Learn and Connect .
We would like to thank again each and every one of you for your support. We still have a long road to fully fund this project but we are grateful for all your help.
We look forward to keeping you posted on the progress of this project.
From all of us at Lay Witnesses For Christ International -UK , a very BIG thank you
Jennifer Mapakou
Operations Manager & UK Director
Lay Witnesses for Christ International -UK
Tel: 020 3583 3005
Email:
jenny@lwfci.org.uk
, Website
: www.lwfci.org.uk
************************************************
Reaching people in the Community to Impact the World
To donate, please click below to support our Charity