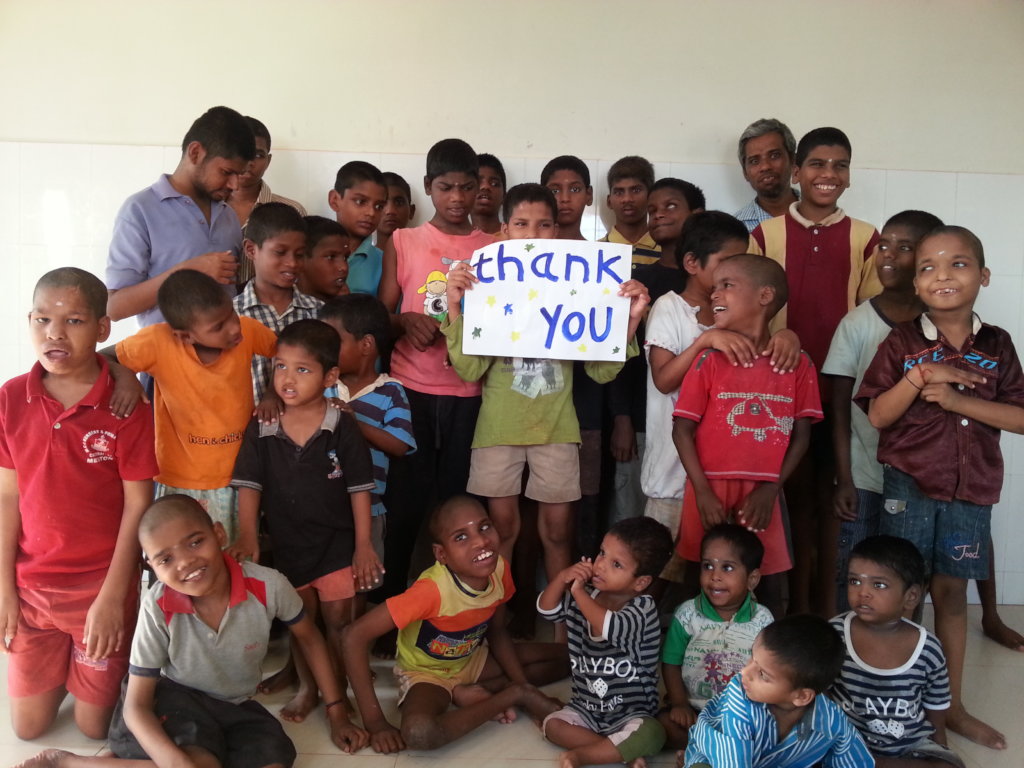 Dear Friends of Sri Arunodayam,
"Each day of our lives we make deposits in the memory banks of our children."
- Charles R Swindoll
Each day that you donated to our cause you helped provide life's most basic needs to the children of Sri Arunodayam. Thanks to you, they lead content and happy lives as children ought to.
Project Cost: $50,000
Local Partner: Global Giving
Project GPS Coordinates: 13.1247° N, 80.2027° E
Project Notes:
At Sri Arunodayam, we believe that every abandoned intellectually disabled child is entitled to receive the same opportunities as normal children. Having built our foundation on values that uphold the dignity and rights of such children, we do our best to help them experience content and purposeful lives.
Thanks to you, a total number of around 200 children have directly benefited through the rehabilitation programs you generously funded. You have helped make Sri Arunodayam's children more self-reliant and confident. Thank you for helping change their lives.
In the past year:
Special Education:
- We hired 4 additional special educators for a better teacher-child ratio. They assist the children with language-related learning issues, such as speaking, listening and writing.
- We hired a clinical psychologist to work with the children on a regular basis as opposed to a "need basis". As children grow, behavioural issues are on the rise. The clinical psychologist also conducts the annual IQ assessment so that children can be specifically rehabilitated in unique areas of need.
- Many of the children have malformed limbs and decreased muscle tone which makes it tough for them to engage in learning over extended periods. Your generosity helped us acquire specially designed classroom furniture for them.
Medical Program:
- We conducted monthly psychiatric and neurological evaluations on 46 children living with serious psychiatric conditions, and on 32 children on fits medications (4 children have been taken off medications as they have improved). Such evaluations help us monitor each child's progress and medicine intake, and upgrade to newer holistic treatments whenever required.
- Your sponsorship helped us acquire much needed specialty physiotherapy equipment for the children, such as an Electrical Muscle Stimulator (a strength training and rehabilitation tool for partially or totally immobilized children), a Trans-cutaneous Electrical Nerve Stimulator (TENS), Ultrasound Imaging Equipment to identify and target nerves, Splints and Orthotics (to help modify body structure imbalances), and Interferential Therapy (to relieve pain and accelerate the self-healing process).
More Project Notes:
- A teenager who was enrolled for a Diploma Course at the Government Vocational Rehabilitation Centre (VRC) last year, has now been placed in a leading Bakery in Chennai city. He is the first successful case of our Community-based employment program.
- A blind teenager has graduated to the 10th Grade at St. Louis School for the Blind. The young lad is also a musician. This school is very famous for its orchestra of blind students.
- 7 girls are continuing at their fine arts classical Indian Bharatanatyam dance program. They made an additional 12 public performances in the past year. They are tutored by a renowned Indian classical dancer. (Dance is therapeutically helping them overcome common problems associated with their condition, such as hyperactivity, gait imbalance/awkwardness, and memory issues).
- Around 50 children participated in 3 major sporting events for the differently abled. They won 15 gold, 6 silver and 6 bronze medals for 30, 50, and 100 meters walking and running events. (We encourage them to participate in sports as the activity is good for their overall development and morale, and helps them strive toward goals).
- 11% of children continue their education at regular schools. 4 girls (aged 7-12) and 4 boys (aged 7-10) attend the local Government school, studying under the 'inclusive learning' program.
- 113 children received special education and speech therapy of which 25 are under the Individualized Education Program (IEP); 50 are getting regular physiotherapy, and 35 are receiving vocational training.
- 3 new vocational projects were commenced in the past year and our vocational center executed 138 project orders successfully. New vocational programs have been introduced for girls, namely wire basket making, and tailoring and embroidery. (Vocational training is a form of occupational therapy, helping them develop the necessary skills to sustain a trade).
- Conducted 26 picnics and educational outings, and 12 medical camps for the children.
- 4 children were reunited with their families in the past year.
- 46 children continue to receive critical psychiatric medications and 28 receive fits medications. 45 children use diapers (which are changed 3 times a day).
- Received 15 new children across all age groups (6 months to 18 years); they have been automatically enrolled in the medical and rehabilitation programs at the home. Almost 50% are severely intellectually disabled.
- Approximately 4000 volunteers and sponsors visited our home in the past year to interact with the children and conduct training and entertainment programs. Each opportunity to interact is helping our children gain more social confidence.
Annual Report 2017-18:We encourage you to download and read our report at: https://sriarunodayam.org/wp-content/uploads/2018/12/Sri-Arunodayam-2017-2018_Annual_Report-.pdf
Please join our New Project Page on Global Giving!
You'll find more donation options as our children's needs grow.
New Page:https://www.globalgiving.org/projects/sri-arunodayam-charitable-trust/
Project #37370
Thank you for joining our mission!