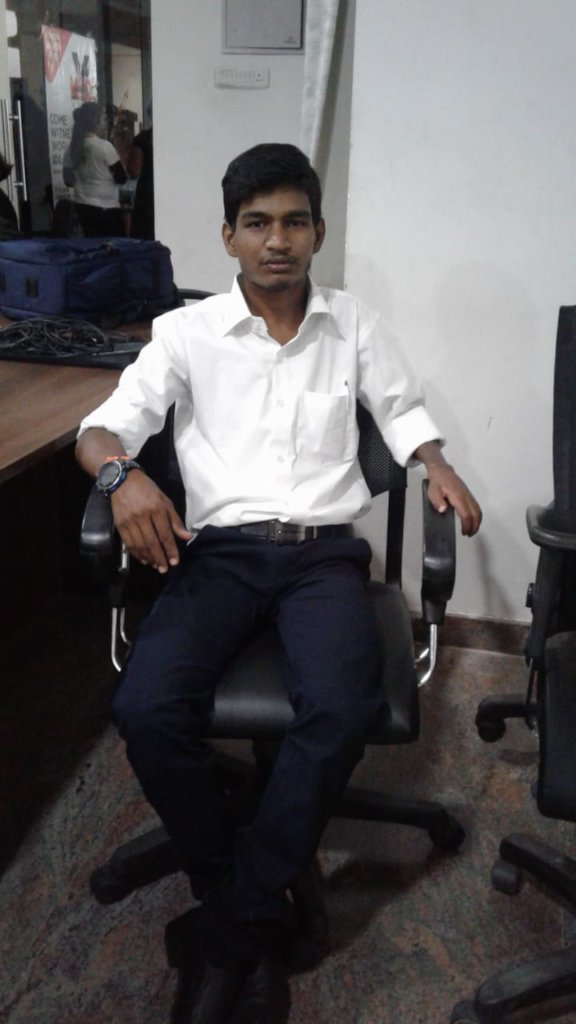 In May this year, Ankit - one of our youngsters was successfully mainstreamed in the job market. Ankit was a little more than 4 years old when he was admitted to our home in 2005. He was abandoned near Shenoy Nagar, Chennai, and rescued by ChildLine. Ankit is differently-abled. His rehabilitation involved intense medical treatment, physiotherapy, special education classes and vocational training. Ankit is now a smart young man with a keen ability to learn.
We had enrolled him at the Vocational Rehabilitation Centre (VRC) - Guindy, last year and he successfully completed a one-year Diploma in Computer Applications and Electronics. We were incredibly proud when he was selected to join M/s Kallidai Motors (a powered wheelchair manufacturing company) through a campus interview – entirely on his own merit and without recommendation! Ankit joined them on May 14th as an Assistant Electronics Technician where he assembles powered wheelchairs. He now lives on his own but comes to visit his friends at the home on weekends. Ankit is our first youngster to take up a mainstream job. He earns a salary of Rs. 6000/- a month and has bought himself a new mobile phone to stay connected. He's expecting a raise on completing probation.
A couple of days ago we got wonderful news that Ankit was selected to be one of 15 speakers at the 2nd Edition of KIDx ASIA/ Kidspreneur Conference, Asia's premier entrepreneurial event exclusively for Kids. Ankit delivered his first speech at the Conference on July 1st at AGNI College of Technology. It was such a proud moment for us, watching him come into his own! KIDx Asia is an Initiative by Kidspreneur, a platform where students can pitch themselves on their Business ideas in front of a wide group of elite investors, educationists, economists, bankers, entrepreneurs and associates. They come together in the spirit of entrepreneurship to connect, collaborate and create opportunities for youngsters like Ankit, all over Asia.
Basuvaraj Waits in the Wings…
Basuvaraj, a visually challenged youngster is currently being groomed to run his own greens shop! He travels to the wholesale market each day to purchase fresh greens, which he sells to homes in our neighbourhood. Basuvaraj makes a good profit and his trainers are teaching him how to handle his daily financial investments. He's aiming to go solo in around 3 months' time.
New Vocational Projects at Prayatna
Prayatna's youngsters are being prepared to take up community-based employment through our placement program. We are inducting new faculty for new career streams that would enhance their employability in the job market. Around 35 youngsters are currently being assessed in areas such as psychological/IQ, occupational, psychosocial and physiotherapy. This is essential before we structure a specific curriculum for work readiness programs. In addition, they will be taught concepts of time, money, numbers, functional academics and soft skills related to performing their tasks. The idea is to focus on providing training for specific high demand jobs that they can handle, so that they have an opportunity to be employed quickly and gainfully.