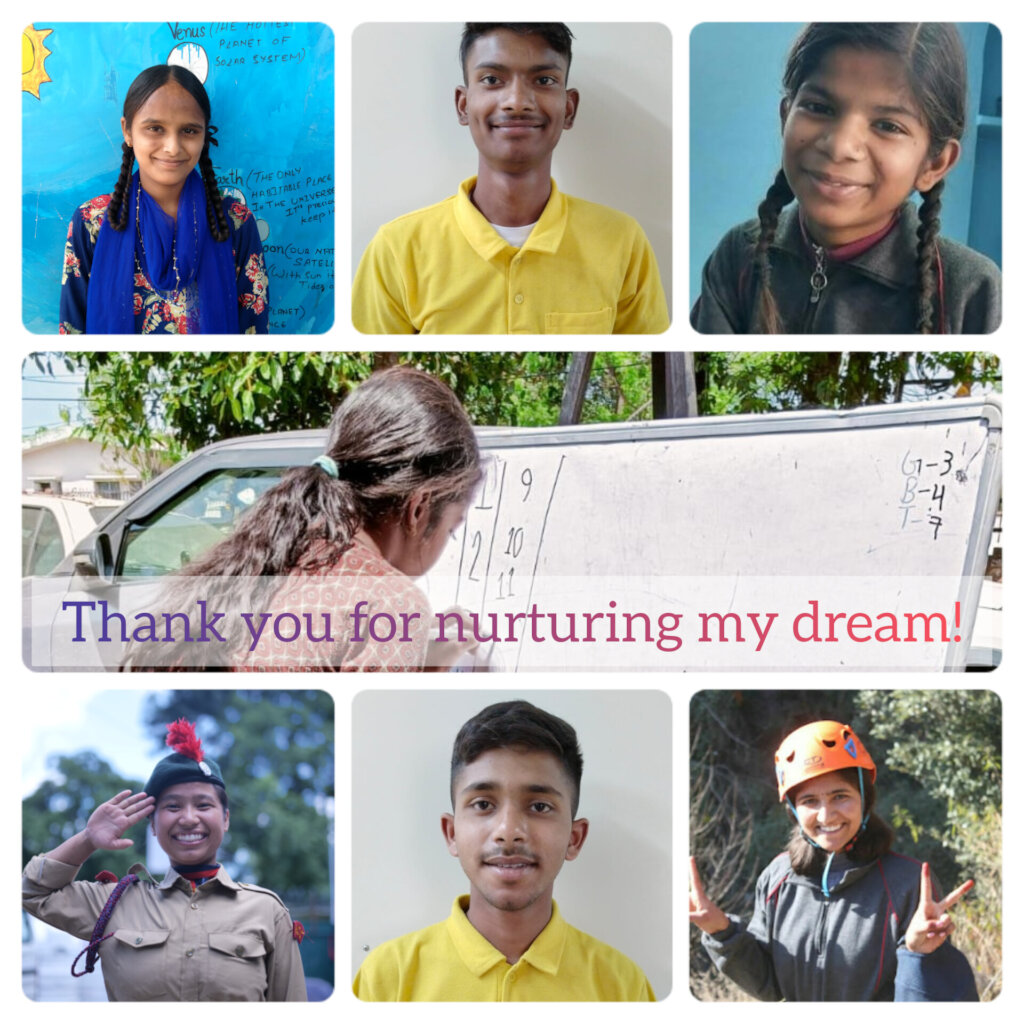 In just 14 years, Aasraa has grown from helping 35 children to touching more than 8000 lives. None of this would have been possible without the unwavering support of our generous supporters who pour their love and support into our mission from around the globe. Their unstinting dedication has made this journey nothing short of incredible.

We are so glad to share some of the stories that reflect the impact of Aasraa's interventions and its vision of providing the underserved with a life of dignity.

We hope you see the incredible difference your generosity makes in the lives of thousands of children by bringing light and hope into their world.


"From Dropout to Dreamer"
Preety's life began in a small village called Aroisarwara in Bihar. Her family, like many others in the village, faced financial struggles. Her father worked as a laborer, while her mother tended to the household and looked after Preety and her four siblings. Despite these hardships, Preeti's family had one aspiration- to educate their children.
Preeti's love for learning, however, was not always apparent. She dropped out of the local government school in Brahmanwala, disinterested in education. But her life took a turn when she met Mr. Vivek, one of Aasraa's Assistant Project Leaders. He spoke to her about the value of education and how it could shape her future.
After hearing Mr. Vivek's words, Preety was inspired to take up her studies again. In 2019, she joined Aasraa and enrolled in the Street Smart program. Her passion for mathematics helped her excel, and she soon progressed to NIOS (ISBT) in Class 3.
Today, Preety has been promoted to Class 8 and aspires to become a teacher. Her story is a testament to the power of education in transforming lives. Hundreds of underprivileged children like Preeti are taking their first step into education at Aasraa various fundamental learning programs.


"Overcoming Adversity"
Krishna had always known that life was not going to be easy for him. Growing up in a small town in Uttarakhand, he had seen his parents struggle every day to make ends meet. Both of them were handicapped, and the family's only source of income was from selling vegetables on the streets and occasional begging.

Krishna is determined to change his life and uplift his family condition. He realizes that education is the key to a brighter future. Currently residing in Aasraa's boys' shelter home, he dreams of pursuing a Bachelor Degree in Commerce. He has also joined the Skills Training Centre of Aasraa to do a certified course in Basic Accounting which will help him obtain a job to support his family. As he skills himself to enter the workforce and substantiate his family income, we are glad he will continue to pursue his education in college and beyond.

"Breaking Barriers"
Sheetal is one of 6 children of subsistence farmers who, as a girl child, would never get an education were it not for Aasraa's intervention and your support. Sheetal avers "My parents could never afford to educate me. I dropped out of school in favour of my brothers studying. Now thanks to Aasraa and the tremendous support you have given, I have completed my Class 12 Board Examination." As Sheetal awaits the results, she has already started training for one of the most competitive exams in India, which will enable her to fulfil her dream of joining the armed forces. She feels for her nation and wants to work towards protecting it to the best of her ability. Sheetal is a shining example for all the children under Aasraa's care and larger society, especially for girls who want to break the glass ceiling and choose unconventional professions in their lives.



"Story of Hope and Perseverance"
Where do you find the inner strength to face life head on when at age 12 your mother deserts the family and you discover that your brothers will not live long? Neelam's brothers are afflicted with a terminal, degenerative, nervous system disorder that will not let the children live through adulthood.

Where do you summon the courage from within when your 79-year-old father is incapable of working and supporting the family? When you have been forced to leave your home to stay at a shelter home about which you know nothing?
Neelam Kshetri is one determined young 17-year-old who has grit and perseverance. Her quiet resolve to transform her life enabled her to not just thrive with us for 5 years, but blossom into a beautiful young girl who is responsible, confident & a team player.
Neelam has passed Class 12 and is currently preparing to appear for the NEET exam so she can enroll for an MBBS degree. Her aspiration to be in the medical field stems from her desire to find a cure for the disease that has afflicted her brothers and fragmented the family.
For us Neelam is the metaphor for 'Hope' and for countless children like her who dream to break their poverty cycle and become more.


"Breaking Through Poverty and Pain"
Twelve-year-old Preeti is a quiet and beautiful young girl. Her honey-colored eyes light up when she smiles but her face and arms are badly burnt. Preeti fell into a vat of hot tea when she was 4 and her family couldn't afford the medical help she needed. Preeti gets bullied a lot in school because of her burns, her peers tease her and don't let her play with them. Preeti often tells her mother, 'I hate looking in the mirror mummy, I don't want to look at my face'.
But more than her burns, it is her poverty that pains Preeti and keeps her trapped. Her parents are illiterate and her father is a kabari vaala (a man who collects garbage). Preeti has 4 siblings, with a family of seven and one meager salary life is a constant struggle. Her mother spoke with tears in her eyes about how much she wants to get a job to help her children but her husband's family won't allow it. Preeti's older sister had to drop out of school at the age of 13, a fate that awaits Preeti this year as she gets closer to her own 14th birthday. Preeti wants to be a teacher so that she can support her family and because she wants to help other little children learn. With the help of supporters and well-wishers around the world, Aasraa gives her the education she so desperately wants and deserves.


"Orphaned but Unbroken"
Guruvendra is a young boy who exudes confidence and leadership qualities. A resident at Aasraa's shelter home, Guruvendra has passed class 12 and looks to the future with hope and dreams. His parents passed away, rendering him orphaned at a young age. Despite a challenging childhood, Guruvendra remains determined to make something of himself and achieve his goals.
After Class 12, he cleared a much sought-after Early Career Program exam called HCL TechBee by HCL Technologies, an Indian multinational IT company, but decided to follow his true passion and pursue hotel management instead.
Guruvendra is now enrolled in the culinary course at Aasraa's Skill Training Centre and is eager to learn all that he can. He dreams of one day becoming a successful professional in the field and providing a better life for himself and his younger brother.
Links: