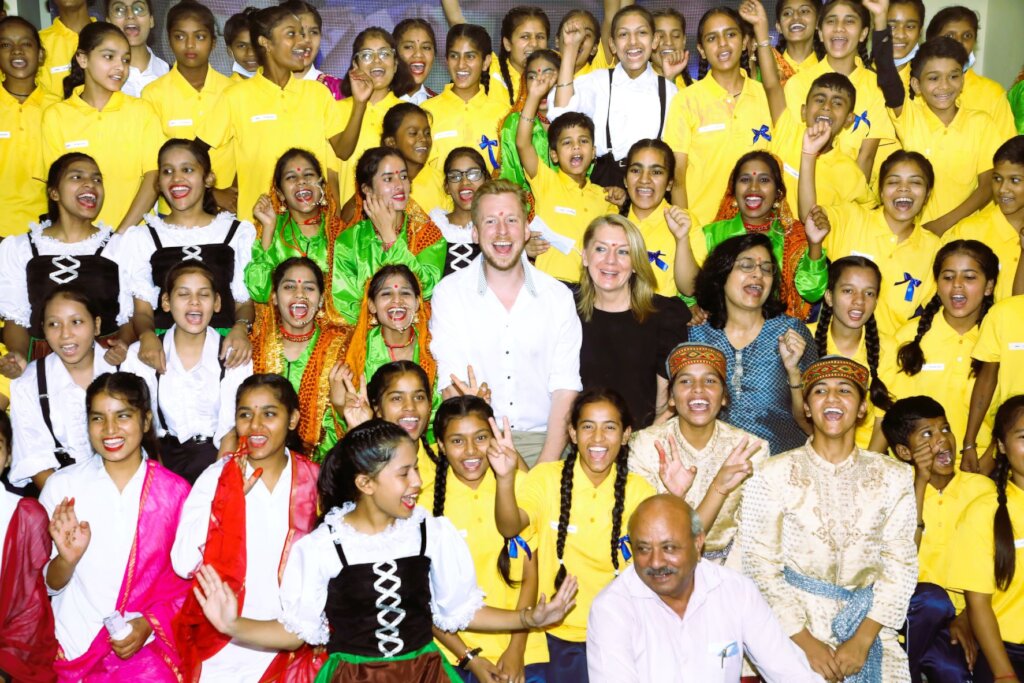 Dear Patrons,

The past few months have been incredibly encouraging for Aasraa. From inaugurating a new girls' shelter home to winning the SDG Goalkeeper Award, and every happy news in between has emboldened our vision and mission
AASRAA INAUGURATES A GIRLS' SHELTER HOME
Keeping in mind Aasraa's holistic approach to empowerment, a new girls' shelter home was launched on the 6th of September for 200 underserved girls in Dehradun. Inaugurated by the state's Chief Minister and Managing Director of Help Alliance, Ms. Andrea, this shelter home is one of Aasraa's major milestones for girl child empowerment.

Aasraa is grateful to have the support of the Government of Uttarakhand and 'help alliance' for making the shelter home a reality. 'help alliance', the aid organization of the Lufthansa Group, were the main sponsors, along with Mastercard and RTL (German TV channel). Our special thanks to one of our well-wishers who has chosen to remain anonymous and contributed generously to the construction of this shelter home.
This home will empower our girls to work for a better future with equality, determination and hope.
AASRAA WINS THE SDG GOALKEEPER AWARD, 2021
Another feather in our cap was being awarded the SDG Goalkeeper Award 2021 on 10th June 2022 for Aasraa's valuable contribution to SDG4, Quality Education. Aasraa was one of the 27 organizations to receive the prestigious award.
Centre for Public Policy and Good Governance (CPPGG), Department of Planning, Government of Uttarakhand in collaboration with the United Nations Development Program (UNDP) organized Uttarakhand's SDG Goalkeeper Award.
This honor has impelled us to further extend our reach to every unreachable or unteachable child; to nurture, protect and drive change in vulnerable lives.
CHILDREN AND ACHIEVEMENTS!
Amla becomes a Coder!
Amla, from a remote village in Uttarakhand, was our residential student who graduated from Class 12 with an aggregate of 55%. After doing a 3-month course in coding, she was selected by NavGurukul to do a 15-month residential training course in Bangalore, India. Upon successfully completing the course, Amla started a 6-month paid internship with Shiksha Lokam. Amla fills us with immense pride as she takes us a step closer to our goal of empowering our girls towards a life of independence and dignity.
Our medical apprentices!
Roji completed her class 12 this year and wants to pursue a career in medicine. In August, she was enrolled for a Diploma in Medical Imaging Technology, NIOS program (National Institue of Open Schooling) for two years at one of town's most renowned Diagnostic & Imaging Centre. With a mother who works as a helper at one of Aasraa's centres and an alcoholic father who abandoned them, Roji didn't let her hardships deter her. She is determined to move ahead and break the cycle of poverty they are trapped in.
Prem completed his class 12 last year. Son of a daily wage-earning painter, he was enrolled for a Diploma in Medical Imaging Technology, NIOS program last year in November. Today, he is deployed in Histo/Cyto Pathology Department of the same Diagnostic & Imaging Centre and has learnt techniques of blood sampling, collection and receiving.
Board Results and Future Endeavours!
Braving all their hardships, out of the total students who appeared in classes 10 and 12, 90% cleared their board examinations in the academic year 2021-22.
9% cleared it with distinction, 41% with first division, 36% with second division and 3% with third division.
15 of our students who cleared their class 12 exams have been enrolled into various courses ranging from B. Tech, B. Com, B.A to B.Sc at colleges of repute in Dehradun such as Dehradun Institute of Technology, JB Institute of Technology, D.B.S College (Dayanand Brijendra Saraswati) and Tula's Institute.
WORKSHOPS AND ACHIEVEMENTS
Capacity Building
Aasraa conducted an 8-day annual summer teacher training workshop in June.
Training programs enhance the pedagogical and class management skills of our teachers.Adept educationists and professional counselors guided our teaching staff to emphasize activity-based teaching methodology, student-teacher interactions, productive and effective practices of engagement, and social & emotional development.
All the teachers and program managers were awarded certificates of appreciation and achievement for their incredible contribution to making the training a success.
Volunteer participation
It takes courage and empathy to bring change to society. Aasraa is thrilled to have volunteers from various educational institutes and organizations from all over the world to contribute to the mission with their incredible help and support.
Over the summer, volunteers from the University of Petroleum and Energy Studies, a private university in Dehradun and Marian College in Kerala worked with us and contributed to the difference Aasraa wishes to bring to the world.



As we grow as an organization, it is Aasraa's endeavour to reach more and more children with the promise of education and a hopeful future. We are blessed to have supporters like you on this extraordinary journey of growth.