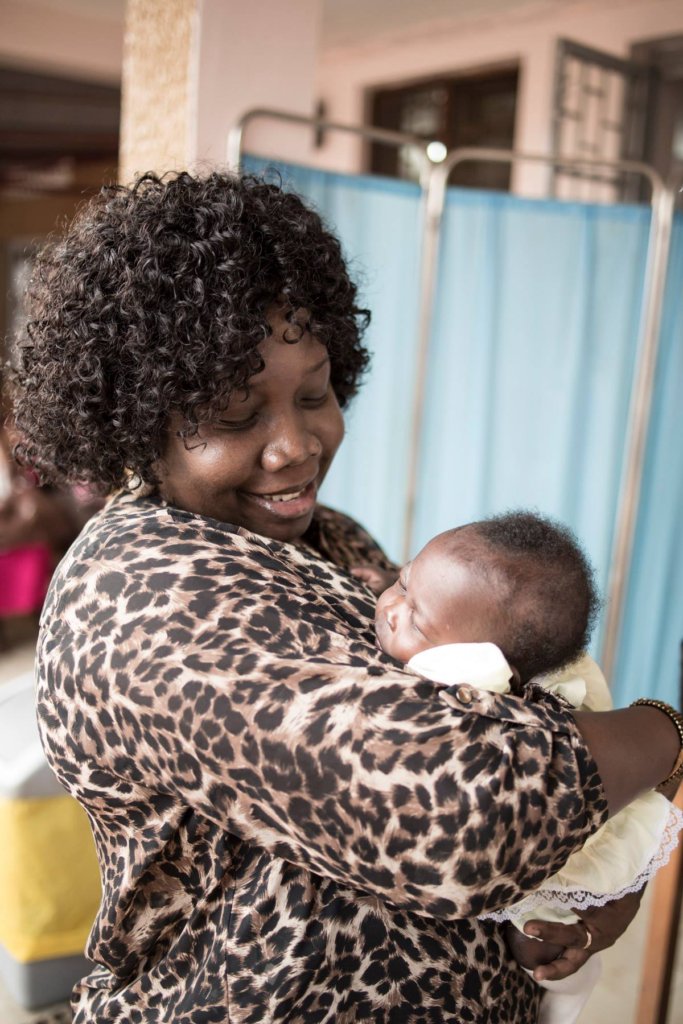 "Negative" is the single confirmation that all mothers living with HIV hope to hear when they bring their newborns in to get tested for HIV. At Alive Medical Services (AMS), we have been saying 'negative' a lot. In fact, since 2013, AMS has supported every woman enrolled in our EMTCT (elimination of mother-to-child transmission) program to give birth to HIV-free babies!
Alive Medical Services understands that in order to realize an HIV free generation, we must provide all women and families with the proper respect, love, and care to empower them to make healthy and informed decisions. AMS believes that every woman has the right to build the healthy family that she desires. AMS supports this vision by providing women with the information, care, treatment, and support that they need to give birth to HIV-free children.
As mothers continue to spread information in the community about these services, AMS has seen the demand continue to grow. In 2015 alone, AMS supported women living with HIV to give birth to 414 HIV-free babies.
Your support enables us to continue providing the staffing, medicine, and care that is needed to stand in solidarity with women living with HIV and work towards an HIV-free future!
Hope*, one of our AMS ambassador mothers recounted her journey to good health and giving birth to an HIV-free baby. Hope first arrived at AMS in 2011, when family members brought her to the clinic after she had fallen sick at her aunt's home. Her family members knew about the free, quality care at AMS and trusted the clinic to care for the young women. After being tested at the clinic, Hope learned that she was HIV positive. Despite learning this difficult information, Hope immediately began working closely with AMS staff to make a smooth and holistic transition on to treatment. Within just a couple of weeks, she was placed on antiretroviral therapy (ART) and her health immediately began to improve.
However, despite regaining her strength and health, Hope was overcome by fear when she became pregnant two years later. Hope came to the clinic worried about her and her unborn child's future, fearing that they would both die from HIV. However, the staff at AMS immediately consoled and assured her that with the proper care and treatment she could give birth to a healthy, HIV-free baby.
Hope followed all of her doctor's advice and carefully adhered to her ART and other antenatal care medications, making sure that she did everything that she could to ensure that she would give birth to an HIV-free baby. When she delivered her baby boy in June 2014 she was rewarded with a happy and healthy baby. However, even after the baby's birth, Hope knew that she needed to stick to her treatment plan to keep she and her new son healthy. She continued to follow her doctor's medical plan for the newborn, following a breastfeeding plan and giving her son the recommended Nevirapine syrup, followed by septrine for the first year of his life. Throughout this process, Hope brought her son to the clinic where he received his three, scheduled HIV tests. After the third and final test, at one and a half years old, the baby boy was confirmed HIV negative!
With her son confirmed HIV-negative, Hope was ready to celebrate the accomplishment with her family and friends! When thinking about the bright future that awaits she and her young son, Hope says that she is grateful to God and AMS for the guidance, care, love, and support that she received along the way.
Now Hope is doing her part to spread education and ensure that more children are born HIV-free. Hope helps advise other HIV positive women about the importance of working closely with medical staff and adhering to their treatment plans in order to give birth to HIV-free babies.
When you support the AMS EMTCT (elimination of mother-to-child transmission) program you are supporting the dreams of women like Hope. Thank you for believing in our work and for investing in an HIV-free generation!
*Hope is not the woman's real name, but was used to respect her privacy.
Links: