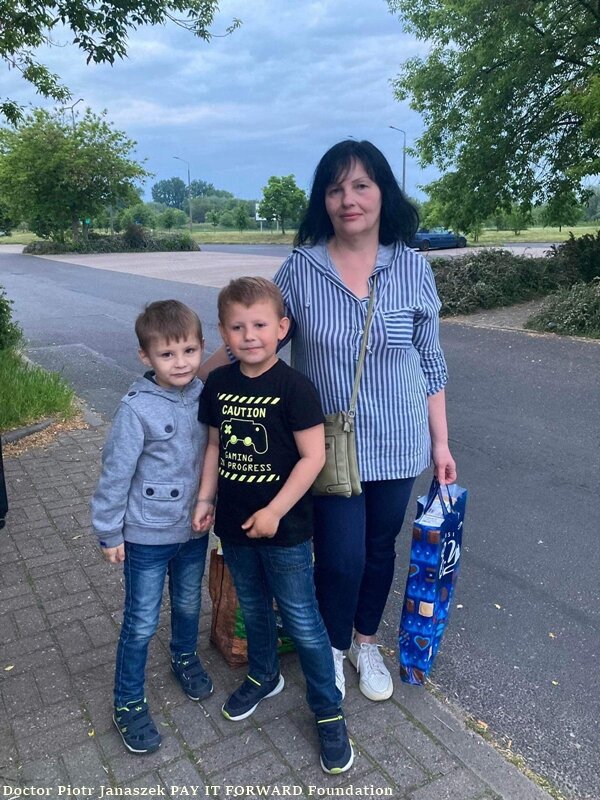 When in the spring of 2022 we were transporting them from the train station in Konin, where they had found a peaceful and safe space, 6-year-old Wladek asked: "Are they going to bomb us here?"… We froze. Today, both brothers, Ivan and two year older Wladek, attend polish schools, play football with their friends in the backyard and they LOVE chocolate bars.
The door to a small apartment on one of the housing estates in Konin is opened by a 50-year-old Natalie, Ivan's and Wladek's grandmother, who had to make a heroic decision in a blink of an eye. She had to leave with her grandchildren and go to a foreign country and be under a stranger's care, far away from their loved ones. But that was the only way she could save herself and her grandchildren and ran from bombarded Nikopol.
- My daughter was supposed to go with the boys, but at the last moment it turned out that she didn't have required papers so immediately we had to make a quick decision whether I should go with the children or if we're staying there together. But Nikopol is hell. Bombs and rockets fall there every day. There was no time to think about it. We had packed our suitcases, contacted our friend Wika who had already been in Poland and we left but having hope that we will find peace and safety. – Natalie says while pouring a bowl of delicious Ukrainian borsch.
Parting with loved ones was extremely hard. Imagine two little boys for whom their mother is a whole world and they have to leave that world and dive into the unknown. The thing that saved the entire situation was the fact that we were supposed to travel by train and the boys love trains.
Doctor Piotr Janaszek's PAY IT FORWARD Foundation helped us in Konin. I remember how on the first day, right after arrival, a babysitter was sent to us and she helped us with shopping and explained everything that was going to happen to us. It was all well organized. On the second day we were given a room in the Hostel, where there already were several Ukrainian families. I remember cooking together, children playing, everyone helping each other, just like a new, beautiful family. I also remember how our babysitter took the boys for ice cream and how happy they came back. Wladek then said: Grandma, we're having a great time here! It's a pity mom can't see it… - Natalie says.
After a month in the Hostel, Grandma Natalie and the boys moved to a small, nice apartment. And there a normal life began for them: the boys went to school, they play football in the yard with their peers, go to the swimming pool from time to time or take part in the trips organized by the Foundation, meet new friends, learn Polish language, and try to live a normal life, just like every other 6 and 8-year-old.
- We miss our mother but we talk to her every day via messenger. The most important thing is that mom is alive and that she is healthy. She has sent us a new phone because the old one was jamming all the time. I like going to school here but I miss my friends in Nikopol – Wladek, bigger troublemaker, says. Ivan on the other hand is shy but once he says something, it freezes you.
- My biggest fear was that we are going to be bombed here too… that my mother and grandma would cry and that we will have to hide quickly in the basement. But when we got here it was very hot, grandmother opened the window and we heard the birds singing. I thought we were in paradise… - Ivan says. Today, they feel like home in Konin. They love their little everyday life. Grandma Natalie says that she would gladly stay here, forever, because she had never felt so taken care of in her life.
- I have no words to express our gratitude to the people from the PAY IT FORWARD Foundation for bringing us here. They took us in, gave us a roof over our heads and provided peace, safety and normal life. We really are well here and we are not thinking of leaving at all… We thank the Foundation for saving our lives – Natalie adds emotionally, while the Ukrainian borscht in a colorful bowl got cold. It was impossible to eat in such emotions…
Update on 24.05 2023.
Grandma Natalie with Ivan and Wladek returned to Ukraine, to their mother and daughter. Longing did not allow them to live in such separation any longer and although they have returned to a place which is not safe, the boys cuddle up to their mother and can't wait to meet their old friends from the yard. For them, they are newcomers from a different world.
Agata Kaminska–Brice