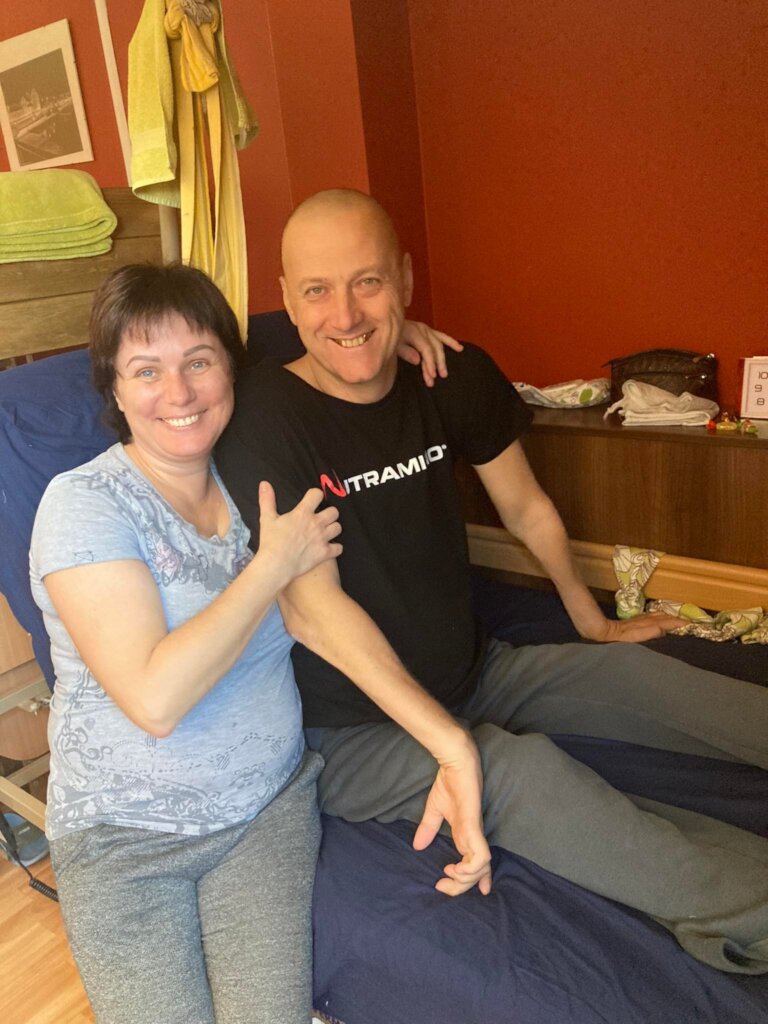 Dear Donor,
today I want to tell you the story of a family who came to us from Zaporozhye in Ukraine at the end of October. Thank you so much for helping the refugees who come to our Foundation. Thanks to you, we are able to help them.
Every day is a lottery...
They came all together as a whole family, along with their dog Arti and cat Mars. They took with them two precious pots, family photos, a back straightening board for Oleksiy and a couple of books in Ukrainian for their 10-year-old daughter Dashka. For more than two months in Zaporozhye, Ukraine, they didn't sleep a single, entire night of constant bombing and bombing... At the Doctor Piotr Janaszek PAY IT FORWARD Foundation, they found peace, warmth and friends.
Olena decided to come to Poland after an S 300 bomb hit the apartment block opposite the block where she and her family lived. That bombing killed several people at the time, and more than a dozen were injured.

The road through hell
- I was making dinner for my family. The kitchen table on which I was preparing pielimieni (a type of Ukrainian dumplings) is opposite the window. Suddenly there was a swish, a terrible bang I don't remember much because I fell under the table. When it calmed down a bit I looked out the window and saw only the ruins at my neighbors, I could hear women crying, men screaming that someone was left under the rubble... The next day on the internet on the rehabilitation and volunteer group I asked if they would take us to Poland from this hell. The answer came the same day. In the morning we were already packed... - says Olena.
Their journey to Poland took more than three days! If it were not for the medical transport that was provided for Oleksiy, since he moves in a wheelchair, they probably would not have made it. Bombs were falling all along the way, they had to stop, wait for the worst to pass and move on. When they finally reached Konin they slept for 16 hours without a break!

Love in the neighborhood
Olena and Oleksiy were destined for each other. They grew up in the same yard. He was the one who defended her from other boys, was the first to invite her to dances, bought her a colorful blouse for the end of the school year and took her to the water on vacation. It couldn't have been any other way. They married quickly. Two years after the wedding, their first daughter Tania was born. Oleksiy had a great job and earned well, so they decided that Olena would take care of the child and the house. They lived well enough even for a family vacation. Until the day when the accident happened. Oleksiy, while on vacation with his family, jumped into the water headfirst and never came out of the water on his own again. He broke his spine and has been in a wheelchair for 22 years.
- Our world collapsed. Me with my three-year-old daughter, the whole house on my head and, on top of that, a paralyzed husband. I had all sorts of thoughts, because I thought I wouldn't be able to pull it all off on my own. - Olena recalls.
Ten years ago their second daughter, Dashka, was born. She is a pretty girl, energetic, always smiling, in love with dance and sports. She is everywhere. It is great happiness this Dashka. Just a few days ago she went to a Polish school for the first time.

Thank you for the new life
- In Ukraine, we live very modestly. For living we have 300 zloty of husband's pension and social assistance. I try to make some extra money: I cook after people, clean, work in the fields seasonally, take care of the elderly, children, but this is a drop in the ocean of needs. My husband didn't have enough rehabilitation there because we couldn't afford it, so I see him regressing. Daszka is only 10 years old so she would like to have clothes like her friends, not those of her older cousins, I understand this, but where to get money for this? Often buying medicines at the pharmacy for my husband, I wondered what kind to buy to still have enough for food. It's so humiliating. My biggest dream is to have financial stability. Not to have a lot, but just enough to cover food, bills and my husband's rehabilitation well and maybe some shooping with my daughter from time to time. - Olena dreams.
A month before the outbreak of war in Ukraine, Olena, after many courses, finally found a job. Her first job in life. She did not enjoy it for too long. The company was closed, people were fired and the dream of a better life burst like a soap bubble.

- Dear Poles! Dear Donors! We would like to thank you for your goodness, for caring, for what you do for us. Until the end of our lives we will thank God for you and pray that this good comes back to you. Over there in Ukraine, life today is like a lottery... And we here in beautiful Konin, thanks to you, we meet kind people on the streets, in the store and in the clinic. We have a roof over our heads, a family atmosphere in the hostel, a full refrigerator (Daszka eats yogurt and fruit every day), peace and quiet outside the windows. Our daughter went to school for the first time today, she dressed nicely, I braided her hair and made a cross on her forehead. Dear Friends, thanks to you we are home ... - adds Olena and a huge tear runs down her cheek. But it's not from fear or sadness. It's from happiness ...