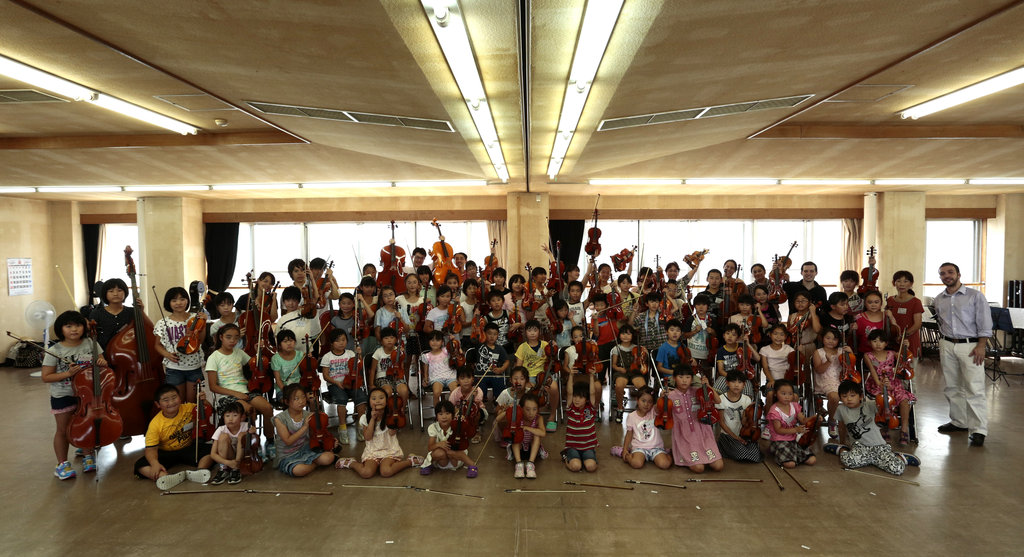 "I am different from what I used to be, and I am proud of myself" - Marina, Grade 7 says. Through El Sistema program, many children gain music skills and a lot more.
"I've never had this kind of learning opportunity. Teachers from Venezuela were so helpful to making me understand how to solve the problems which I had encountered. I really feel I am better at playing violin than ever before. Well, I am surely different from what I used to be and I am now proud of myself. I will do my best as a concert mistress to lead my fellow orchestra members."

With a bright smile, Marina, Grade 7, gave us this comment just after their final performance at our summer intensive session. She used to be a tutti position at the first violin section, so, has drastically gained her confidence as a musician. Congratulations to her for leading 90 members of the orchestra at our summer class final day concert held on Aug. 10th 2013.
Every time we receive such positive comments from children filled with joy, we cannot help thanking donors and supporters of our program.
Since East Japan Great Earthquake of March 2011, 4000 children in Soma-city of Fukushima, have suffered traumatic stress caused by earthquake and Tsunami as well as the subsequent nuclear accidents. Although the radiation dose is relatively low in Soma, their daily activities are still restricted.
Music itself can heal children, furthermore, we believe that through our El Sistema inspired lessons learned in group activities, children can take pride and gain confidence in themselves with lively attitude, which are benefits that can spread beyond the classroom to parents and the community, resulting in positive social change in Soma. In another words, the children you are supporting will become a pillar of community, a pillar of reconstruction of Fukushima.
We are determined to expand our program to assist more children in changing lives through music. Your continuous support and attention would be immeasurably appreciated.