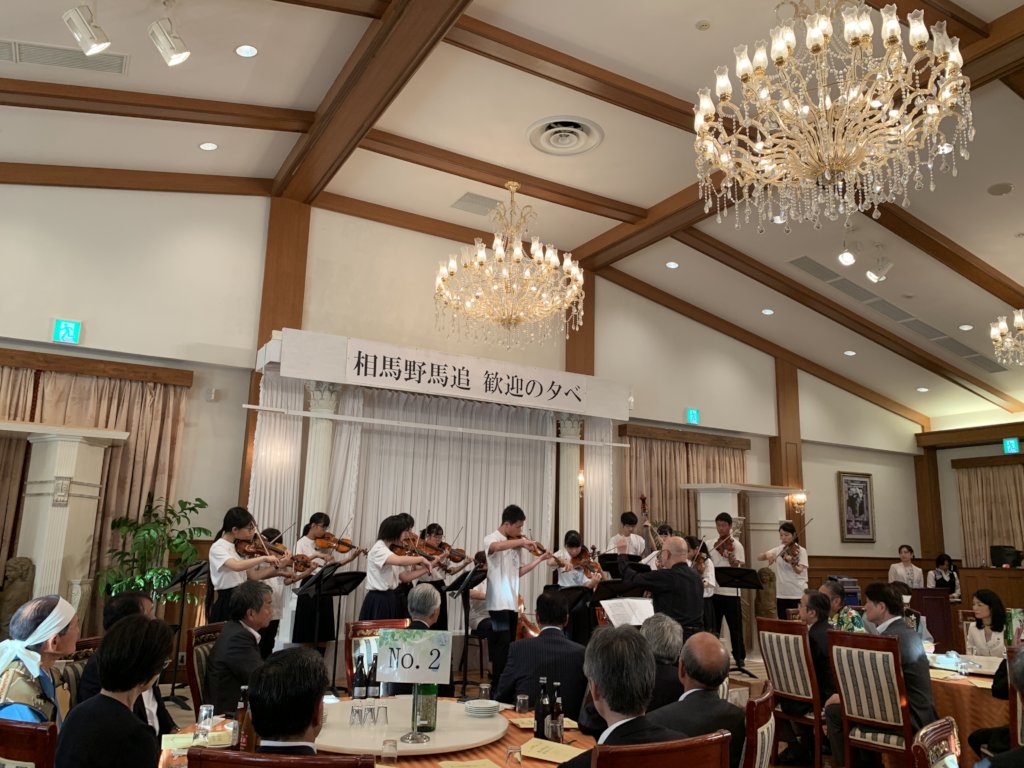 Soma-Nomaoi is one of the famous traditional festivals in Japan with a history of over 1000 years. During the festival season, Soma city is filled with excitement welcoming both domestic and foreign visitors. The festival is held for 3 days in a row. After the first day's departure ceremony (Syutsujin-shiki) and Samurai procession (Musya-gyouretsu), the Soma City holds a welcome reception for special guests.
This reception consisted of guests from all over Japan who have relationship with Soma City. It was such an honor for Soma Children's Orchestra to be invited to perform at the opening, conducted by Mr. Okazaki, our music director.
The Vivaldi's L'estro Armonico No.8 "Concerto for 2 violins" was a specially memorable piece for the orchestra, because it was played at the summer seminar with teachers from Venezuela 6 years ago.
The first and third movement was performed at the reception, and the soloists, Takayuki (grade 11) and Momoka (grade 9), played their parts passionately.
As the orchestra's tradition, the performance was closed with a very famous local folk song, "Soma Bonuta," which was arranged for strings, flutes and Japanese drums.
Mr. Ueda, who played an important role in establishing the Soma Children's Orchestra, also joined the performance by playing the Piccolo. He was a former Soma City Council senior official, who was responsible for the city's music and performing art programs .
We have received multiple compliments such as how it was wonderful, and how they were moved by the performance. We would especially like to thank the concerned people of Soma City for making this precious opportunity possible.
We also highly appreciate continuous support given by our Global Giving partners — thank you!