Project Report

| Aug 18, 2023
Solidarity in Action Updates!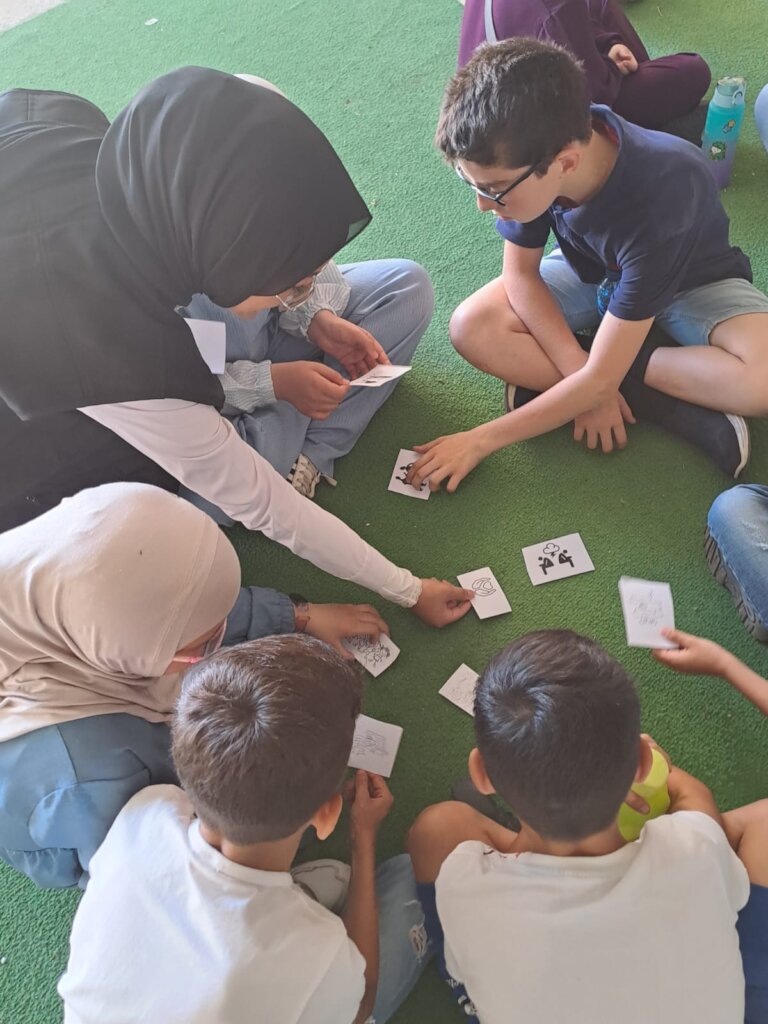 Solidarity in Action (SIA) continues to support local intercommunal initiatives throughout Lebanon contributing to alleviating the burden of the multifaced crisis Lebanon is facing. SIA in general focuses on 6 priority areas:
Support for volunteers,
Psychosocial support,
Small business rehabilitation,
House repairs and Shelter,
Food security & essential supplies,
Support for Schools and Educational Initiatives.
During the past few months, Solidarity in Action (SIA) supported 4 different initiatives under different priority areas of intervention, in the Lebanese regions of Baalbek, Nabatiye, Aley, and Akkar.
CBO Bassma (Nabatiye) engaging children in peacebuilding initiative:
Bassma initiative is a youth social initiative that aimed to serve the community and youth. The Bassma initiative was established in 2020 and is located in the Nabatiye / Kfour-Toul area. It includes 52 volunteers, from the age of 16 to 35 years. This initiative aims to empower children and adolescents with conflict resolution and peace-building skills.
With the support of Solidarity in Action, a team of 4 young women were trained to facilitate activities on conflict resolution and peacebuilding for children and adolescents. Three training workshops followed for children on conflict, its causes, and the ability to solve it in the appropriate ways to build peace.
The four trainings took place in: Bassma Initiative Center (Nabatiye) - Sanad School (Nabatiye) - Fadak Center (Toul/Kfour) - Spirit of Social Work Association (Harouf)
The total number of beneficiaries reached is 70: 4 youth facilitators & 66 children.
An individual initiative by a group of teachers in Akkar to combat illiteracy:
This initiative aimed to combat illiteracy by educating 25 students between the ages of 6 and 16 who have dropped out of school in the Akkar district for many reasons. It aimed to enable them to continue their studies and encourage them and their families to pursue education.
With the support of Solidarity in Action, a class was rented, along with the purchase of different class materials such as stationery, chairs, and a writing board to help children learn.
The subjects taught included Arabic, English, French, and biology. In addition to some psychosocial support activities.
Solar panel installation for CBO "Karama" (Baalbek):
The initiative aimed to install solar panels for the Karama Humanitarian Association Center in Baalbek to secure electricity through environmentally friendly solar energy, in order to continue the work of the youth center that hosts training workshops, activities, and youth meetings that promote diversity. This will allow the center to be a space for encounter and dialogue between young people in the governorate of Baalbek.
Two Houses Rehabilitation in Aley:
The initiative sought to improve the living conditions and adequate housing for two families who have been deprived of a decent life. Solidarity in Action contributed to the rehabilitation and restoration of two houses that lack basic living conditions in Chouit town (Aley District). This support enhances respect for human dignity and the right to a decent life and helped improve the mental health of the two families.