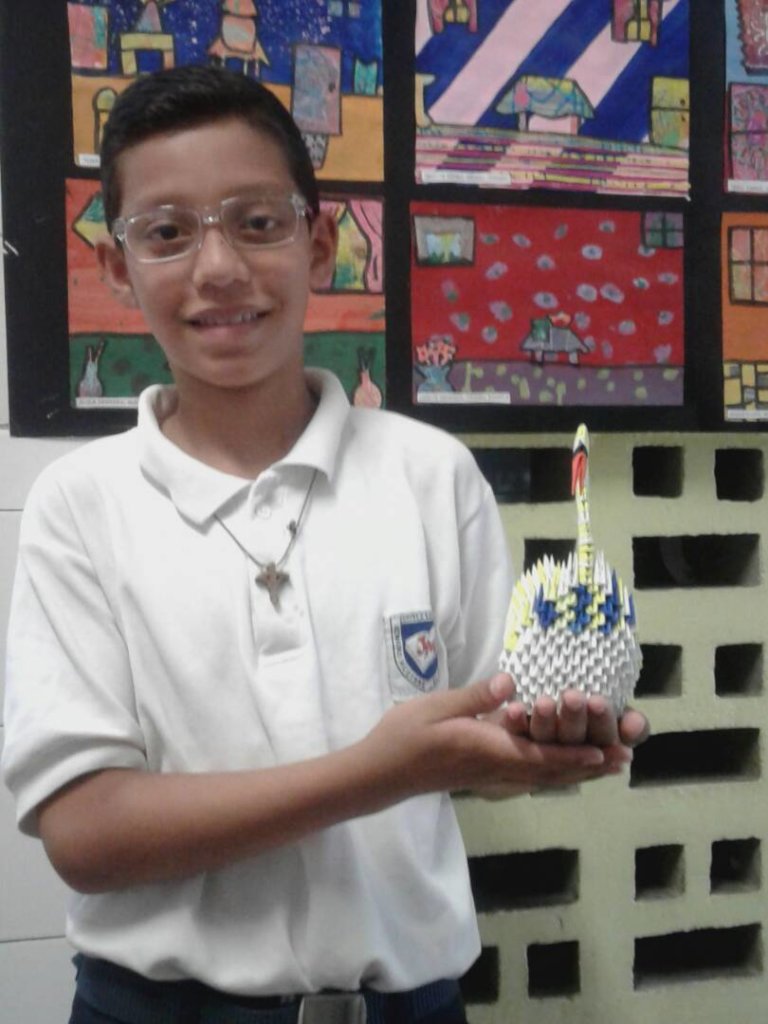 Versión en español / Spanish version
Queridos benefactores
Dely hace esculturas de cisnes con hojas de reciclaje. Le gusta jugar beisbol y tocar tambores. Cuando sea grande quiere ser ingeniero automotriz y pelotero profesional.
Vive en con su mamá y hermanos en Petare. Actualmente tiene 12 años y desde muy pequeño asiste al Colegio Jenaro Aguirre Elorriaga. El año pasado estaba cursando 5to grado y gracias a tu aporte tiene la oportunidad de estar en 6to grado.
Como Dely, hay otros 399 estudiantes que tienen garantizada su educación de calidad en nuestra escuela de Petare por un período escolar de 1 año. Tu generosidad y gran corazón han permitido llegar a la meta anual de $40.000, la cual nos permite continuar con nuestra labor de inculcar valores, educar integralmente, insertar en la sociedad y sacar 400 niños de las calles. De no existir la escuela estos niños estuvieran deambulando por los callejones del barrio.
Este proyecto es la prueba de que juntos podemos construir una Venezuela con valores, educada, donde sin importar en qué parte del mundo nos encontremos podemos ayudar a labrar ese futuro de oportunidades a través de la educación de calidad.
Tenemos 20 años en esta comunidad de Petare, ayudando a los más desfavorecidos a disfrutar de sus derechos fundamentales. Los invitamos a continuar formando parte de esta obra colaborando con la meta del próximo año escolar visitando el siguiente link a partir del martes 28 de Noviembre 2017: https:/.gg/31106
Recuerda: TU APORTE VALE! Gracias a ti muchos niños como Dely tendrán la oportunidad de formar parte del futuro que soñamos para Venezuela.
MUCHAS GRACIAS!
English version / Versión en inglés
Dear benefactors;
Dely makes swan sculptures out of pieces of recycled paper. He likes baseball and playing the drums. He dreams of becoming an auto mechanic engineer and a baseball player when he grows up.
He lives with his mother and siblings in Petare [a slum in Caracas]. He is 12 years old and has attended Colegio Jenaro Aguirre Elorriaga since he was a little boy. Last year he was studying the Fifth Grade and thanks to your financial support he is able to attend the Sixth Grade as well.
There are another 399 students that, like Dely, have a quality education guaranteed at our school in Petare for a yearly period. Your generosity and big heart have made it possible to achieve the annual goal of $40,000, which allows us to continue our work of getting 400 children off the streets and inserting them in society, by giving them a well-rounded values based education. If not for this school, these children would surely be living in the streets of the slum.
This project is proof that no matter which part of the world we may be, together we can build a country of values and education, we can help shape the future and build opportunities for these children through high quality education.
We have been helping the least advantaged of Petare enjoy their most basic rights for 20 years. From Tueday 28th November on, we invite you to help us continue our work in this community by contributing with our goal for the next school year: https://goto.gg/31106
Remember: YOUR CONTRIBUTION MATTERS! Thanks to you, more children like Dely will have the opportunity to take part in the future we all dream for Venezuela.
THANK YOU!