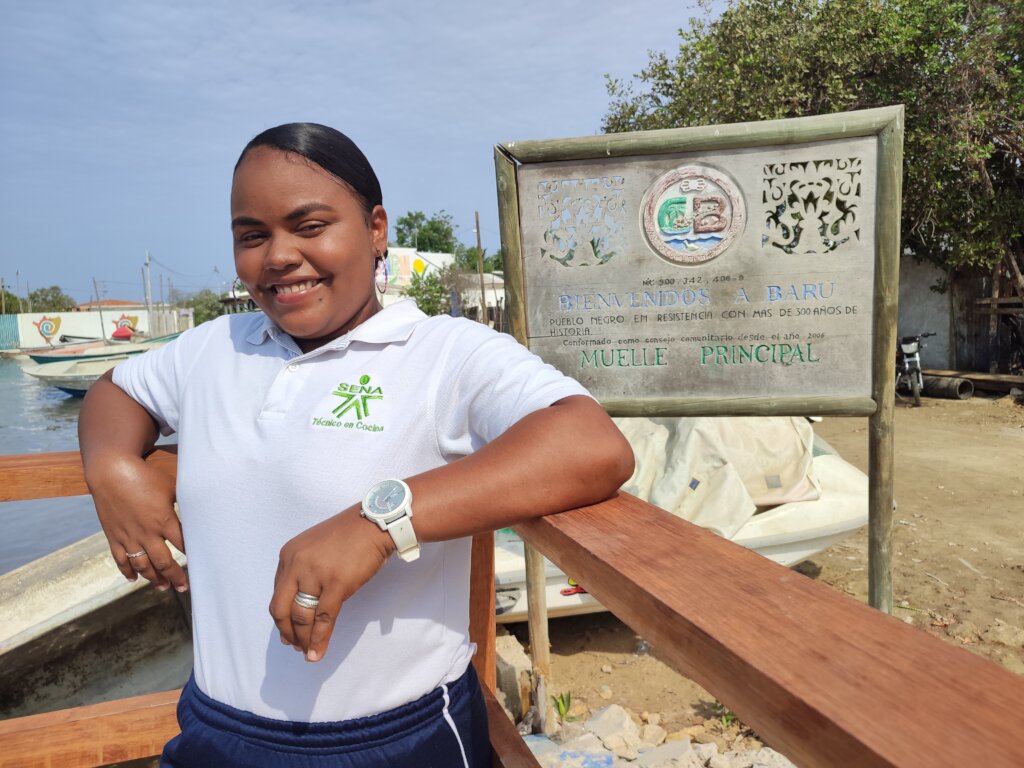 Damiana was born in Santa Rosa – Bolívar, but when she was 5 months old, she came to Baru with her mother. She is 22 years old and has 2 children; one is 7 and the other one 2 years old.
She signed up to study Cuisine at the Technical and Entrepreneurship School of Baru, 7 months ago. We asked Damiana to tell us a little bit about her life and her plans, and this is what she told us:
"I got pregnant when I was 15 and still attending secondary school. This was very hard for me, but with a lot of effort and my grandmother's support, I managed to graduate.
I have been working in Cholon, which is one of the most renowned beaches in the area, for 4 years now. I only work during the weekends at a restaurant, where I prepare seafood rice, seafood mix, among others. Since I had free weekdays, I decided to start studying to be a Cook, considering cooking is what I do for leaving.
Thanks to the plating techniques that I have learned, I have improved the presentation of the food I prepare and now the Restaurant's owner asks me to always do it that way, because customers like it. Before, everything was served as it fit on the plate. Now I place everything in different parts of the plate, assembling it from the inside out. My boss, who liked my work, now loves me, because I have been using my creativity not only to plate up, but also when I prepare food. I am happy to be able to apply everything I learn from Monday to Friday on Saturdays and Sundays.
I will keep working in the restaurant, until I can fulfill my dream of having one of my own, in which I can hire my family members and other single mothers like me. I dream of being able to apply all the techniques I have learned and to improve every recipe I prepare so that people love my food, because when someone cooks with passion, that reflects in the meals they prepare".
Links: