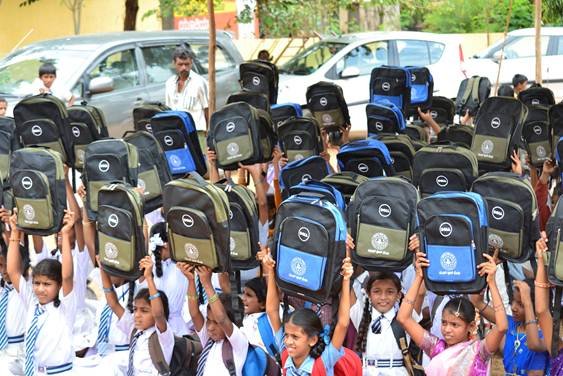 This year, through the school kit distribution project, we were able to reach out to over 28000 children across the state of Karnataka! The funds raised through contributions for the project on globalgiving played a very inportant role in the success of this project.
The project has the following stages - Collection of data (need analysis), Fund Raising and Procurement of materials and finally the distribution of the school supplies to the needy students.
Volunteers were actively involved in every stage of the project- right from need analysis stage to the distribution in rural areas.
Needs Analysis
The information regarding the requirement of school kits for children was collected from the volunteers who serve on the ground level. For schools outside Bangalore, we relied upon our network of Sevavratis. These Sevavratis are involved full-time in social work and they are spread across Karnataka. They work in the remotest of the villages. For schools within Bangalore, we collected data from our network of cluster coordinators and zonal school coordinators. These volunteers work with the schools in their region/cluster/zone and are better equipped to assess the need of the children in consultation with the school authorities. This year we supported around 18,700 children from completely rural parts and around 10000 children were from underprivileged backgrounds within the Bangalore city limits.

Distribution
Distribution logistics has always been a challenge - but with the support of volunteers, we were able to manage this task. Our efforts have supported more than 28000 children spread across 440 schools and eductional institutions.
For all rural distributions, we utilised the services of a well known cargo operator, to pick up the cargo at our office and deliver to the recipient's address. For schools within Bangalore, we had our volunteers get their cars to transport the school kits from our office to the respective schools, except in very few cases, where we arranged for a cargo rickshaw to transport school kits locally.
Hundreds of volunteers participated in the school kit distribution.
Overall, we have recieved a very positive response from donors, Volunteers and beneficiaries. Many of the school authorities have expressed their gratitude for the support they recieved.