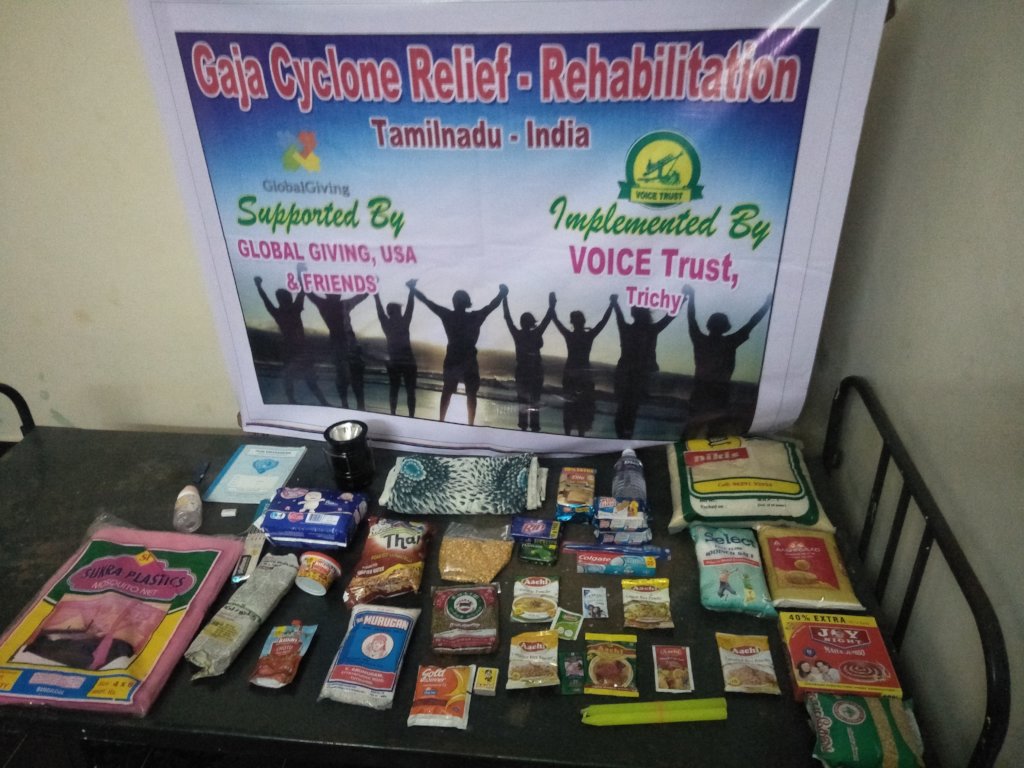 Under Project Number 22671, families affected by Chennai Floods in December 2015 are helped by Friends through Global Giving. First, we provided emergency relief. Later, we gave them rehabilitation schemes. Then, we took up educational supports.
When we informed them that INR 12278.29 (Indian Rupees twelve thousand two hundred seventy-eight and paise twenty-nine) is available for next activities, they told us that VOICE Trust can use this amount for emergency relief to Gaja Cyclone affected people in Tiruvarur, Nagapattinam and Thanjavur Districts.
VOICE Trust has decided to work in 24 villages affected by Gaja Cyclone that came on November 16, 2018.So far, 60 people have died. 30, 00, 000 have lost houses and livelihoods. Over 90% of trees have been uprooted. Massive devastation indeed. Appeals gave through Global Giving under Project Number 37260.
On November 25, 2018, 120 families in Periyathikottai hamlet of Mutthupettai in Thanjavur District were given food, biscuits, bread, groceries, sanitary napkins, mosquito coils, water cans with help from Global Giving amount and also donations from VOICE friends. On December 8, 2018, 293 families in Kottur in Tiruvarur District were given emergency relief materials with help from Apex Pon Vidyashram Groups, Management, Staff and Students and also other friends of VOICE. (Photos attached)
True, many more needs are there for Chennai flood families like tailoring machines for Women, musical instruments for youths and educational supports for Children. But, now the priorities are for Kerala Floods and Gaja Cyclone victims of Tamil Nadu. Still, VOICE Trust will work with friends and Global Giving to continue empowerments in Chennai Flood affected areas.