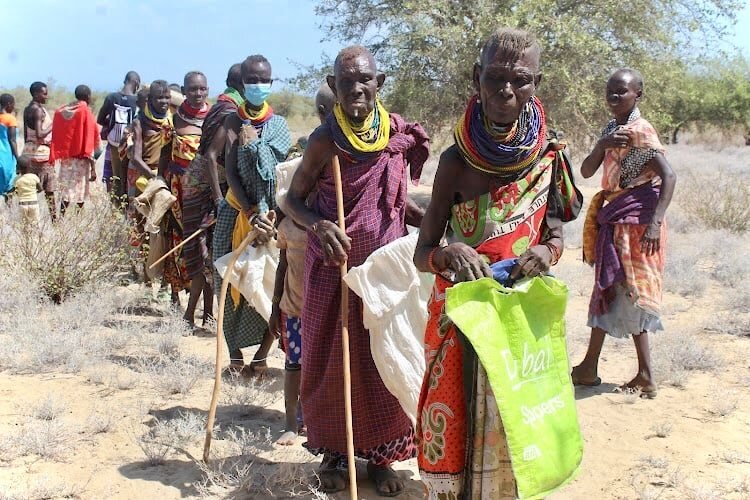 I suppose everyone goes through it in life - a really successful day/project/meeting/week etc and you go around with a smile on your face feeling satisfied that your efforts really paid off and something or someone has benefitted as a result. That is the way it is in the charity world - we have weeks when we see tremendous results and, then after a short while of basking in the success of one project, something happens that is beyond our control and we feel helpless again and wonder what we can do to solve a new problem.
We all went through this in 2021 when Covid smacked us in the face and delayed projects, closed projects, affected donations, affected donors, and left so many suffering. But we struggled through and found new ways to approach things, did our best and - at the end of the year - found ourselves smiling (briefly) again when schools went back to normal in Kenya and most people could go back to work.
As we are just about getting all our programs back on track, we have been hit with two new problems which we want to be able to tackle. One is the considerable number of teen pregnancies resulting from children being home, idle and out of school for most of 2020 and the other one is drought which has once again hit northern Kenya.
Both issues will impact street connected children in Kitale, however, the most pressing will be the number of families and children who will flee northern Kenya and take the (only) road down south to Kitale, the first major town on the way out of the arid regions. This situation is a repeat of serious drought which affected us a few years ago and we rallied to deal with the influx of displaced people and to try and retrain and resettle them. It is so upsetting to have to deal with this tragic situation again and we suspect that the impact of climate change on Africa is going to make this a familiar issue in the future. Currently almost a million people are seriously impacted and in need of food and water aid or relocation.
We need help to get new arrivals off the streets and into safe accommodation. We need help to reintegrate children with families and to help those families examine new ways to survive the impact of climate change. This may mean helping them to relocate or helping a family member to learn a trade or set up a small business. These are people unfamiliar with the ways of urban living and the modern world who not only need physical food relief but need to learn new life skills. We have found that working with a family intensively for 6 months to a year enables them to become self supporting and independent. We maintain contact with them for 3 years to ensure that all remains well with them and their input is vital in helping us form suitable programmes for the future.
We are also in the throes of establishing our teen mother programme aimed at preventing those girls from ending up on the streets or destitute and also preventing their children ultimately requiring rescue from the streets.
As Christmas approaches, please consider a small donation to help those whose livelihoods have been destroyed by Covid and drought. Thank you.