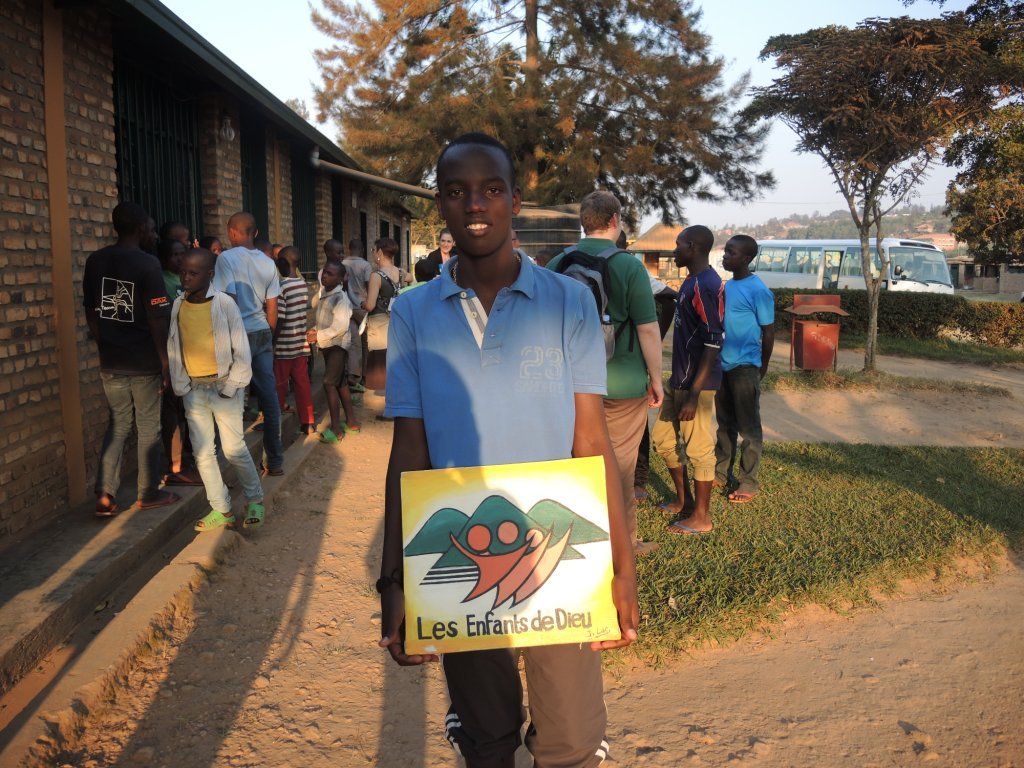 In the second term of our project implementation, Les Enfants de Dieu is happy to share with you the report of how the project is moving on and we invite you rejoice with us for the delivered quality services to vulnerable children as it's our determination and mission. The field of intervention did not change. Poverty alleviation for former street children by providing nutrition, clothing, health care and education is still the main focus of our project implementation. We did not leave behind the psycho social support and sport and culture to insure that children are accessing therapy and get their trauma hilled.
We are keen on inviting you to rejoice for the new recruitment of 4 children in the last months. One of the children has a strange and sad story. They are two siblings a girl and a boy born from one mom and different fathers. All the fathers died and the mother died recently. At the death of their mom, the children remained lonely at home and their life became so tough to the point the kids started roaming around to beg food. The local authority managed to help them but finally ended up in Les Enfants de Dieu. We pleaded for the girl who was hosted by a neibouring center that cares for girls. The boy stays in our center and feels fine despite of his inborn sickness that we are continuously dealing with. Now our center is hosting 95 children and youth who are in the rehabilitation process.
Rehabilitation process and behavior change: The new children were registered and their background records were saved in our books to facilitate future family tracing before reintegration. They were helped with orientation which is a service provided in two first days from their arrival. The orientation mainly concerns about informing the new children on life of the center, the internal regulation and the personnel they may approach for any queries. In rehabilitation we did not put aside healthy nutrition for children given their malnutrition while they were on street where they survived by eating junk food and harmful drinks.
- Intellectual rehabilitation: transformative practices such as volunteer services to improve language learning, extra coaching out of class to help weak scholars catch up, all this was to facilitate them adjust to new center life so as to make a successful learning and quick intellectual rehabilitation.
Education: Education is the only inheritance we have to avail to our children whose majority had dropped out school to run to street. We are happy for the successful rehabilitation of 94 children and youth living in the center and 85 living in the community pursuing education through our sponsorship program. The education is the only way to shape their brighter future and fight poverty. We have so far sponsored 105 children access primary education 66 children in secondary school 2 children in vocation training school 6 youth at university.
The reintegration process and the follow up: To be sure that we help children in effective and efficient way, we thought about making a sustainable reintegration by prior preparation by visiting families and discuss on the cause of the running away and figure out the way they could stay together and come up challenges. After preparation, children are given the kits for reintegration which are made of stuffs that will help a child while he is at home including mattresses and clothes. A constant follow up for the reintegrated children is then necessary. In this way, our center hired a staff that is specifically assigned for the follow up of the students at their schools, be in touch with school authorities to monitor the students' activity and get a feed back on their attendance and performances. This has brought a big number of children keep up schooling with good performance. The follow up was essential in solving problems rose in families through discussions led by our staff in collaboration with local authorities to prevent a situation that may bring back a child to street.
As results of the follow up, 15 families were visited 30 families were contacted by phone to ask for children's updates. All school attended by our sponsored children were contacted on the phone to inquire about the students updates.
In the center, children are accessing to different services that facilitate them get rehabilitated such as entertainment, sport and art to develop talents. We have so far developed an art class and a gallery where children are producing crafts and art works such as paintings and serigraphy.
Our Challenge: At the moment, our project was funded at 16% of the fund expected. This implies that although there is a progress, our expectations will be not reached out unless we get over 80% of the funds collection.
As we continually commit to serve the children and affect a social change we always feel proud of you as well as lean on your generous hearts. We would like to express our sincere gratitude to Global Giving team as well as the interested donors in our project who are bringing our dreams true.
Looking forward to staying in close touch, thank you for everything.