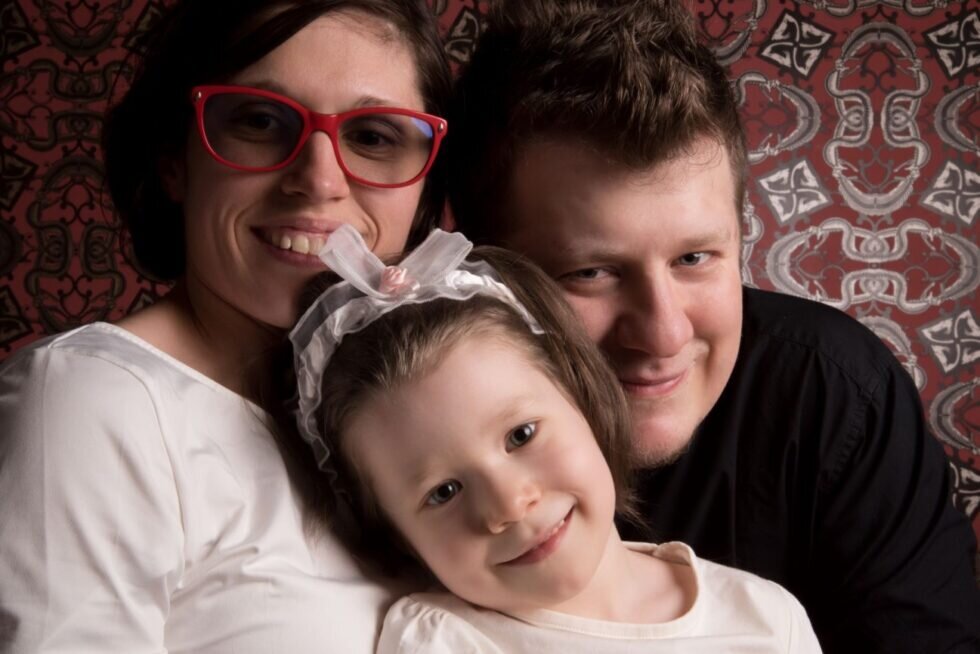 … It's already hard for you to live – an old lady on the bus sighed painfully after she had carefully examined my pregnant belly. Wheelchair and shopping bags. "And that's none of your business. Have a nice day" I replied shortly. Was it too calm? Well, if you met so many people who are surprised that a woman with disability may be pregnant, give birth and raise a child, or even two – you would also distance yourself from such situations. Or what? Because a disabled woman can't have offspring and live a normal life?
There were seven of us in the family house.
More precisely: five sisters and two brothers. And we lived with our parents in a small town in Podlasie. Now only my mom and dad are living there because we moved out and scattered all around Poland and the world. I was 7 years old when I started studying at boarding school in Warsaw. Why did I have to leave the family nest so early?
I wouldn't be able to cope with life on a farm.
Plus, I was born a premature infant, born in a 25th week of pregnancy and with cerebral paralysis. I underwent my first surgical procedure – cutting the high muscles and Achilles tendons when I was 5 years old. In order to maintain its results, but also be independent and be able to develop, an everyday and tedious rehabilitation was necessary. Imagine that I had to travel from Podlasie to Kraków for the treatment. So when it was time for me to go to school, my parents looked for a place which could provide me with proper care and rehabilitation.
And so I became a Varsovian
After finishing primary school, I studied in Warsaw junior high and then in Warsaw high school with a humanities profile. And when I was deciding what to do in my professional life, the condition: "to be as close as possible to rehabilitation" was as important as my passions. So after a while I decided to study computer science at the Center for Comprehensive Rehabilitation in Konstancin near Warsaw. What's more I have obtained a diploma in computer graphics and… found Marek – my future partner and father of my girls.
However, I had troubles with finding a job.
So when in 2014 I had found an internet advertisement about a project held by Doctor Piotr Janaszek's PAY IT FORWARD Foundation in which people with disabilities could learn how to live independently I immediately made an appointment with them. I didn't have to train in everyday self-reliance. I was able to dress myself, clean the flat, cook and go shopping on my own. But I needed rehabilitation and sport activities that they were providing. Plus, they gave opportunities for an "occupational springboard" such as new courses, certificates and paid internships. After the internship, I was recommended to one of the capital's art galleries and I work there to this day. With only two breaks for the birth of my baby girls.
We did not plan Nel.
I admit that although I wanted to have children, the news that Nel was on her way shocked and scared me. No, I wasn't afraid for myself, but for her. Marek was walking happily as a clam and I cried in the corner of the room, tormenting myself with real questions (e.g. Will I carry this pregnancy to term?) and imaginary ones – e.g. Will the child also have cerebral palsy? Although, this illness is absolutely not hereditary. I was comforted by a specialisti from the maternity hospital at Karowa street in Warsaw: "You are going to carry it but you need to rest more than other moms do. The only difference is that you are going to give birth by cesarian section because you're petite and the baby is large.
Disabled woman with a child.
Wherever I went with Nel, we aroused, if not a sensation, then a surprise ("Oh my… how do you cope with this situation?") or admiration ("You're doing so great!"). All of the reactions annoyed me because I never felt sorry for myself. If I couldn't do something, like others, I looked for other ways, tailored to my abilities. Just do it yourself! So during pregnancy I used a wheelchair, but when I gave birth to Nel I started using crutches and a walker again. I performed most of the activities with Nel (and I still do) in a sitting position which is more convenient for me. But to be surprised or admire the fact that a mother takes care of her child? For me, it's just a normal thing.
When Bianka was born…
People were less surprised, I had already completed the "newborn training" and did not fall asleep from exhaustion… on the toilet – as happened to me with Nel. Bianka has been with us since March 2021. We decided to have her when we saw how Nel likes other children and how much she needs company on a daily basis. What's more, we always wanted to have a couple of children anyway.
When do we have the most fun with our girls?
When they sleep of course! Every mom knows this bliss, right? Okay, now being serious… I love reading books in the evening when our 5-year-old Nel follows the text with me and asks about the letters. And I love time spent with Bianka, when she falls asleep, holding my finger tightly and making funny faces. How am I different from other moms? Only in the way that my legs need support so I can move them.
We, people with disabilities do not want to be relieved. True, we need support, but above all, we need that support in learning how to live on our own , independently. And that's the reason why we're waiting for Osada Janaszkowo so impatiently.
The text was written and published on May 25, 2021.
Links: