Project Report

| Feb 11, 2022
Bringing Hope - An update from PcERC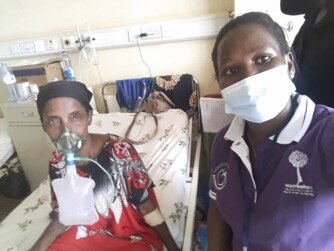 Happy New year compliments to all our donors and friends!
We are once again delighted to share with you updates from our work in the last 3 months.
1. Patient care
In the last 3 months, the team has cared for 172 patients and families admitted to Mulago and Kiruddu hospitals and the Uganda Cancer Institute. With 504 physical contacts and 221 telephone contacts by the clinical and volunteer teams.
Read about patient Teddy's story and her "ray of hope" as told by our volunteer Teddy - they had a special relationship as they shared a name!!
My Shattered Dreams!
'I didn't know what to do. I felt lost. I felt betrayed. I just wanted to die,' these were the words Teddy used to describe her reaction after discovering that she was going to be on oxygen for the rest of her life. Teddy, with five children had just lost her job and home to floods in one of the suburbs near Lake Victoria in Kampala. Her sense of betrayal and anger was compounded by the fact that her family members rejected her and abandoned her - her husband has been struggling to take care of her and supporting the children.
To make ends meet, he hit the streets and slums of Kampala to gather what to do after losing his bakery to the Kampala City Council Authority who demolished it. He worked from sunset to sunrise, but he still couldn't afford a decent living for his family. Often, they had one meal a day, and sometimes they would have to do with just porridge. Life became extremely difficult for her and her family. Besides struggling to literally put food on the table, there were other demands like school fees, clothing, rent and other basics. She had to start making some really painful and difficult decisions. Allan, her son, who was in senior two had to drop out of school to join in the 'scrap for sale' scavenging. It was something she had to agree on with him to quit school so as to redeem school fees for the younger siblings. Scavenging through areas of Muyonyo and Kampala for scrap, Allan had to duck now and then to avoid being seen by his former school mates as they went to school. For him, it was such a dehumanizing experience and his dreams of studying hard and helping to take care of his mother and his siblings was steadily becoming just that a distant impossible dream.

A new hope of life.
Palliative care team volunteers/social workers offered psychosocial support to Teddy. From the psychosocial sessions, her mind got unblocked and she started looking to the future. She realized that continuing to live in the slums of Kampala was not sustainable. She began looking at new possibilities and eventually the social workers helped her make a decision to leave Kampala and relocate back in the village.

Teddy and her family are full of praise for the donors through the palliative care unit who have generously helped to improve her quality of life and that of her children. She is also grateful to the palliative care unit as an organization for committing to support people, such as herself, affected by cancer and the job it has done so well through a well-trained staff. She believes that her life will never be the same as before and she looks forward to a brighter future for her children even when she passes on.
''Thank you for loving me and my family you have stood with me during this difficult situation you are God sent to me''.
2. Education & Training
2.1 Training of undergraduate medical, postgraduate students and other cadres.
We have participated in the examination of medical exams of Makerere University for end of Semester 1 (Jan 2022)
We have hosted 50 students from the Islamic University In Uganda (IUIU) on a 2 week placement for each of the students, from November running through January 14th 2022.
We have an ongoing mentorship programme for 42 participants who we have trained in pediatric palliative care with support from the Laura Case Trust and the International Children Palliative Care Network (ICPCN). They come from different regions of the country, the mentorship is done both through physical visits and virtually to those from far away districts due to the transport challenges that have been caused by COVID-19.
In November (15th -17th) we conducted 3 half day trainings for 16 hospital volunteers of the Christian Outreach Missionary Evangelism (COME) followed by a 1 day placement for each.
Below we share some of their thoughts after their clinical rotations with us.
I have appreciated the importance of palliative care as it is required by each and every patient with a life limiting illness. I have also learnt that patients not only have physical problems but also spiritual, social and emotional problems and how to help them through working as a team (Elizabeth, MBChB. IUIU)
I owe my grateful appreciation to the palliative care dept of MNRH for their sacrifice of time to impart knowledge unto us; so as to better our clinical knowledge in regards to pain management, psychology and symptomatic management of patients battling a terminal illness. It's been a privilege for me to attend the 1 week session with the department, my clinical knowledge has been enhanced and I have acquired much regarding the holistic approach to care and proper care for my patients as clinician in future practice, with a goal to improve their quality of life (Dennis; MBchB, IUIU)
2.2 The Transform Adjuman and Obongi project
In collaboration with our partners Cairdeas IPCT and Peace Hospice Adjumani to implement the project titled; Transforming, empowering communities and health systems to address health related suffering in host and humanitarian settings through capacity building and integration in Adjumani and Obongi districts and is funded by Ukaid. Following the completion of the training for the Health Care Workers and Village Health Teams, the team is now on ground to provide mentorship and supervision.
3. Research and research related activities
We have completed data collection for 20 Health Care Workers and 100 patients for the project titled; Palliative Care Needs Assessment in the Emergency Department in Kiruddu Hospital, Kampala, Uganda. This is part of of a colleague Dao Ho from the University of Manchester, research project. Analysis of this data is in progress. The purpose of this project was to quantify the palliative care needs of patients in a low resource setting and to identify strategies for and barriers to delivery of palliative care in emergency department patients.
We now await final ethics approval for our research project titled: "Exploring the needs of lived experiences of people with chronic illness disease among the refugees and host communities of Obongi district and the experiences of VHT workers in providing palliative care", This is part of the project;Transforming, empowering communities and health systems to address health related suffering in host and humanitarian settings through capacity building and integration in Adjumani and Obongi districts and is funded by Ukaid, data collection is expected to commence this quarter.
Thank you so much for taking time to read our updates, we will be sharing regularly and for more information about our work please free to contact us on; info.pcerc@gmail.com.
We wish you all the best in the new year!
God bless