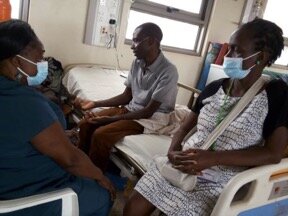 As the year comes to an end, we want to reflect on that has happened and thank all our partners in Uganda and around the world. The year of 2022 has come with its own struggles from the COVID-19 pandemic and the current Ebola outbreak in Kampala, with our own Ebola Virus (EV) isolation centre in our Mulago Hospital. This year also has brought cherished memories in time spent with patients and their families, opportunities to educate and train others, and highlights in network and mutual learning through conferences. We hope you enjoy our updates over the last few months (August to October) below.
Patient highlight: offering peace to create a new dream
This is a snapshot of a patient Z who has benefited from our palliative care services. Our services to patients and their families are holistic (providing physical, psychosocial, emotional, and spiritual support) and are free of charge to patients, thanks to your support. Quotations and pictures are taken with written consent.
Patient Z is 47-year-old male admitted with interstitial lung disease with his main distress as difficulty in breathing. He is now oxygen dependent and unfortunately cannot afford an oxygen cylinder at home, hence has been in the hospital for more than 6 months now. When our clinical team that includes volunteer social workers first met him, he was greatly disturbed with overwhelming chest. Z was then reviewed by our senior nurse Florence and volunteer social worker Vicky.
Having controlled his pain and symptoms, he had this to share with social worker and volunteer coordinator, "All my dreams had rudely been shattered because of the illness, I am greatly affected with difficulty in breathing associated with pain. I have been forced out of employment and am unable to support my family of three children and my wife. I painfully watch my neighbours go about their business and provide for their families."
"When the doctors told me that I will have to be on oxygen for life, I was so frightened," Z shared in the interview, "and saw death get closer to me, because I was told my lungs had become weaker and [I] was to entirely depend on oxygen for the rest of my life. I had reached a point of telling my family to just let me go." Z says he would ask, "Why me?? Am I being bewitched? Is this a price I am paying for loving God?"
Z's story is not an isolated case; there are many more patients going through similar experiences and being robbed off the opportunity of having a shot to a bright future and wellbeing. Our palliative care team took time to address the pain and other symptoms of Z, but they also supported him socially and psychologically, as well as providing financial support for basic needs withing the hospital. "They seemed to feel my pain," Z says. "They would sit next to me and comfort me."
Z feels more at peace and without pain, he can begin to reimagine his future. His wife can go home and look after the children with occasional visits to support him. He is also happy with the ongoing counselling and support given to him holistically by the team and feels hopeful and encouraged. Z added that they "provided me hope and courage when I felt I couldn't go on. Before their visits, I felt like a total orphan but now I feel that the angels are with me."
Z had one final remark that he wanted us to share, as he talked about finding gratitude in our lives. "I realize that as normal healthy individuals, we take so much for granted," Z says, "such as waking up every day full of energy." We also encourage you to find the blessings of every day, no matter how small they might be, and to continue to be a blessing to others. And as a team, we are grateful for the financial support from everyone at GlobalGiving, as it allows us to support patients and families like Z who are vulnerable and in great need.
Clinical care and relationships
Each patient is unique from their age, gender, condition, and family background. We take pride in knowing our patient and families' names and building a relationship with them during their hospitalisation and beyond.
In the three months of August to October, our clinical team including social worker volunteers visited our patients 1,203 times. We also contacted them by phone, with 555 calls in this time. Phone calls are especially needed to provide consultation and consoling for patients who are discharged, or to provide grief and bereavement support to the families of patients who have died.
We are grateful for your continued support to provide airtime for making calls or monies to support the patients in small ways (patient comfort fund for food, soap, or small toys).
Patients by number
We have cared for 135 patients in both Mulago and Kiruddu Hospitals. While 30 of the patients were previously admitted, we registered 105 new patients in the last three months. Below are some details of our patient demographics.
We provide continued care for the patients and their families during and after their hospital stay. Whenever possible, when a patient is discharged, we also connect the patient and their family to another palliative care service in their home area. Below is our chart for the 135 patients cared for and their outcomes. We are happy to note that with our assistance, more than half of patients were able to have their pain and other symptoms managed and thus be discharged from the hospital. We are also honoured to work with the 40 patients and their families where the patient died (R.I.P. on Ward) for holistic care continues in the end of life and grieving process.
Educational activities
Our palliative care unit is experienced in the training and mentoring of other health care workers. From clinical clerkships with postgraduate doctors at our partner Makerere University to training social workers on bereavement support, our mission is to promote excellent and accessible palliative care services for all.
In the last three months, we trained both on the ward (clinical, hands-on practice) and through presentations and organised training sessions. We have hosted 28 undergraduate medical doctors from Islamic University In Uganda (IUIU) on the hospital ward and for clinical teaching sessions. We also worked with one intern doctor, as she did a rotation in palliative care.
Our team also hosted a two-day training session for 11 nurses and pharmacists at Kiruddu Hospital in person, on September 15-16, which was sponsored by partner Cairdeas IPCT. Then, during October 24-26 we started UCPCNLFP, that is, Uganda Children's Palliative Care Nurses Leadership Fellowship Programme. The UCPCNLFP was attended virtually by 16 Uganda head nurses and nurse trainers from 6 districts in Uganda and is being run in conjunction with the International Children's Palliative Care Network (ICPCN) and the University of Edinburgh and funded by the Burdett Trust for Nursing.
Both trainings covered foundational topics such as what is palliative care and pain and symptom assessment, which includes assessment and addressing other non-clinical needs: emotional, mental, psychosocial, and spiritual. Training then branched to the complexities to managing pain and symptoms, communication and breaking bad news, and navigating the end of life and bereavement support. Enjoy some of the pictures from the trainings below.
Research and Conference activities
For the first time since the COVID-19 pandemic, our team was able to meet international colleagues in person at the African Palliative Care Association (APCA) Conference on August 24-26. (This was also well placed in time, as the Ebola outbreak in Uganda began a month later, in September.) The conference was enriching, from a pre-conference private training in Photovoice research methods, to the full clinical team's attendance and presentations in the event. Our contributions in APCA 2022 include:
"Humanitarian settings and palliative care in Africa," by Dr Mhoira
"Children's palliative care in a pandemic," by Prof Julia
"Palliative care needs of patients admitted to the emergency department of Kiruddu National Referral Hospital in Uganda," by Dr Liz
"Empowering Health professionals through education and mentorship to improve children's palliative care provision in Uganda," by Florence
We also were honoured to participate the virtual East Central and Southern Africa College of Physicians (ECSACOP) conference on September 24-26. This was the 7th annual ESCACOP conference with the theme of "Tackling the burden of communicable and noncommunicable diseases in Africa in the era of expanding digital health technologies." Our contribution includes the following:
"Exploring the needs of people living with chronic disease among the refugee and host communities of Obongi district and Adjumani districts in Northern Uganda," by Dr Liz
Other educational activities included participating in the Africa ECHO sessions, the World Cancer Congress in Geneva, and the University of Edinburgh webinars on Advancing the role of higher education institutions (HEIs) to support palliative care education in lower and middle income countries (LMICs).
We hope you have enjoyed our update for August to October 2022. If you have any questions or feedback, please do email us at info.pcerc@gmail.com. And as the year draws to an end, please join us in reflection of the months past and in anticipation of better days to come.
Well wishes and happy holidays,
PcERC team.