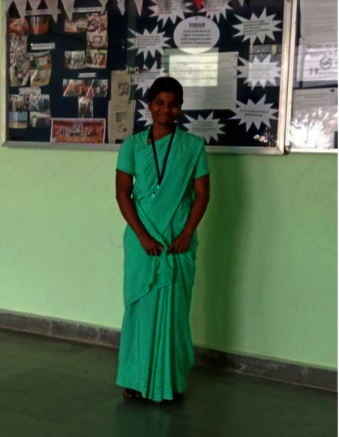 Dear Friend of Rainbow
This time around we want to inform you of a rainbow girl whose story proves that one can dream it and definitely achieve it!
Amudha was brought to Rainbow Home at the age of 13 years. She has two brothers. Her parents in the meagre earning job as weavers were not able to take care of children with good food, education as they earned the bare minimum. Having suffered a lot to feed the children for the day, when they got informed about the Rainbow Homes program and its work, they agreed to send Amudha for a while and see the change in her life, escaping the poverty even if temporarily.

Initially, she felt lonely thinking of her mother and father. Through the care of the home team and the continuous attention, she was soon found to be engaged with everyone. She is calm, sweet nature, and respectful to everyone. She enjoyed the school life at RSTC (beginners course to be bridged on par with normal schooling) with friends for 6 months and later she joined in the normal school. Gradually she came out of the loneliness and she was engaged more in the extracurricular activities organized in the home. We found more change in her attitudes and behaviour. She was given more care so that she was regular to school and can start concentrating on her studies.
Intervention and success in her life:
Gradually, she started to study well in all the subjects, her handwriting is good. She is quite affectionate towards her family and wants to take care of the young ones once she grows up. She is very patient in handling things and is often appreciated for her conduct at school. Her aim is to become a Nurse, but she couldn't get the degree seat in B.Sc nursing. She is more confident and showed interest in doing nursing. She was given guidance through career counselling and about the alternate courses.
Knowing her best interest in the subject of study, we found a college which prefers Diploma in GNM (Nursing) and through this course, she can also do the advance study equal to BSc.Nursing. She now has filled the college application with more enthusiasm and she got in with the admission process through the entrance examination. Finally, she got placed in the college in Diploma in GNM (Nursing) for three years course at Puducherry.
Amudha being constant and never wavering in her pursuit of becoming a nurse has become an inspirational role model among her sisters in the home. She was guided with good values, the importance of studies, improving skills, respect towards elders and awareness. The girl has the aim to do well in studies and to serve the needy people.
When talking about her life she states" life challenges you, situations often tend to bring you down. if today is not good, cry go to sleep thinking tomorrow you can start again. If I think of the poor people around, I find my sadness is little and more need my help. And that's what I am going to do. Do my little work which can reach people who need my skill."
We wish Amudha to keep up the spirit and reach her goals in her constant pursuit!
Links: