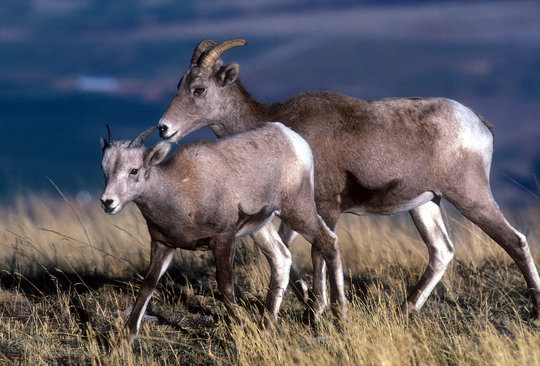 This spring has truly been a season of renewal for the well-being of the animals that our R.O.A.R. project partners support. Take a look at what some of our project partners have recently accomplished.
Petfinder Foundation recently introduced Emergency Medical Grants reserved for pets suffering from severe illness or injury. Thanks to this new type of grant, a three month old puppy, Fergus, who had previously gone five days with an untreated broken femur, received treatment and has since been adopted. Similarly, thanks to the grant, Grace survived numerous injuries, from being hit by a snow plow. "All she can do is wiggle and kiss you," WCHS Community Relations Coordinator Debra Block tells us. "This girl is the epitome of why we do what we do! Your grant has made all the difference."
The National Wildlife Federation's most recent Adopt-A-Wildlife-Acre work has focused on resolving conflicts between bighorn sheep and domestic sheep that graze on public lands in Wyoming, Idaho, and Montana. Domestic sheep frequently harbor a type of pneumonia that is easily transmitted to bighorns and often results in large-scale die-offs. At the end of April, NWF completed two important grazing retirement agreements in southeastern Idaho that will significantly reduce the disease risk that bighorn sheep face in that area.
Jane Goodall Institute continues to support chimpanzees like Motambo who spent his first 12 months in the sanctuary recovering from some of the worst injuries the staff had ever witnessed. Fortunately, Motambo has now fully recovered and can participate in activities like excursions to the forest with his friend Mbebo. These trips to the forest are important as they enable the chimpanzees to get acquainted with their natural habitat while gaining strength and stamina.
To help save the wild tigers of Assam, Jorba, a Belgian Malinois has been trained by David Shepherd Wildlife Foundation to track and detect wildlife products such as tiger and leopard skin and bones, bear bile, ivory and rhino horn. Thanks to his amazing sense of smell, Jorba has been picking up the scent of poachers and helping to bring the poachers to justice. "Jorba is making a huge contribution towards controlling wildlife crime, sending a strong message to poachers and smugglers that we have increased our efforts to track them down," reports project director Bibhab Talukdar.
All of these wonderful accomplishments are the direct result of your generous donations. Thank you!