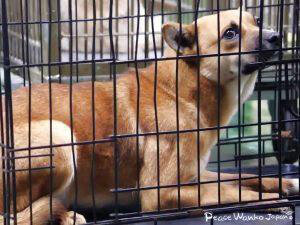 A day on the road collecting abandoned dogs and strays from welfare centers
Today is a day when stray and abandoned dogs that have been facing probable euthanasia will be rescued from state-run welfare centers. I accompanied staff en route to three different locations within Hiroshima Prefecture to collect the dogs and transfer them to kennels at a quarantine facility, where staff are already preparing for their arrival, drawing up evaluation documents and registering names on microchips, a device that can prove crucial should the animals ever become parted from their new owners.
On this day, staff are scheduled to collect 15 dogs from the Mihara welfare center, 11 of them abandoned by one owner. As we drove along I was told that those 11 canines were taken to the welfare center simply because the owner could no longer look after such a large number of dogs.
"At first, I think the owner probably started keeping the dogs out of a genuine fondness for them, and while there are various reasons that could explain why the number of dogs increased to tat extent, it's likely the owners eventually found they just couldn't cope," the staffer explained. "It's difficult to put into words how I feel about this, but it's pretty frustrating."
After arriving at one welfare center, we are joined by the project leader, Makoto Abe, who has come over from the Kure Animal Welfare Center about 35 km away, where he has been since early in the morning.
As we checked the condition of the dogs, Abe explained the condition of each one: This one was perfectly tame and could be stroked by anyone, he said; another, he thought, was ready for transfer, but just needed some more practice being walked. Yet another looked to be pregnant.
As the checks were carried out, I couldn't help wondering how the dogs themselves were feeling as they waited.
The dogs that were collected were loaded into the vehicle, Abe talking to them reassuringly: "You may feel a little car sick, but hang in there 'til we get to the quarantine kennel in Jinseki, okay?" he said, as he and the other staff headed toward their next port of call. "Sorry, you're not going to get a nap today."
At the next welfare center, too, the condition of the dogs was checked. "They seem well fed and in good shape," Abe commented as he checked one of the dogs. "It's okay, it's okay, oh you're a cutie," he said as he picked up another, and loaded it with the others into the car.
The day's work is only half done. After returning to the shelter Jinseki Kogen, a highland area about 30 km northeast of Mihara, all the dogs are taken to quarantine kennels, where they are examined by a vet. In addition to an overall health check, blood tests are done and they are vaccinated and microchipped.
But there's still plenty of work to be done on this long day, the dogs now safely transferred to a safe and welcoming environment.
Please check out the link below for a video of the work that was done on this fruitful day.