Dear Supporters,
Your support has been a great source of motivation in enabling us to truly 'Put Persons with Disabilities in the Driving Seat'. Ever since our Project has graduated into a full-fledged Program, we have been striving to address the various mobility issues faced by persons with disabilities (PWDs) and spread awareness about and advocate their needs and rights. We are immensely thankful to you for your time and contributions and hope you will continue to support us.
The highlights of the November-February quarter are as follows: The Rickshaw Project focused on final planning and execution of the 'Accessible Cycle Design Challenge', continued facilitating research by Access Exchange International on 'Transport to Schools for Children with Disabilities', continued with sensitization sessions, executed a series of impromptu and informal public awareness-raising sessions titled 'Baithaks' and made critical decisions on the legislative front.
Final Planning and Execution of the Accessible Cycle Design Challenge 2016
With some Partners and esteemed Jury Members already on board for the Accessible Cycle Design Challenge, many more exciting aspects came into being this quarter. The aim was to disseminate awareness about the Challenge and to elicit maximum registrations and engagement throughout Pakistan with the support of generous Partners.
Our promotional partners have been of great support throughout especially FM91, ADA Magazine and Pakwheels, who generously provided us coverage on radio, print and digital media. With the immense support of our Campus Engagement Partners, AIESEC and IEEE, not only were more than 20 Engineering and Architectural universities engaged across Pakistan, but ambassadors were also selected from them to facilitate the Design Challenge sessions at their respective universities and disseminate awareness. The Rickshaw Project team visited 14 universities across the country, where promotional sessions for the Accessible Cycle Design Challenge were conducted. Some of these universities include:
Lahore University of Management Sciences – LUMS (Lahore, Pakistan)
Ghulam Ishaq Khan Institute of Sciences and Technology – GIKI (Topi, Peshawar)
Indus Valley School of Art and Architecture – IVS (Karachi, Pakistan)
Pakistan Navy and Engineering College – National University of Sciences and Technology - PNEC NUST (Karachi, Pakistan)
NED University of Engineering and Technology – NEDUET (Karachi, Pakistan)
Pakistan Institute of Engineering and Applied Sciences – PIEAS (Islamabad, Pakistan)
National University of Sciences and Technology, School of Art Design and Architecture – NUST SADA (Islamabad, Pakistan)
University of Engineering and Technology – UET (Lahore, Pakistan)
Although the Jury had almost been finalized by the last quarter, some more esteemed experts were added to the Jury panel, namely:
Mr. David Jaffee – Inventor of Smart Wheelchair and Associate Director Alex Tung Memorial Assistive Technology Laboratory, Stanford University, USA
Ms. Alice Teisan – Founder and Executive Director His Wheels International, Glen Ellyn, Illinois, USA (she has lived with an invisible disability for 24 years)
Mr. Shahid Abdulla – Principal Architect Arshad Shahid Abdulla (ASA) and founding member Indus Valley School of Art & Architecture, Kidney Centre and Hunar Foundation, Pakistan
The digital launch of the Design Challenge began from 1st January 2016, before which teasers were shared to stir up curiosity amongst audience regarding our upcoming campaign. On 13th January 2016, a Media launch was held at a private hotel in Karachi to disseminate information about the Challenge and NOWPDP, among representatives from the Corporate, Government, Non-profit, Media and Educational sectors. Great support was witnessed from the attendees especially Mr. Tuaha Farooqui - Secretary Transport and Mass Transit – Government of Sindh, and Mr. Shahid Abdulla, our esteemed Jury Member; both of whom expressed how essential accessibility is to the inclusion of persons with disabilities in the mainstream society. The event was covered by a number of media outlets.
The registration phase of the Accessible Cycle Design Challenge ended on February 15th with more than 150 registrations (60% group, 40% individual) and over 350 participants. Weekly sessions with registered participants were held at the NOWPDP premises to keep them engaged, clarify any queries they may have pertaining to aspects such as design elements, production cost etc. and ensure submission good quality of designs.
It was also decided to name the Project this Design Challenge was the first phase of, the "Accessible Cycle Project". As mentioned in the previous report, the Challenge would be followed by Prototype Development and Market Availability of the accessible cycles. This way the final product will be made available to its beneficiaries and its impact on their lives gauged with necessary tools.


Facilitating research by Access Exchange International
Having submitted two schools' case studies already to Access Exchange International's (AEI) global research on 'Transport to Schools for Children with Disabilities', The Rickshaw Project submitted three further studies and was also featured in their January 2016 Quarterly Newsletter. The Rickshaw Project has been further asked to draft two chapters in AEI's upcoming Guide for the Transport of Children with Disabilities to Schools, for which its interns are working tirelessly.

Sensitization Sessions
Sensitization or 'disability awareness-raising sessions' were held for AIESEC & IEEE Executive Body Members and Ambassadors from Engineering and Architectural Universities recruited through them before they disseminate information about NOWPDP, The Rickshaw Project and Accessible Cycle Design Challenge among their circles. A lecture was also delivered by The Rickshaw Project Team at Karigar Training Institute (where the team drivers had received their training) and NED University of Engineering and Technology's Urban Day regarding disabilities and etiquettes of engaging with persons with disabilities.

Baithaks
'Baithaks' is the name given to the impromptu and informal awareness-raising sessions that The Rickshaw Project team began conducting at public spaces across Karachi in November to generate awareness about the rights of PWDs, and the everyday challenges they face, especially with regards to mobility. Instead of the usual formal session, a guerilla marketing tactic was used which would begin with an argument between two PWDs from The Rickshaw Project team - one in favor of earning a respectful living and the other leaning towards begging. A crowd would gather while the debate would continue and slowly people would start speaking up, leading to a full-fledged discussion on disability and the challenges surrounding it.
The aim is to spread awareness in all towns of Karachi step-by-step. Till date, 30 Baithaks have been held in Baldia Town and Jamshed Town – a total of 12 Union Councils and 410 people reached. Apart from inculcating basic disability etiquettes, these sessions will provide The Rickshaw Project and therefore NOWPDP with an opportunity to collect data pertaining to public perceptions about PWDs and the need for their inclusion in the society.
Legislation
Previously, The Rickshaw Project had decided to take a legal stand by challenging the Motor Vehicle Ordinance 1965 (which disallows persons with disabilities from getting commercial driving licenses) in court with the support of Public Interest Law Association of Pakistan (PILAP) and a young talented lawyer, Mubariz Siddiqui. Since NOWPDP strongly believes in a collaborative approach and given its strong connections in both the public and private sector, a consultative meeting took place between our team and leaders of the Transport and Traffic Police Department.
The Secretary of Transport & Mass Transit, Mr Tuaha Farooqui, DIG Traffic, Dr Amir Sheikh, Secretary of Provincial Transport Authority, Mr Ghazanfar Ali Qadri and DIG Licensing Branch, Dr Aftab Pathan, along with Mr Amin Hashwani, President NOWPDP and Omair Ahmad, Director NOWPDP were in attendance. The problems faced by persons with disabilities in receiving driving licenses were discussed and how their on-road access can be facilitated. The government officials showed their receptiveness to provide maximum possible support to NOWPDP in their vision to promote an inclusive environment for persons with disabilities. The Rickshaw Project also prepared a comprehensive document for the Government of Sindh's Transport Department containing recommendations to enhance the on-road access of persons with disabilities in Sindh.
Beneficiary quotes & stories
Baithak testimonials :

- "I will correct the Zakat system (payment made annually under Islamic law on certain kinds of property and used for charitable and religious purposes; also one of the Five Pillars of Islam) in the mosque which previously catered to persons with disabilities with a sympathetic and charitable approach" (Imam of Mosque in Baldia Town, Karachi)
- "I heard about the Baithak held in my neighborhood and would be delighted to have the team conduct it in the Police Academy." (Police officer in Baldia Town)
- "Please conduct another Baithak here soon." (Town Counsellor of Ittehad Town in Baldia Town)
Encouragement provided by Imran, Supervisor - The Rickshaw Project, to person with disabilities in his social circle in favor of education and gainful employment led to the following results:

- Two girls in Baldia Town started attending school after provisions were made for accessibility in their school, they were given wheelchairs and their parents were made to realize the importance of education
- A resident of Baldia Town, also an ex-employee of a famous spices company, became completely paralysed but was able to move around and start a small business selling confectionary items after he was given a wheelchair.
Students from various universities in Karachi who were participating in the Accessible Cycle Design Challenge visited the NOWPDP premises and interacted with The Rickshaw Project team to understand the issues prevalent in the current Cycle and elements related to its re-designing.

I hope you enjoyed reading the updates as much as we enjoyed executing the activities. Your continued support is essential in allowing us to take our mandate of on-road accessibility and inclusion as a whole forward. Please spread the word as much as you can and in case of any queries feel free to drop us an e-mail at info@nowpdp.org or find us on Facebook and Twitter (NOWPDP and The Rickshaw Project).
Thank you very much!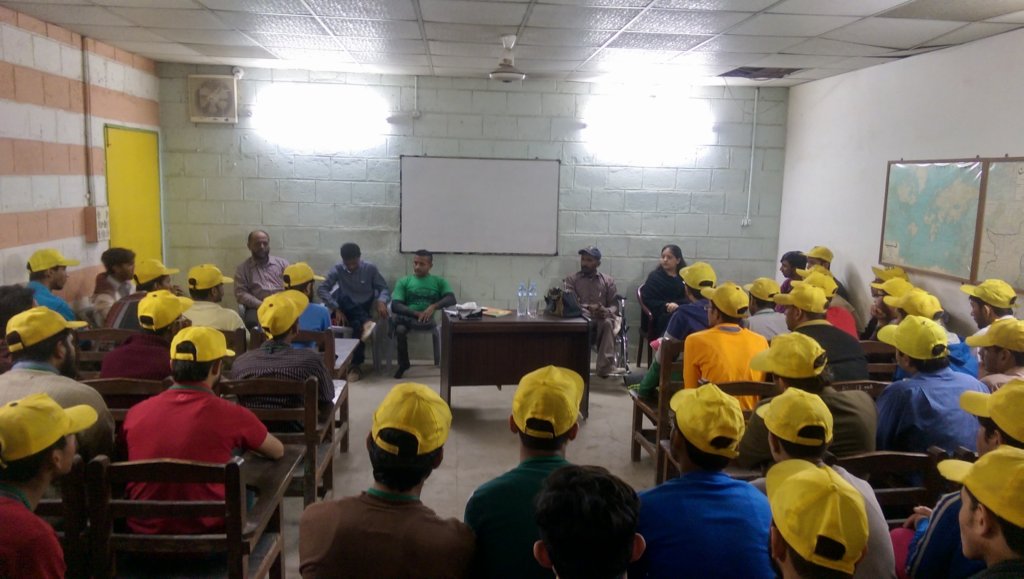 Links:
Attachments: