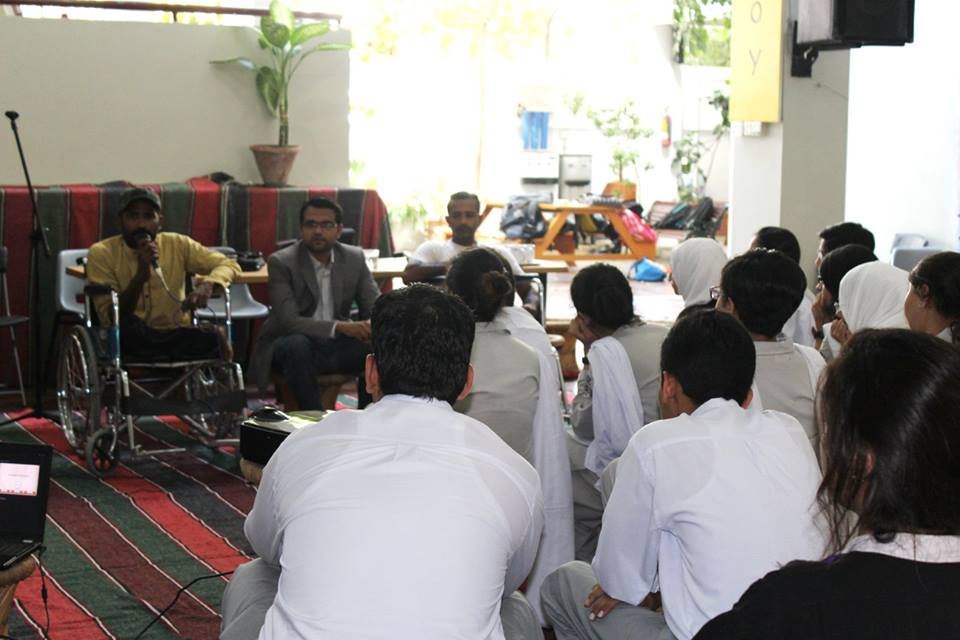 Summary of The Rickshaw Project's Activities
The Rickshaw Project graduated into a full-fledged program, working on two core elements - Sustainable Mobility Solutions and Legislation for persons with disabilities. Furthermore, it continued its efforts on the community engagement front with the aim to increase acceptability of the two aforementioned elements by sensitizing people regarding persons with disabilities.
The major highlights of this quarter included conducting sensitization sessions and community engagement, facilitating research by Access Exchange International on "Transport to Schools for Children with Disabilities", preparing to file a petition in court challenging the Motor Vehicle Ordinance 1965, planning Pakistan's first Accessible Cycle Design Challenge, and capacity building of The Rickshaw Project team.
Sensitization Sessions and Community Engagement
A series of sensitization sessions titled "The Barriers Made Me Stronger" were conducted across three educational institutes in Karachi, namely Institute of Business Management & Technology (BIZTEK), The Lyceum School, and Institute of Business Administration (IBA). Members of The Rickshaw Project team, who are persons with disabilities themselves, shared their personal stories and interacted with the students and faculty members to minimize the stereotypes about persons with disabilities and also to gain support for legalizing driving licenses for persons with disabilities through signing the petition. The total reach of these three sensitization sessions was approximately 170 students.
Additionally, the members of The Rickshaw Project team worked to enhance the understanding of disability and persons with disabilities in their communities, and encourage persons with disabilities in their communities to avoid begging and earn a livelihood by pursuing respectful professions.
Research on "Transport to Schools for Children with Disabilities"
The Rickshaw Projected was selected in July 2015 by Access Exchange International (AEI) to become a representative of Pakistan, facilitating the global research on "Transport to Schools for Children with Disabilities." The project is headed by Tom Rickert, Executive Director, AEI and the project team includes global experts and practitioners on accessible transports from around the world. Interns working with The Rickshaw Project conducted qualitative research under the supervision of The Rickshaw Project team to develop case studies. Subsequently, two schools' case studies were submitted to AEI.
Filing a Petition in Court to Challenge Restriction Against Driving Licenses for Persons with Disabilities
The Rickshaw Project decided to take a legal stand by challenging the Motor Vehicle Ordinance 1965 in court. The vagueness in the ordinance restricts persons with physical impairments from getting commercial driving licenses. Additionally, the ordinance also disallows persons with hearing impairments from getting a driving license in Pakistan, despite the fact that more than a 100 countries around the world allow that.
At present, Public Interest Law Association of Pakistan (PILAP) and a young talented lawyer, Mubariz Siddiqui, are helping The Rickshaw Project in bringing this case in the court of law. Danishkadah, a Pakistani NGO which works for people with hearing and speech impairments, has also come on board as one of the petitioners.
Capacity Building of "The Rickshaw Project" Team
Four members of The Rickshaw Project team completed a two-month long Mechanic Training Course at Karigar Training Institute, which was customized for people with disabilities and helped the trainees enhance their understanding of the tools as well as techniques required for effective vehicle maintenance. The Rickshaw Project team members received certificates at an award ceremony, in which they also delivered a motivational talk to more than 50 trainees.
Additionally, three members of The Rickshaw Project team members underwent a three-week English language course delivered by members of the NOWPDP team, in which they learned the words and phrases that helped them in delivering motivational talks.
Planning Accessible Cycle Design Challenge 2016
The idea to launch a nationwide tricycle design challenge was initiated in July 2015. Results of preliminary research conducted by The Rickshaw Project indicated that the current tricycle used by persons with disabilities is highly accident-prone, uncomfortable, incompact, aesthetically unpleasant, and requires a lot of exertion.
Following the research findings, planning of the challenge commenced with some exciting results. In order to enhance its sustainability, the project was divided into three phases – Design Selection, Prototype Development and Market Availability. The artwork was also finalized once the following partners successfully came on board, while talks with sponsors and promotional partners continued:
Automobile Corporation of Pakistan (Design Implementation partner)
Access Exchange International and Institute of Architects Pakistan (Strategic partners)
Pakwheels (Online partner)
ADA Magazine (Magazine partner)
The Rickshaw Project was also able to have renowned national and international figures join its Jury for this challenge, some of which include:
Dr. Christopher (Kit) Mitchell – Former Head of Accessibility, Transport Research Laboratory (UK) and Recipient of William B. Graham Award
Khayam Husain – CEO Automobile Corporation Pakistan, a company leading in vehicle customization
Somnath Ray – Winner of MIT Humanitarian Award for Design Innovation and Innovator of Mobile-Commerce Tricycle in India
Janett Jiménez – Renowned Accessibility Consultant in Mexico and Country Representative, GAATES
The challenge, which will be running from January 1st to March 31st 2016, aims to find the most accessible cycle design that enhances the mobility of persons with lower-limb impairments and empowers them by providing them on-road access. The challenge will be open to all however participants must keep the design features (less accident-prone, requires less exertion, comfortable, compact and aesthetically pleasant) and production cost (under PKR. 10,000) in mind.
Rickshaw Replicas
The Rickshaw Project team continued working on adding artistic elements to the rickshaw replicas which also includes their short stories. Various guests visiting NOWPDP were gifted these replicas as a token of appreciation which they highly valued.
Beneficiary Quotes and Stories
Sensitization Sessions:
"The session made me realize that if provided the right opportunities, persons with disabilities can excel like everyone else" (Student at IBA who attended a Sensitization Session)
"Delivering these sessions served as a great confidence booster as I was unable to speak up before. The appreciation received from students and teachers also felt great" (Vishal – Workshop Assistant at The Rickshaw Project)
Community Engagement:
Encouragement provided by The Rickshaw Project team members to persons with disabilities in their respective social circles led to the following results:
Mohammad Ali started as an electrician
Rauf works in garment factory
Syed Ali and Abdul Waheed both started driving rickshaws and are now called 'cheetahs' of their community
Some persons with disabilities in need were identified by Imran, Program Supervisor at The Rickshaw Project, and were provided mobility solutions by the team resulting in the following success stories:
Ghulam, a resident of Baldia Town, who was convinced towards begging due to his circumstances, was given a retrofitted motorbike. He turned the motorbike into a multipurpose vehicle which he rides to the town's center point and sells fried fish on it, which has allowed him to earn a livelihood for his family.
Capacity Building of "The Rickshaw Project Team"
"The training was very beneficial as now we are able to fix any vehicle without worrying. We also learnt what the workshop tools are called in English" (Khalid – Driver at The Rickshaw Project)
"I found the English language course to be very helpful because we go to various places to conduct sensitization sessions and need to use the correct terminology to get our point across" (Anwer – Driver at The Rickshaw Project)