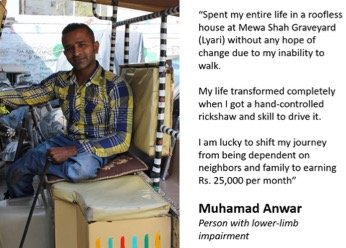 For the past 3 years our team has been focusing on vocational training for people with disabilities, teaching women with hearing or visual impairments skills that could help them navigate through society. They have been helping teaching computer skills to individuals and helping them in getting jobs in companies.
Upon recently joining NOWPDP as a consultant Physical Therapist, I came across The Rickshaw Project. Working with patients who have disabilities most of my professional life, apart from physically being impaired, their mental health is also a growing issue. One of the biggest reasons for this is their feeling helpless in providing sustenance for themselves or their families. The Rickshaw Project was a way of helping these individuals and much more. I personally took the initiative in reviving this project.
Since June 2018, the project has evolved. We have taken the rickshaws that were being used as pick & drop services and have started renting them out to drivers to use as a taxiing passenger service across the city. The reason for that, as I explained earlier, is that apart from physical intervention, a mental intervention is also much needed for people with disabilities.
Our drivers who have transitioned into this model are now proudly self-employed. They pay us a daily rent of Rupees 200 (1.3 USD), and take home the rest of their earnings. This has been a self-sustaining model for past year and has helped us in expanding our fleet. We have now 7 rickshaws in our fleet and 30 people in-waiting already gone through their trainings.
We would like to expand our fleet further to provide more people with opportunities to become self-employed. The funds generated by rent collection will sustain this model in the years to come, additionally, some of the funds can be used to help other projects spearheaded by NOWPDP. By the end of 2019, we would like to see 100 retrofitted rickshaws on the streets of Karachi.
Your help in the previous years has been a huge help in getting where we are right now.
If you have any question, please contact me at info@nowpdp.org
Faheem Khan
Links: