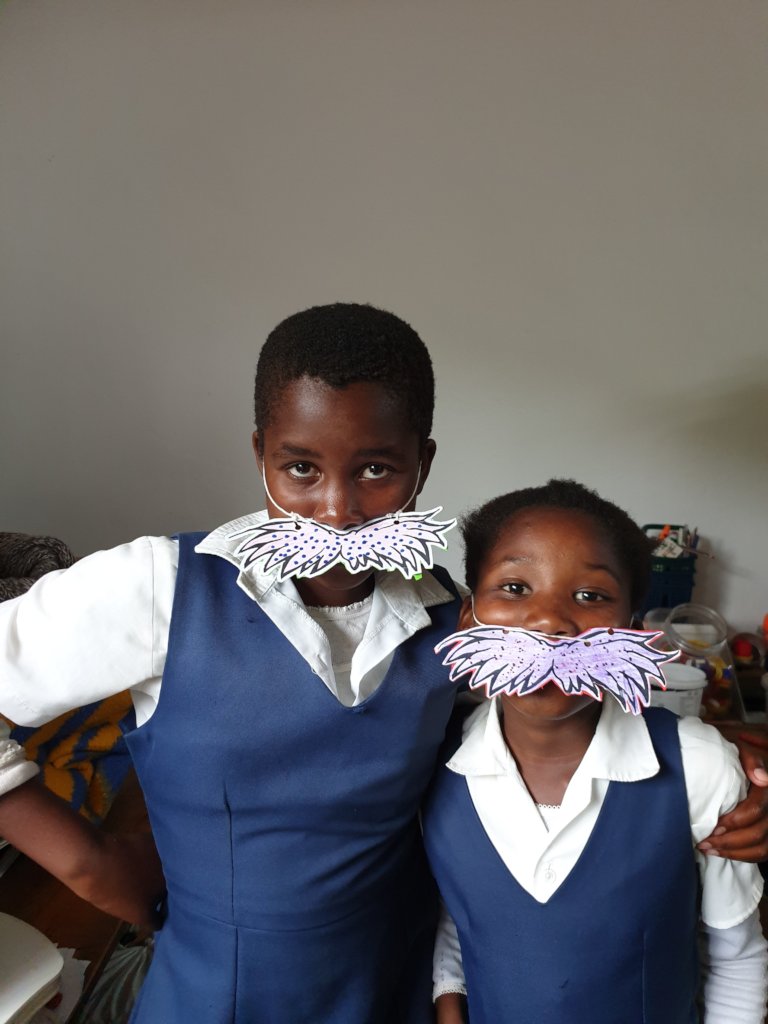 Introduction
Education forms an essential part of TransCape's vision, to provide a hub of information for the community to make healthy and informed choices, to better the future for all, in a justly managed environment.
We are very fortunate to have long term, committed partners like yourself, to make dreams come true. TransCape's new education center is located in the heart of the community
Four main projects are run at the centres at the moment.
Pre-schools for Early Childhood Development (ECD)
After-School Enrichment Classes for Maths, English and Computer Skills
Running and Reading, Tshani junior Athletic Club
Scholarships
Pre-schools
The second six months of the preschool year 2019 started on the 9th of July. In our last parent meeting before the schools closed, we discussed the implementation of school uniforms with the parents and they agreed on buying them for their children. On the opening day most of the children wore their uniforms, as per agreement. The purpose of the uniforms was that we were planning to visit Mthatha on a school trip.
On the 18th of July, our volunteers organized another beach clean-up day for the Pre-school kids. We drove the kids down to the beach; and read them the story, one of the volunteers has written about a fish, who couldn't find his friends because of all the trash in the sea. We asked our children to help us collect the rubbish from the beaches, so it does not end up in the sea and pollutes the ocean even more. The children were very enthusiastic and we cleaned up for two hours. We found an injured penguin on the beach and took it home to nurse it. We collected 6 big bags of plastic which was taken to the recycler in Mthatha.
On the 27th of July we celebrated the official opening of our new Education centre. The headman of Mankosi joint the festivities and honoured us when he cut the ribbon and held a beautiful speech about the advancements in education because of the Education projects of TransCape. The new center will be names TransCape Education Center. (TEC)
On the 23rd of August we went on our school trip to Mthatha museum, Mthatha airport, Mthatha community radio, Mthatha nature reserve and Super Games.
The children enjoyed to see the animals at Mthatha museum and from there we went to Mthatha community radio. Two children, a boy and a girl, talked on the radio. They greeted their parents at home and we went to the airport to see an airplane landing and starting. From there we went to the nature reserve where we saw living animals like zebras, impala and springboks. We ate a picknick lunch in the park and then went on to the Super Games. The children enjoyed to play the games. It was fun and they did not want to go home. We came back in the evening.
On the 30th of July, our headteacher and our volunteers went to the international Eco-School workshop in Coffee Bay. The purpose of the workshop was to align our school with the requirements to enter it into the group of WESSA Eco schools.
The Eco-Schools programme is an international programme of the Foundation for Environmental Education (FEE) that was developed to support environmental learning in the classroom. The programme is active in 67 countries around the world and has been implemented in South Africa since 2003 by WESSA. The programme is aimed at creating awareness and action around environmental sustainability in schools and their surrounding communities as well as supporting Education for Sustainable Development in the national curriculum. With over 50% of the content in some CAPS subjects being environmental in nature, Eco-Schools makes a positive contribution towards improving education in South Africa.
In September, we started doing assessments with the children. They have to name the alphabet and the sounds of the letters as well as numbers and counting.
Our German volunteers left on the 27th of August after spending one year with us. We will miss them a lot. Two new volunteers arrived, alsofrom Germany. We are very happy for the extra hands and they fit in perfectly. They are very smart and speak well English which makes communication easy.
The third term ended on the 20th of September for spring holidays. We resumed school on the 1st of October.
In the beginning of October, our headteacher managed to organize the Department of Health to come and check all our kids "Road of Health"charts and gave out necessary vaccinations and vitamins.
Our volunteer from Australia, who is a professional carpenter, build a beautiful playground for our children at the school. We now have swings, a slide, climbing walls, balancing beams, monkey bars, see-saws and robe gardens to improve upper body strength, coordination, balance and body awareness.
The highlight of the fourth term was the Grade R graduation event. It took place on 21st of November. A lot of parents came. They celebrated their kids getting the certificate. 26 kids graduated and are ready to start a new chapter at the local school Sikhoma.
Nongqubela preschool
Nongqubela pre-school is a satellite pre-school in Mankosi. The headteacher teaches children age 3-6. This year she had 34 children at the school.
Through sponsorship she was able to further her education in Early Childhood Development this year. She attended Masikhule college in Mthatha to receive her level 5 ECD certificate. She did very well and we can see major improvements in the classroom.
After-school enrichment program
The After-school Enrichment (ASE) Program was started by Transcape NPO in 2008 to support the educational development of students in the form of extra classes. The ASE program is used to support and improve on the education received at Government schools. Children from the Mankosi community use the ASE program daily for assistance with homework, receive extra classes on various subjects such as Maths and English as well as using creative classes to improve skills such as conversational English. The ASE program is used to build confidence within the students and help students obtain higher grades at school.
We have got more the 50 students attending the program this year.
Firstly, we want to mention that our After school teacher attended training for a week with our partner organization Thanda to improve her teaching skills.
Thanda is a community-based organization that provides innovative solutions for sustainable development. Together we aim to create safer, stronger communities by providing educational and skills-building opportunities to individuals. The mission is to empower people to create positive change – change in individuals, change in their communities and eventually changes that impact the world.
Our After-school teacher learned a lot about teaching crafts, reading stories to the children and playing new games in the after school. She brought these skills to her lessons and even those children who are shy opened up and engaged positively in all activities. Thanda's facilitators visited the After school on a regular bases and observed the classes. They very happy with the results and so are we.
Our new German volunteers are helping in the Afterschool program as well. They continued with the pen pal project so our students can email their pen friends in Germany on a weekly basis. This exercise aims to improve their written English and computer skills.
On 28th of November, we celebrated the after-school closure for the year 2019. The kids had a lot of fun creating crowns. They also played games on the new playground and had some party snacks to celebrate their achievements.
When school closed on the 5th of December, our volunteers organized a lovely holiday program for the children. We played a two-day soccer and netball tournament. Then everyone had lunch together.
All in all, the ending six months were very eventful. The program is doing well and we will continue helping the children in their development.
Running and Reading, Tshani Athletic Club
On the 7th of September the children went to Mthatha to run in the Walter Sisulu University 10km challenge. It was a fast race producing some quick times and the children all finished top 10 and received medals in their respective age groups. The Vice Principle of Sikoma Junior School chaperoned the children and he is very passionate about running and is also involved and works closely with the Department of Sports and recreation. It is great to keep making more contacts and this helps growing the interest among the youth. There was also a holiday program set up for the kids. The itinerary alternated between running and soccer and netball and it ended on the last Saturday of the school holiday with a fun 5km race. The children were fed throughout the program as these young athletes expend a lot of energy.
On the 5th of October we took 10 kids to participate in the Ocean View Hotel Trail run in Coffee Bay. The route was a very technical 10 km race which saw our juniors excel in the race as they are conditioned for the tough terrain. Our junior boys took home the honours overall and the girls did the same in the women's category, they received goodie bags and T-shirts along with medals, prizes and even clothes. The day was super fun and juniors really enjoyed the day as they saw the Hole in the Wall for the first time and all had a swim and lounged by the pool after the run.
Our running coach has started his own Non-Profit Organization which is called Sport to Life and we wish him well in his new venture. He will take with him what he has learnt from working with Transcape NPO, we also have offered assistance if he needs help with admin and any other advice etc. This leaves a massive void as he was a mentor / father figure for the children and it will be difficult to replace him with someone who exudes as much passion as he does. In the new year we are holding interviews for a new coach to take on the responsibility.
Scholarship students
The scholarship program has got 4 scholarship student attending various schools in the Eastern Cape.
1.
I'm S. S. I was born on the 27 May 2001 in Ngqeleni in the rural areas of Tshani. I'm sister to an eight-year-old boy and a 5 year old girl, we all depend on my Mom's social grant for a living.
I attended my Primary and junior in Sikhoma Junior Secondary school, I was awarded a Transcape scholarship in 2016 where I went to attend my High School in Dalindyebo Senior Secondary school. I'm currently the Student at Buffalo City College where I'm doing my first year in Public Management.
When I look back on the past 3 years I can say that it was a great experience for me to be able to be in a position that I can actually acquire high quality education and meet new people from different places. Currently at School I'm doing so well and the subjects that I enjoy the most is Computer practice, Communication and Entrepreneurship/ Business Management, but I struggle with Public Administration but I do attend Extra Classes to ensure that I improve.
The reason that I chose Public Management is because I want to improve the quality and efficiency of services delivered by public Organizations. I'm so good in communicating with people and enjoy working with people. Apart from school activities I also enjoy ladies Soccer and dancing, I attend dance classes every Friday.
In the Future I want to be an independent woman that runs her Own Business, I want to help to change the status Quo of the Country by creating job opportunities and also ensuring that people within and Outside of my Area understand the importance of managing the business and being a community person. I want to inspire others to understand and have an example that a person can come from nothing and be something.
2.
My Name is A. M. and I'm 17 years old. I live with my mother and my 2 siblings. My mother runs a small tavern and that's where we only receive income for survival.
My two siblings are still young and Junior students and I'm the only one who is in High School. I'm in the 11th grade now in Dalindyebo Senior Secondary School. At School I enjoy Computer Application Technology, Geography, English First Additional Language but I struggled with Mathematics and Life Sciences.
I have been a Transcape beneficiary for 2 years, ''I don't take this opportunity for granted'' because my mother wouldn't have had the money to send me to a better school. Transcape made that dream come true, it has been a dream for me to one day go to study at a better school.
Apart from school activities, I am a very socially orientated person, I like seeing my community clean, I sometime go alone around picking up plastics and bottles and I'm also a rapper and I sing in a band. I like Computers, in the future I see myself as Computer Scientist. It is my wish to one day have enough funds so that I can help my mother grow her small business.
3.
My name is M. J., I was born in a small town calls Ngqeleni, Tshani location Mankosi A/A, where the Non-Profit Organization named Transcape is based. I was born on the 05 February 2002. I lived with my mother for a few years before she passed away. Then I had to move to my grandmother's house.
I started being a student at Transcape Preschool far earlier than others. Because of my poor background and hunger for education, I was awarded a scholarship with TransCape, after I graduated from Transcape Preschool.
I attend my grade 1 in one of the better schools in Mthatha, and currently I'm a Grade 10 student. This is my first year in High school, I like the environment and the nature of my school in Maclear and how professional my teachers are. Unfortunately, I was not promoted into Grade 11 this year.
In school I enjoy Geography, Tourism and Maths and I struggle a lot with the languages and that is Afrikaans and English home Languages. But I do believe that these languages require more time and attention and that is what I'm planning to focus on next year.
At school I play Rugby for the first team. It is my dream to one day be successful and have enough so that I can take good care of my grandmother and thank Transcape for this great opportunity that changed my life for the better. In the future I see myself working as a Tourist Manager and/ or as a famous successful rugby player.
I beg Transcape to keep supporting me until I achieve my goals.
5.
My name is M. P., I am 16-year-old girl from Ngqeleni Tshani village in Mankosi A/A. I am a Grade 11 student in Dalindyebo secondary school and unfortunalty I was not promoted into Grade 12 this year.
I live with my mother and two siblings. My mother doesn't have a stable job but she tries her best to ensure that we go to bed with something in our stomach and now that my sister is grown, she also contributes the little that she gets.
The subjects that I like in school is Computer Application Technology because the teacher ensures that everybody understands it and she explain it very well. I struggle with Mathematics and Life sciences but I attend extra classes and also practice on my own.
In the future, I view myself as a professional Nurse; I plan to open my own clinic. Here in my community people have to travel long distances to meet a nurse or just for a minor thing, I want to close that gap. I beg Transcape to continue to support me so that I can achieve my goals.
New scholarship students for 2020
In 2020 we want to admit two new scholarship students who were selected by our After-school teacher. These two students showed real enthusiasm for learning and delivered excellent reports.
G. N. Is a 16-year-old girl from Ngqeleni currently doing Grade 9 in Sikhoma Junior secondary school.
She lives in Nkumandeni location with her aunt. She depends on her for everything. The aunt isn't working; they depend on social grants to survive. The subjects she most enjoys are; Economics and management sciences, Mathematics, isiXhosa, English and Life Orientation. She struggles with mathematics and EMS but she gets assistance from her peers that are doing better than her in these subjects.
Apart from school activities, she enjoys playing netball. When she heard that she won a scholarship from Transcape she was very happy. Her aunt cried when she heard the good news that G. will be going to a better high school in Mthatha calls St. Martins.
She doesn't take this opportunity for granted, she will make sure that she works hard and passes all her subjects with flying colours. In the future she sees herself as a doctor and she want to put her family in a comfortable position.
M. M. was born on the 17/12/2002 in Libode which is a small town. He grew up in this small town with his father who is working as a house builder. His mother is working for TransCape non-profit organisation as after school enrichment programme teacher since March 2008. The most struggling person of his parents in terms of regular family income is his father because he does not have a permanent job. Over and above that his mother who's teaching in TransCape education centre does not have enough money to support her son's education and other three children that are M.'s siblings. However, M. moved to live with his mother in Mankosi community two years ago and he started to join TransCape education centre after school enrichment programme. He loves being taught by his mother, not just that BUT also started to bond with his mother and they grew close. He enjoyed extra Maths classes, English, computer basic skills which are offered by TransCape education centre.
M. has been voted by the school teachers as one of the students that deserve the scholarship programme, this is due to his great school performance in his junior secondary school called Sikoma Junior secondary School and yet has revealed the same performance in TransCape education centre. He really performs well in Maths, Languages and Life Orientation as a result of that he has been awarded for Maths as a top student in his class this year. M. want to be a police man, to be a good police man he needs to go to the better high school to expand his knowledge that will be followed by university studies. He will be going to St. Martins High school in Mthatha.
One of our past scholarship student's story
E. N. was born in Ngqeleni a small town nearby. He was raised by a single Mom here in Mankosi. He has got two siblings.
He religiously attended TransCape's After-school program and was awarded a scholarship in 2014. We send him to St. Martins High school in Mthatha, where he excelled.
We supported him for 3 years in High school and first year University. He chose to study at Walter Sisulu University, Business Management. He was inspired by successful entrepreneurs like Dan Lok and Jack Mda. E. says he feels they worked very hard for their successes and were rewarded with a great future for themselves and their families.
Because of his commitment and dedication for his learning he stood out from the crowd and was the best student of his grade. He was nominated by the university to take part of the Emerging Entrepreneurs workshop in October 2019. The workshop was held by South African Technology Network. The main aim of the workshop was to bring successful students from all over South Africa together and learn about the business world, its challenges and industry barriers but also about the success stories and great leadership.
E. wants to apply his gained knowledge and enter into the world of entrepreneurship. He finished his university course as one of the strongest and wants to apply for business funding to start his own company.
We wish him all the best and wee sure we will see him succeed.
We would like to thank all our sponsors from the bottom of our hearts for the continues support you are giving to our Education endeavours. We are honoured that you choose us to receive your gifts.
Sincerely yours,
Astrid Gifford (MD)