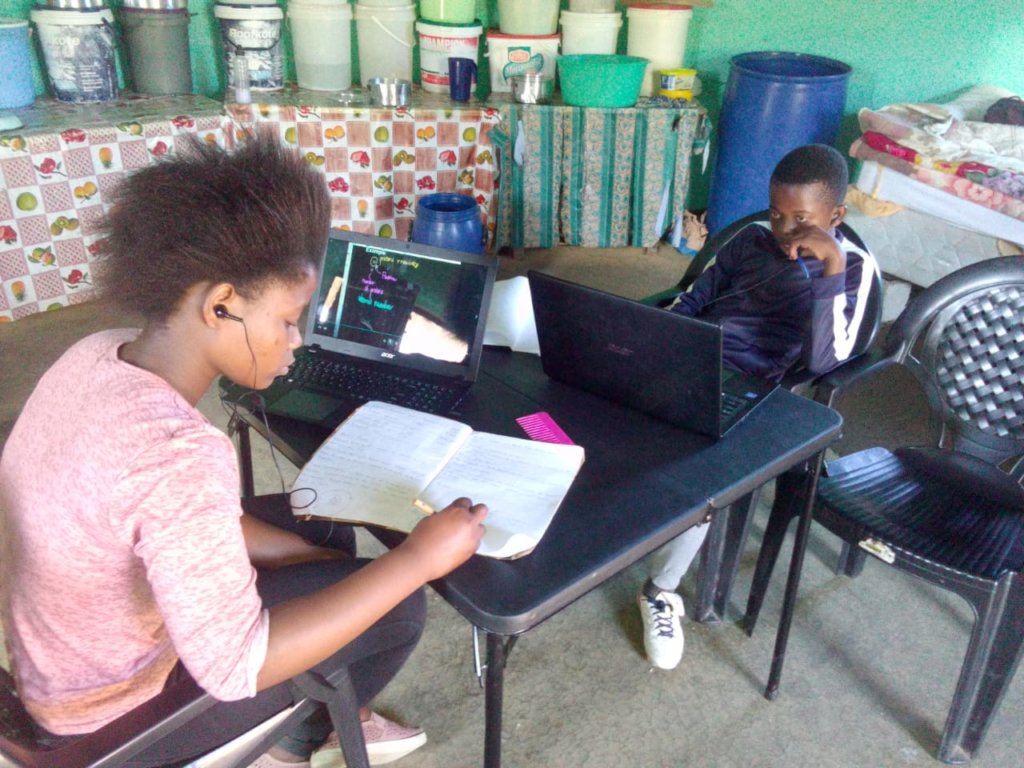 Introduction
None of us could have predicted we would find ourselves living through unprecedented times such as these. The blow to the rural areas and its health systems is severe and the lack of relief support from government is deeply concerning. TransCape NPO and all the projects have to adjust dramatically and find ways to navigate unchartered territory. When Covid-19 arrived in South Africa the president decided on a harsh lockdown to protect the people of the country. We had to close all education projects on the 27th of March 2020 and we have not re-opened yet as the country is reaching its peak in COVID-19 infections at the moment.
Mdumbi Preschool
Mdumbi Preschool is part of the Early Childhood Development program of Transcape NPO. This year, we have 51 children in Grade 0 and Grade R.
We were able to buy some new educational materials for our classrooms. Puzzles, games and threading materials, posters about our body and animals, and numbers. The teachers were very happy about the new equipment, and the kids can develop their fine motor skills, number sense, and language skills while playing.
Nonkqubela preschool:
Nonkqubela preschool is a satellite school supported by TransCape. They have 2 teachers. Ntombovuyo and Sinothando are teaching 26 children this year. Our volunteers Franzi and Julian were able to fundraise for a toilet for the school and we are happy to report that we have enough money to build a long drop outbuilding. The men of the community are very active and will support the school by digging the hole and installing the toilet house.
Afterschool-Enrichement Program
Since 2008, TransCape is offering an after school enrichment program for pupils who go to the local school. The aim is to supplement the knowledge of English, Mathematics, Computer Skills, and Arts. Through educational activities and games, the pupils develop valuable think skills and problem-solving.
At the beginning of the afterschool year, we had to assess and register the participating students. The number is increasing. In total 55 students attend afterschool in 2020 from which 21 students are in grades 2, 3, 4, and 5, 20 students in grades 6 and 7, and 14 students in grades 8 and 9.
Scholarship Program
On the 18th of March, all schools and Universities closed because of the Coronavirus outbreak. Since then the Department of Education was trying to re-open the schools, especially for the Grade 12, but it has been a rollercoaster ride. Teachers are scared to go back to school and so are the parents of the children. The minister of education has to listen to the unions and closed the schools again after they re-opened in July. The hygienic circumstances in schools are poor as many have no water. The government struggles to supply Personel Protective Equipment and sanitizers.
It has been a very upsetting and uncertain time for us and the students. We have to wait and see how this situation pans out and await day to day.
Sibusisiwe
Sibusisiwe is in East London at Buffalo City College studying Public management. She is doing 4 modules at the moment. Entrepreneurship and business management, Management communication, Computer Practice Level 4, and Public Administration. She passed all her modules with 62%-68%. We are very proud of her. She spent the period of the lockdown at home in her village. The college did not offer any online classes nor support. Sibusisiwe will return to college on the 6th of July to continue with her studies. TransCape will continue to support her until the end of 2020. Then her scholarship will come to an end after 4 years of support to make space for upcoming, promising youngsters.
Abonga
Abonga is doing Grade 12 in Dalindyebo High School in Mthatha. He passed his grade 11 and was promoted to grade 12 with 48%. He struggles in Maths and we have arranged extra classes for him to improve his marks. Abonga is interested in Computer science and is planning to study IT-related subjects further in his schooling career.
When his school closed in March due to Covid-19 he came home to his village and studied at home. We printed his study material for him and he tried to teach himself as good as he could. Dalinyebo school did not offer a lot of support during this difficult time. The grade 12th was supposed to resume school on the 1st of June 2020. When Abonga arrived at his hostel he was told that the teachers are going on strike. The next day the teachers barricaded the school and burned stuff outside. They did not want to take the risks of getting infected by the virus. All students returned home. Abonga was very disheartened because the chance for him to finish matric this year is very slim.
Abonga went back to school on the 6th of July and then his school was closed again on the 24th of July, as ordered by the minister of Education. The schools will stay closed for 3 weeks.
Gcinakazi and Masithemba
We have two new scholarship students this year. Gcinakazi and Masithemba are going to St. Martin's School in Mthatha. We made sure that they are in a friendly environment and the boarding houses seem nice and the food is nutritious and healthy.
The first year is always the hardest as the students need to adjust to the new teachers and also the standard of English spoken in school. Gcinakazi passed all her subjects in the first term and presented us with a nice report. Masithemba failed Maths but did otherwise ok. We arranged for both of them to have extra Maths classes.
Gcinakazi and Masithemba also came home in the middle of March when the school closed because of the pandemic. TransCape supplied two laptops for them to continue learning online. Andisiwe supervised them in her house. We also arranged a qualified Math teacher to give them lessons 3 times a week for 6 weeks, to help them catch up on their Maths. They returned to school on the 27th of July. Let's hope the school stays open.
We would like to thank you from the bottom of our hearts for your support. Without you, non of this would be possible.
Yours Astrid Gifford