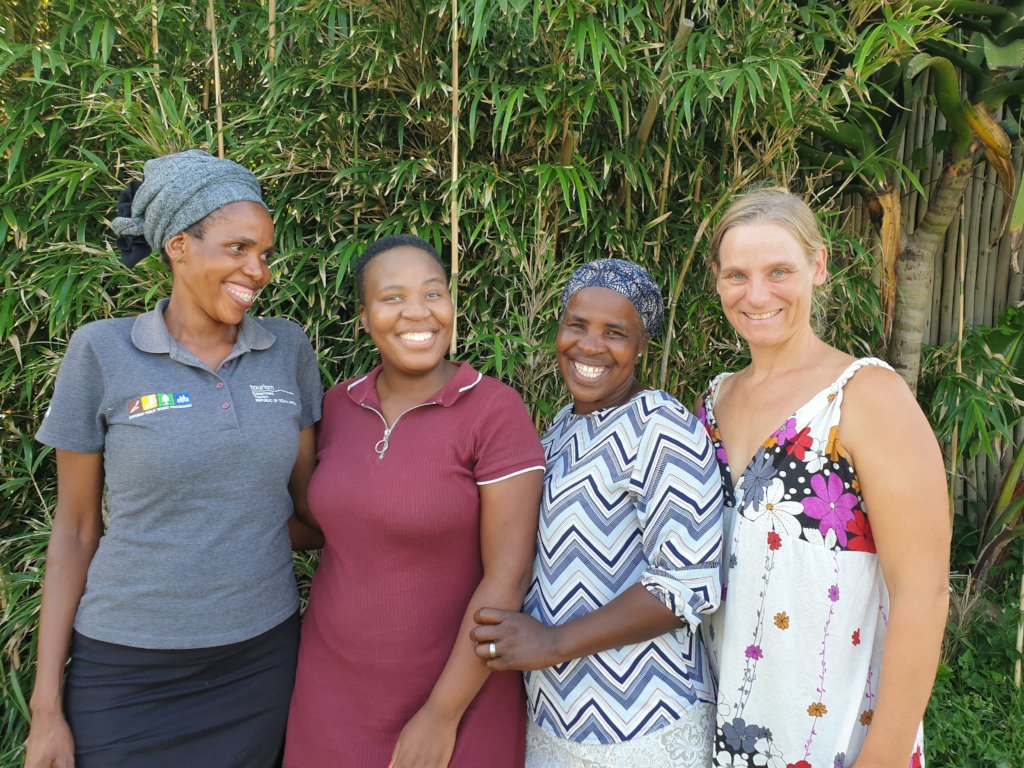 Mdumbi Preschool Report from January to March 2020
Mdumbi Preschool is part of the Early Childhood Development program of Transcape NPO. This year, we have 51 children in grade 0 and grade R. The first term started on the 15th of January and ended on the 18th of March. We had to close early because of the Corona virus outbreak.
As always at the beginning of a new year, the new children struggle a bit to adjust to the new circumstances. Some cry when they get dropped off at school but they get used to it quickly and everything is normal again.
Nokubonga, our Grade 0 teacher was pregnant and went on maternity leave on the 21st of February. She gave birth on the 17th of March to a healthy boy. She will be back at school on the 21st of May. Meanwhile, we employed a substitute teacher from Nonkubela school to relieve her.
We were able to buy some new educational materials for our classrooms. Puzzles, games and threading materials, posters about our body and animals and numbers. The teachers were very happy about the new equipment, and the kids can develop their fine motor skills, number sense, and language skills while playing.
On the 4th of March we had visitors from Germany. The Choir "Imbongi" Voices of Africa helped us to build the school garden in 2008. It was nice to see them again and they remembered our teachers as well.
Nonkqubela preschool:
Nonkqubela preschool is a satellite school supported by TransCape. They have 2 teachers, Ntombovuyo and Sinothando are teaching 26 children this year. The teachers asked TransCape to help with extending the school. They need a second classroom and inside toilets. We have applied for a grand at the German Embassy and we should receive a reply at the end of March.
We hope the COVID-19 disease can be controlled soon. We will stay closed until the lockdown is lifted. So far the president ordered us to stay at home until the 30th of April.
Afterschool Report January to March 2020
Introduction:
The afterschool program started in 2008. The purpose of the program is to help the children from Mankosi village to improve in school. This afterschool year started on the 15th of January. Andisiwe, our teacher is helping the students to improve in English, Mathematics, Arts and Craft and also helping them with their home work. Moreover, we are playing educational games. With these games, they are developing thinking skills and improving brain development.
At the beginning of the afterschool year, we had to assess and register the participating students. The number is increasing. In total 55 students attend afterschool in 2020 from which 21 students are in grades 2, 3, 4 and 5, 20 students in grades 6 and 7 and 14 students in grades 8 and 9.
Troy is a new volunteer who is helping us to speak more English in class. With Franzi and Julian, Troy is the third volunteer in the afterschool program. He is encouraging the students not to be shy but to speak English. We are also reading stories with the students. After reading the story, the students are dramatizing the story. They enjoy this way of learning. It helps the students to speak.
On Fridays, all students come to afterschool because it is the Arts and Crafts day. By doing Arts and Craft they develop small muscles and creativity. It is fun for the students after a hard school week.
All in all, afterschool is doing well because the number of students is increasing. We help the children to become better in school. We had to close the term early because of the Corona virus outbreak. We have to stay closed until the 17th of April. Hopefully, by then the virus is going to be under control.
Scholarship Program Report
Introduction:
Since February 2020 we have a new Scholarship Program Manager. Jay resigned and Andisiwe,our Afterschool teacher took over.
Because of the Coronavirus, the schools closed early on the 18th of March. They will hopefully reopen on the 17th of April if we get COVID-19 under control.
As of January 2020, we have 4 scholarship students.
Sibusisiwe is in East London at Buffalo City College studying Public management. She is doing 4 modules at the moment. Entrepreneurship and business management, Management communication, Computer Practice Level 4 and Public Administration. She passed all her modules with 62%-68%. We are very proud of her. She has one more term left with TransCape's scholarship program.
Abonga is doing Grade 12 in Dalindyebo High School in Mthatha. He passed his grade 11 and was promoted to grade 12 with 48%. He struggles in Maths and we have arranged extra classes for him to improve his marks.
We have two new scholarship students this year. Gcinakazi and Masithembe are going to St. Martin's School in Mthatha. We made sure that they are in a friendly environment and the boarding houses seem nice and the food is nutritious and healthy.
The first year is always the hardest as the students need to adjust to the new teachers and also the standard of English spoken in school. Gcinakazi passed all her subjects in the first term and presented us with a nice report. Masithemba failed Maths but did otherwise ok. We arranged for both of them to have extra Maths classes next term.
We had to say good bye to Musa and Matsidiso as they failed their grade and were not promoted.
Conclusion
We would like to thank you from the bottom of our Hearts for your support toward the Education Programs.
Without you we would not be able to do the good work!
Yours truly,
Astrid Gifford