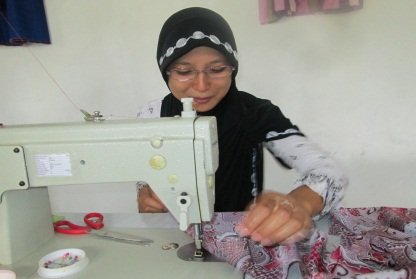 Since 2009, YUM Vocational Training Center (VTC) Cipanas has been helping more than 2.000 participants through Computer class, English class, Sewing class, Hospitality class and Job Seeking Skills workshop. Participants encompass Elementary until Senior high school students and especially unemployed youths in the area of YUM Cipanas, West Java.
Through this report, we would like to give you - as a donor of VTC - some testimonials from the participants (not their real names) about the VTC, so you can get a further insight in the project you have helped. Hopefully you will enjoy the report and may you continue your support to the VTC. Thank you.
Ami

As a housewife with 2 children, Ami has been participating in the Sewing Class for the last 6 months in order to learn how to sew clothes and arts and crafts products. She wants to gain soft skills which may help her to find a job, as her husband is just a farmer with only Rp. 15.000,- or $ 1 income per day. In the beginning, she felt unconfident because she didn't have any experience in sewing, but thanks to sewing tutors who are very patient, she is now able to make her children's clothes by herself. She earns an additional income when YUM has a special order from a Jakarta costumer or by assisting the tutor in teaching sewing to junior students.
"I regret I didn't follow the class earlier, sewing class is really helping me," Ami said.
Amar
"After I graduated from Vocational School, I tried to apply for a job in some companies, but never succeeded. I remember when the Human Resources Department staff gave me the question: 'What kind of skills do you have?' I got confused because I didn't have any skills. I just graduated from Vocational School and only had knowledge of Hospitality. After sharing with my friends who were accepted in the company, they informed me that they had taken additional classes at the VTC. For that reason I decided to follow the Computer Class and after I graduated from the VTC, I was accepted to work in one of the best hotels in Cipanas – the Palace Hotel. Thanks to VTC I was able to understand how important it is to have other soft skills since the graduation certificate from school is not enough to convince the company. Currently, with the income received from working at the hotel, I can help my parents who only work as construction laborers. Thank you VTC."
Adi

"I felt that school and attending classes were boring activities and not interesting. However, since I joined the English Class and the Computer Class in VTC, I changed my mind. My motivation has improved because I realized that the competition in the job market is getting harder nowadays, especially if we don't have any experiences or soft skills. I decided to take 2 training classes because most of the companies need employees who can speak English and have computer skills. That's why I was eager to learn about the world of work and after joining the VTC and discussing with my friends and tutors, I finally got to know my passion. In VTC, we learn in a fun way. Currently, I work as a waiter in Palace Hotel, one of the best hotels in Cipanas and hopefully I can increase my skills and knowledge in Hospitality."