Thank you for your continued support of STAND: The Haiti Project. Since our last report, many exciting events have occurred! We recently signed a contract with the local hospital, allowing us to send patients to the hospital to receive care even if we are not there. Just as importantly, we successfully completed our winter trip AND our year-round clinic is officially open! Additionally, thanks to the Gomez family and Autumn, our clinic had a makeover with the addition of several large closets and cabinets. Our clinic is now clutter free and spacious and we have tons of storage for equipment and medicines.
This past trip was amazing. The team treated about 1200 adult patients and 250 pediatric patients! We built about 40 pediatric adaptive standers, 1 adult adaptive stander, 80 pediatric adaptive chairs, adjusted 1 pediatric wheelchair and built several prosthetic legs. Additionally, we hosted 5 Haitian PT students and 2 American students. Whew! There are so many highlights from this past trip: a thank you cake from our Haitian team members for helping to support them during the recent crisis, patients coming back to visit just to thank us after STAND paid for their successful surgeries, babies in the malnutrition program who are now thriving, and of course salsa nights and rooftop dance parties. One of the most memorable highlights came from week one of the trip. A woman in her mid 60s came in with a cane and severe back pain. She had been unable to work and support her family because her back was so painful. Her therapy team incorporated manual therapy, stretching and exercises into her therapy session and resolved her back pain. She was so excited to be pain free that she went around the entire clinic hugging and kissing every clinician in the room. Needless to say, there were a few happy tears spilled by her therapy team J.
Another highlight of the trip was the initiation of the adult portion of our year-round clinic! The clinic officially opened this past Monday, with Nicholson (PT) treating adult patients who were picked for continued care during our recent trip. Working alongside Nicholson (PT) and Marthe (our new pediatric OT) to fine tune their already impressive clinical skills was a wonderful and hopeful way to round out the trip. Nicholson will be working with the adult population and will focus on both orthopedic and stroke recovery and Marthe will be working with the pediatric population and will focus on all rehab needs. Both are very interested in community education and we are pumped to have them on board!
Patient Spotlight
Meet Aristide! Aristide had a severe break in her leg two years ago after a brick from her kitchen fell on her during an earthquake. She was able to make it to a local hospital and have a surgery to place a piece of metal on the outside of her leg to fixate the bone. Unfortunately, the bone did not heal properly and become infected due to the length of time the metal was in her leg. When she first came to us two years ago she was febrile, in significant pain, and unable to walk. STAND paid for the piece of metal in her leg to be removed, her infection to be treated, and transportation to and from the hospital in Port au Prince. She has come back to our clinic on each trip since her surgery to update her exercise program and modify her wound care regimen. Aristide is now pain free, wound free, and infection free and is able to walk around without an assistive device! She is one of the first patients chosen to be seen in our year-round clinic and will work with Nicholson on strengthening her leg and improving her gait pattern.
Volunteer Highlight
Meet Megan! Megan was the fabulous nurse practitioner on this past trip. In the United States she has had experience with both adults and children and has worked in the emergency department, family practice, and intensive care units. She saw about 700 patients over the two week span of our trip to Haiti! In addition, she also helped to mentor a local nurse and medical student and oversaw the hospitalization of 5 sick babies. Although being the lone NP on the trip was quite the challenge, Megan loved it. And that's a quote!
Thank you again for your continued support of our clinic in Haiti. The care that patients receive would not be real without your help. Check out our Facebook and Instagram for some pictures from this most recent trip and updates from the clinic!
Kenbe fo'
(Hold strong)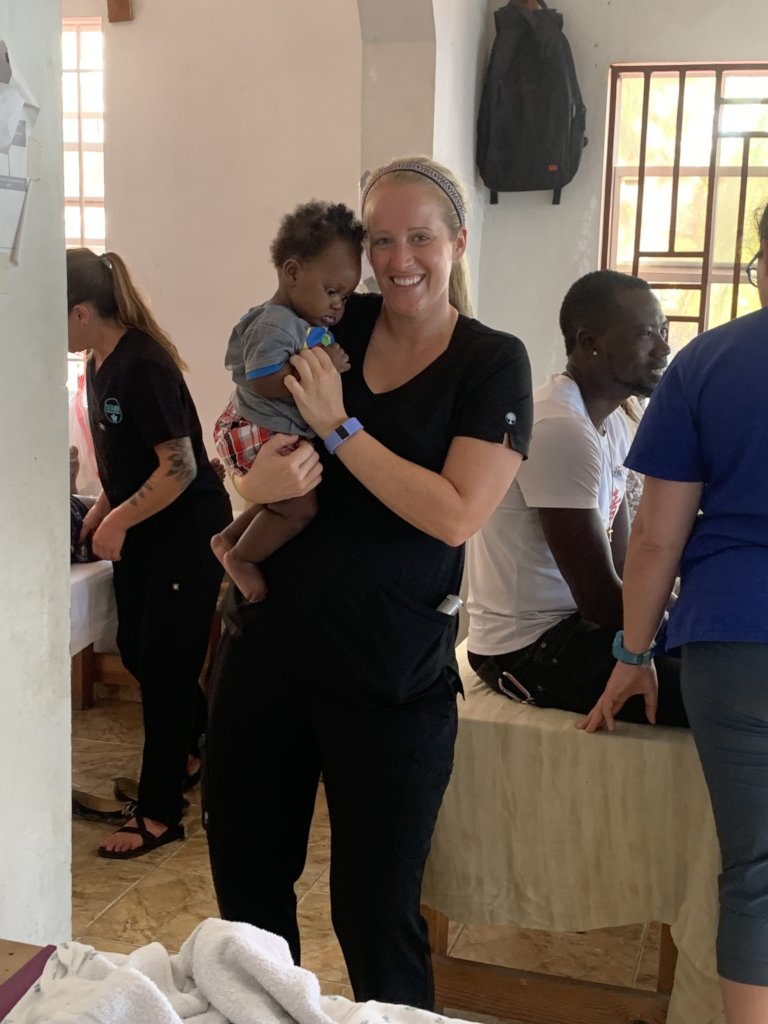 Links: