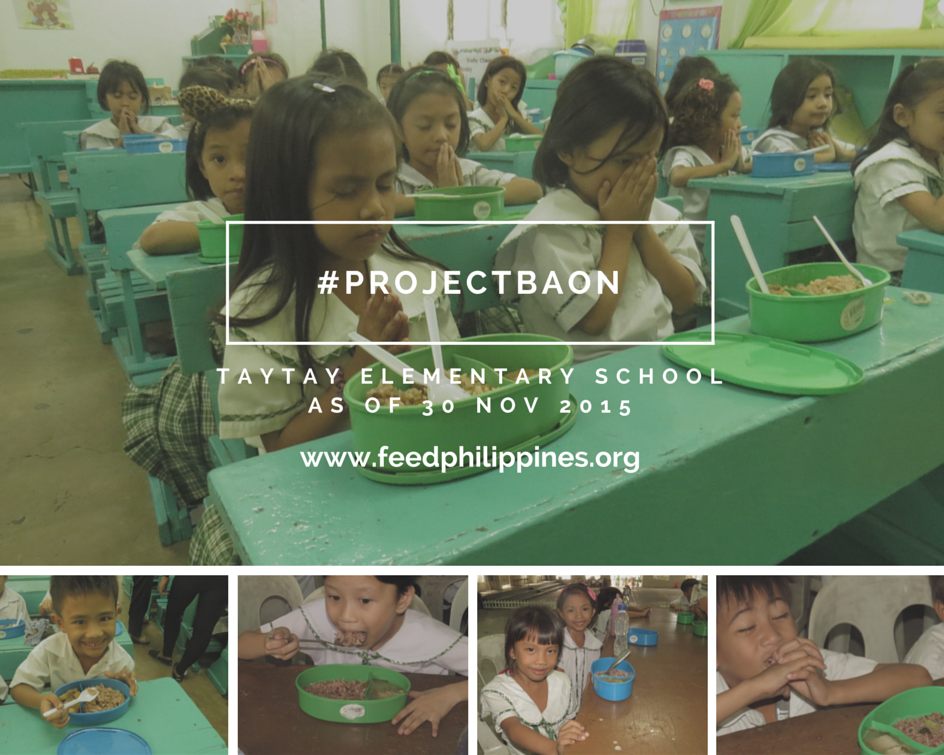 Dear Friends and Partners,
We would like to sincerely thank you for your support to #ProjectBaon, a project that aims to provide school meals to malnourished public school students in poor communities in the Philippines.
We are pleased to give you an update that we have reached 13% ($5,700++) of our needed fund of $41,000 for #ProjectBaon as of November 30, 2015.
After receiving the first batch of funds raised through Global Giving last October 30, 2015 amounting to $5,046.95, our team immediately mobilized to launch the first of the ten Feeding Locations for the #ProjectBaon campaign.
Taytay Elementary School, is 1 of the 21 public schools in Taytay Rizal. The school have not received any funding from the government yet to set up a Feeding Program. The ROFP team including a health professional, with the help of the school administrators was able to identify sixty (60) kids in grade 1, ages 6 to 7 years old, who are "severely wasted" based on their very low weight for height.
The team also met with the parents of the kids to explain why their child was selected to be a part of the program and their involvement in the program. The provision of daily "baon" or lunchboxes started officially last November 16, 2015 and is now on its 3rd week of implementation.
With the support of people like you, our beneficiary kids will continue to receive the food and nutrition they need daily until the end of the school year. But more than giving food, you will also provide hope to the children and their parents, who are thankful for "strangers" offering help in their time of need. Isn't that amazing? Here are some testimonies from the parents and teachers :
"Dati po talagang mahina sya kumain, ngayon po ay lumalakas sya. Puro dagdag na yung kinakain nya, dati, konti lang sya kumain, ng mapasama sya sa program na yan, lalo tuloy syang lumalakas kumain"
"He used to eat very little amounts of food but now he is gaining strength when he started with the program. We now add more servings to his meals, when before he eats very little " -Annie Mangubat,Mom of John Ezekiel,Grade 1 Student Beneficiary
"Naging maayos kami ng mga bata, yung mga walang makain, ay nagkaroon ng pagkakataon na makakain. Noong una, parang nabigla sila, nagulat sila may gulay, yun ang karaniwang problema ng mga parents…. Ang improvement na nakita namin ay naging aktibo sila sa pag-aaral, naging malusog sila…"
"We are now better, the kids who used to have nothing to eat, is now given the opportunity to eat. At first the kids were surprised because of the vegetables (with the meals), that is usually the problem of parents. The improvement that we saw is they became active in learning and they are now healthy"- Melissa Pagaduan,Grade 1 Teacher, Taytay Elementary School
Watch these testimonies in the video link provided in our project page.
We will send a more detailed report on the progress of each beneficiary at Taytay Elementary School at the end of its 4th week. We will also send an update on the 2nd Feeding Location that we will launch at "Silhahis ng Katarungan Elementary School" a public school for special kids in a poor community in Paco Manila. You'll know what your donation has helped fund, what accomplishments we have achieved and what our current needs are.
We hope you find this partnership valuable and worthwhile. I know the economy is tough, so thank you for investing your hard-earned money on our cause.
Thank you again and may God richly bless you and your family!
With gratitude on behalf of the whole team,
Dawn Marie F. Cabigon
Founder, Reach Out and Feed Philippines Inc.