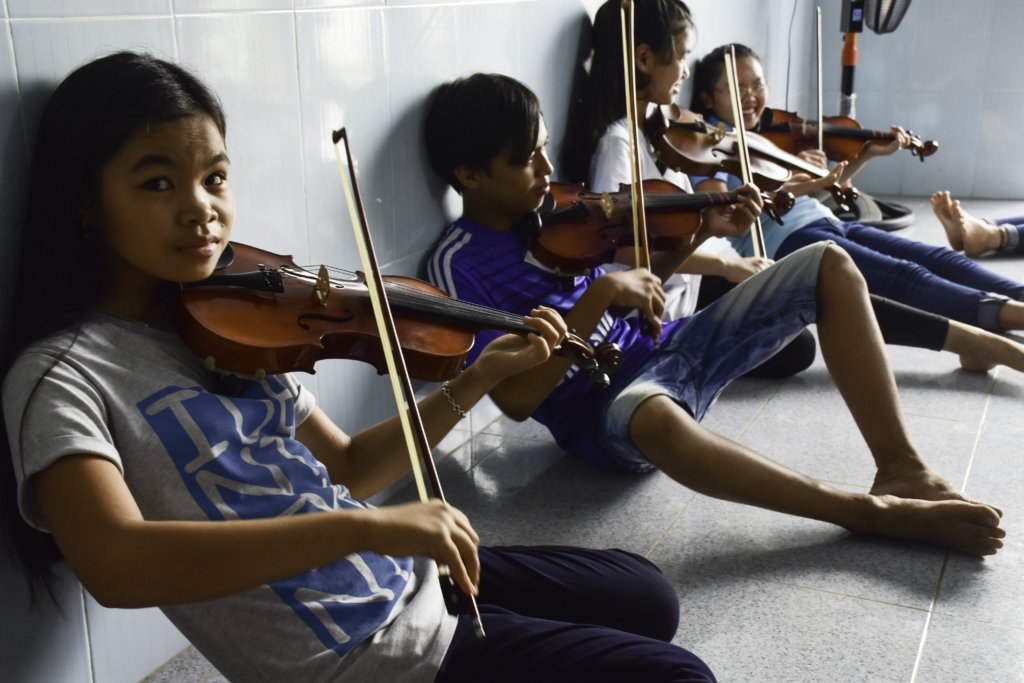 Dear Project of the Month Club,
After a very rainy May, we're excited that things in June are heating up here in D.C.! We'll be having our Current Partner Bonus Day on June 15th with $110,000 available in matching funds and we welcomed our newest class of GlobalGiving Fellows. And of course, we've got a brand-new earth-changing project to share with you this month!
Last month, 262 of you gave a total of $8,695 to support the Sumatran Orangutan Society's Orangutan Rescue: On the frontlines in Sumatra project, where your donation is going to help fund rescue and veterinary equipment for SOS's newest rescue team!
This month your donations are supporting Rock-Paper-Scissors Children's FundCommunity Music Program for Poor Vietnamese Youth, which provides a weekly music and string ensemble after school for students in Vietnam! On weekends, this group of talented students come together to perform as a community ensemble.
Sara Nerone, the Founder of Rock-Paper-Scissors Children's Fund, has this message for you:
"We cannot express how excited our board, staff, and students in Vietnam all are! It is often very difficult to raise money for music programs, nonetheless expand them. With this generous gift we will be able to allow more students to participate in our creative programs. In addition to all of the wonderful benefits that one-on-one and group music lessons provide to the kids, our small schools have become a place for mentoring, friendship, peer sharing and bonding. Amidst the struggle of living in poverty, our music students are inspired to always be curious, continue learning and continue their education. Thank you again!"
When we asked Sara what $8,700 could do for Rock-Paper-Scissors Children's Fund, she knew exactly how your donations would be put to use:
"A donation of $8700 will allow us to purchase violins for an additional 20 students and provide them with weekly lessons for one year! We have been hoping to expand our music program to the kids of Ngoc Anh Village, Thua Thien Hue Province. We currently hold art classes there for 32 kids, and have a very successful program. This gift will allow us to expand the program to include music! Also, $2000 of your gift will help to support our summer music camps in two ethnic minority villages. Each summer we provide day camps where volunteers play and teach musical games and activities and at the same time we provide meals and school supplies to the kids. Last summer we hosted 400 children at our camps. Thank you again for your generosity!"
An entire year of violin classes for twenty students? Now that's music to our ears! Thank you so much for your generosity and we cannot wait to share the positive change your donation will create next month!
Warmly,
Mari Kuraishi + the GlobalGiving Team